¿Se está produciendo una nueva relación sino-estadounidense?
El área más lógica y potencialmente más fructífera de colaboración es la del cambio climático. Los dos funcionarios del gobierno estadounidense que están mejor preparados para hacerse cargo del tema son el Secretario de Energía, Steven Chu, y el Secretario de Comercio, Gary Locke.
Chu fue profesor de física en las universidades de Berkeley y Stanford y director del Lawrence Berkeley National Lab , mientras que Locke fue gobernador del Estado de Washington y durante mucho tiempo ha sido partidario de los intercambios comerciales entre los Estados Unidos y China. Cada uno tiene el tipo de poder de persuasión blando y utilitario que los líderes chinos están dispuestos a aceptar: títulos académicos de universidades de prestigio, conocimientos científicos y tecnológicos avanzados, altos cargos, y un galardonado con el Premio Nobel. (Chu es uno de los cinco estadounidenses de origen chino en haber ganado el Premio Nobel, aunque todavía ningún ganador es de la República Popular China, lo que lastima el orgullo chino).
La prensa china no paraba de hablar de Chu y Locke, los primeros miembros de origen chino del gabinete de los Estados Unidos. La mayoría de los diarios chinos publicaron la fotografía de Chu en primera página; en el Beijing Business Today se leía un encabezado que recomendaba: "¡No vayan a confundir a los secretarios estadounidenses que nos visitan con miembros de la familia!" A continuación el diario advertía: "Tememos que muy en el fondo Chu y Locke tengan prioridades distintas".
Cuando Chu pronunció discursos sobre energía y cambio climático en la Universidad de Tsinghua, la institución académica china de ciencia e ingeniería de élite, (donde estudiaron sus padres), y luego en la Universidad de Tianjin (de la que alguna vez su abuelo fuera presidente), fue bienvenido con gran entusiasmo, numerosa concurrencia y ovaciones de pie. Así pues, los chinos terminaron por aceptar a Chu y Locke en formas contradictorias: como altos representantes del gobierno estadounidense y como compatriotas con los que comparten un vínculo común por sus orígenes chinos.
Tanto Chu como Locke están conscientes de que los Estados Unidos y China son actualmente los dos mayores emisores en el mundo de gases de efecto invernadero y que para que haya una esperanza de solucionar el cambio climático global, los dos países tienen que encontrar rápido una forma de colaborar. Chu hizo hincapié en este punto en su discurso en la Universidad de Tsinghua, en donde dijo que la situación del cambio climático global era "muy preocupante", y subrayó que "a todos nos afecta. Los países desarrollados crearon el problema...lo acepto", reconoció ante su atenta audiencia. "Pero los países en desarrollo pueden empeorar más las cosas".
Al hacer el anuncio de un nuevo esfuerzo conjunto sino-estadounidense de investigación, Chu describió la energía limpia como "una de las grandes oportunidades de nuestro tiempo" para la cooperación entre dichas naciones, y señaló que "al trabajar juntos podemos lograr más que trabajando cada quien por su cuenta."
Subscribe to PS Digital Now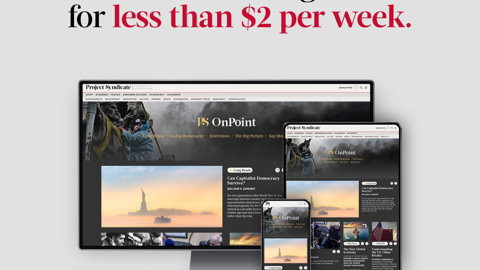 Subscribe to PS Digital Now
Access every new PS commentary, our entire On Point suite of subscriber-exclusive content – including Longer Reads, Insider Interviews, Big Picture/Big Question, and Say More – and the full PS archive.
Con todo, todavía uno se pregunta si esta nueva  colaboración afable y estos lazos étnicos serán lo suficientemente fuertes para trascender no sólo la larga historia de relaciones recelosas entre los Estados Unidos y China, sino también los efectos desestabilizadores del súbito ascenso económico de China. Porque, aunque el ideal de un "melting pot" ha servido para hacer más fuerte a los Estados Unidos –y el gabinete del Presidente Barack Obama de hecho representa un nuevo referente de esa diversidad – los estadounidenses a menudo han mostrado una desconfianza xenofóbica hacia los inmigrantes que se han situado muy cerca del poder.
Especialmente en el caso de los chinos, el miedo a las lealtades nacionales divididas y las "quintas columnas" ha sido fuerte. Sólo hay que recordar el caso reciente de Wen Ho Lee, el científico del Laboratorio Nacional de los Álamos, que fue acusado injustamente de espionaje, para mostrar el ying yang de los sentimientos estadounidenses en lo que se refiere a los miembros de las minorías que se encuentran en posiciones sensibles.
Hay un segundo obstáculo también: el Congreso estadounidense se niega a afrontar desde un punto de vista realista el cambio climático, porque China, como país en desarrollo, no está obligada a aceptar los límites obligatorios  a las emisiones de carbón. Entonces, como los Estados Unidos no quieren reconocer su responsabilidad en cuanto a sus emisiones acumulativas y per cápita de gases de efecto invernadero –que son, aproximadamente, cuatro y tres veces, respectivamente, mayores que las de China- los líderes chinos se niegan a hacer concesiones. Ha seguido un punto muerto, que es donde estamos ahora.
Hace poco China exigió que los Estados Unidos redujeran sus emisiones en un 40% respecto a sus niveles de referencia de los años noventa, y que subsidiara los esfuerzos de China y otros países en desarrollo para reducir sus emisiones, por un monto que representa entre el .05-1% del PIB estadounidense. Sin embargo, la ley Waxman-Markey, recientemente aprobada, propone que los Estados Unidos sólo reduzcan sus emisiones en un 3.6% respecto a sus niveles de referencia de los años noventa.
Es difícil saber lo que realmente será necesario para alcanzar un entendimiento entre los Estados Unidos y China que produzca resultados reales. Además, como India echó en cara a la Secretaria de Estado, Hillary Clinton, sus ruegos sobre el cambio climático, el mundo podría fácilmente presenciar el surgimiento de un bloque entre los países en desarrollo aún más unificado e inflexible.
Lo que no hay que perder de vista en noviembre es la visita de Obama a China. Si en ese momento no se pueden concretar todas las expresiones de buenos sentimientos, se habrá perdido una oportunidad incomparable para reconstruir las relaciones sino-estadounidenses en torno al problema del cambio climático.