Apokalyptický duch
LONDÝN – Dalo se čekat, že někdejší viceprezident USA Al Gore vykreslí nedávný barmský cyklon v apokalyptických barvách. "Loni," řekl, "zasáhla Bangladéš katastrofická bouře. O rok dříve udeřil na Čínu nejsilnější cyklon za víc než 50 let… Vidíme důsledky, které podle dávných předpovědí vědců mohou mít spojitost s vytrvalým globálním oteplováním."
Gore kupodivu do svého výčtu nezahrnul asijské cunami z roku 2004, které si vyžádalo 225 tisíc životů. Jeho ne právě podprahové poselství říká, že tyto přírodní pohromy věští konec světa.
Apokalyptická přesvědčení jsou odjakživa součástí křesťanské tradice. Vyjadřují touhu po ráji na zemi, kdy zlo bude zničeno a dobro spaseno. Ve své klasické náboženské podobě se taková přesvědčení opírají o zlá znamení a předzvěsti, jako jsou zemětřesení a skvrny na slunci, jež lze s odkazy na biblické pasáže vykládat tak, že ohlašují velké kataklyzma a očistu. Apokalyptické okamžiky jsou tudíž vyústěním pocitu krize: mohou je vyvolat války nebo přírodní katastrofy.
Klasické apokalyptické myšlení nesporně přežívá a vzkvétá, zejména v Americe, kde se přiživuje na protestantském fundamentalismu a masově se šíří všemi prostředky moderních médií. Proslýchá se, že kruhy blízké Bushově administrativě považují současné útrapy jako terorismus za potvrzení biblických proroctví.
V sekularizované, pseudovědecké podobě se apokalyptické uvažování dostalo taktéž do nitra revoluční politiky. Filozof John Gray ve své nejnovější knize Black Mass (Černá mše) probírá, jak se politické doktríny jako marxismus v apokalyptické vizi zabydlely a předpovídaly zkázu kapitalismu jako předehru socialistické utopie. Politické mesiášství ovšem bývalo výhonkem optimismu devatenáctého století. Po krachu optimismu klade současné apokalyptické přesvědčení větší důraz na katastrofu a menší na utopii.
Například investigativní novinář Nick Davies nám ve své knize Flat Earth News (Zprávy o ploché Zemi) připomíná paniku kolem programového selhání počítačů na začátku nového tisíciletí. Noviny po celém světě tiskly články předpovídající, že 1. ledna 2000 se zhroutí výpočetní technika, což zapříčiní zástavu velké části světa. Podtext byl dobře známý: kdo žije technikou, také jí zemře.
Subscribe to PS Digital Now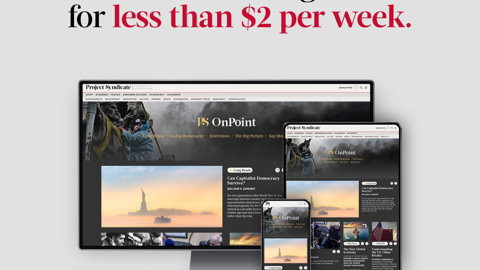 Subscribe to PS Digital Now
Access every new PS commentary, our entire On Point suite of subscriber-exclusive content – including Longer Reads, Insider Interviews, Big Picture/Big Question, and Say More – and the full PS archive.
Překroucené výklady vědy jsou dnes tak běžné, že si jich už téměř nevšímáme. Mnohem závažnější je, když se apokalyptickým duchem nakazí samotná věda. Věda postavená na víře je sama o sobě protimluvem, protože vědecký pohled na svět se vyvinul jako zpochybnění náboženské pověrčivosti. O významných vědeckých přesvědčeních se ale dnes dá říct, že nejsou zastávána s vědeckou, nýbrž s náboženskou horlivostí.
To nás přivádí zpět k Alu Goreovi a změně klimatu. Není pochyb o tom, že Země se během dvacátého století oteplila (zhruba o 0,7 stupně Celsia), což většina klimatologů připisuje především emisím oxidu uhličitého způsobeným člověkem. Pokud se neudělá nic pro omezení těchto emisí, globální teplota se za dalších sto let zvýší o 1,8 až 4 stupně. Po dosažení určitého "bodu zlomu" bude svět vystaven potopám a ranám v klasickém apokalyptickém stylu.
To je v posledních desetiletích už druhý scénář dne posledního soudu; prvním byla předpověď Římského klubu z roku 1972, že světu brzy dojdou přírodní zdroje. Oba jsou "vědecké", ale jejich struktura je tatáž jako v případě biblického příběhu o potopě: lidská hříšnost (v případě dneška bezuzdný materialismus) vyvolává katastrofické důsledky a může už být příliš pozdě, abychom je odvrátili. Jak se zdá, vědecké historky o konci světa tak jako biblická proroctví odolávají snahám je vyvrátit a neustále se objevují v nových přebalech, aby nasytily hlad po katastrofě.
Vědci tvrdí, že zveličováním jejich zjištění jako příslibů spásy či výstrah před trestem jsou vinna média a politici. Částečně zodpovědní jsou ale sami vědci, protože nejistoty zahušťují na pravděpodobnosti, ke sporným tezím přistupují jako k věcným faktům a nesouhlas napadají jako kacířství.
Vědci jsou nechvalně proslulí svou nechutí upouštět od závěrů, jichž dosáhli schválenými vědeckými metodami, ať už jsou jakkoli mylné. Jejich nesnášenlivost vůči nesouhlasu ovšem nesmírně nabobtná, kdykoli se považují za kapitány armády spásy, odhodlané očistit svět od zhoubných zvyklostí.
Dnes je to Západ, kdo okolnímu světu podsouvá apokalyptické představy. Odpovědi na to, jak řešit ekologické škody, bychom snad měli hledat v Číně a Indii, spíš než využívat změny klimatu jako záminky k tomu, abychom jim brali, co už získali. Jak se Číňané stavějí ke svému nově nalezenému materialismu? Mají myšlenkovou konstrukci, s jejíž pomocí v něm nacházejí smysl?
Nejlepším protijedem na obchodníky se zkázou je skepticismus. Musíme být ochotní brát nejistotu vážně. Změna klimatu je skutečností. Apokalyptické uvažování však pokřivuje vědeckou debatu a je kvůli němu těžší vysvětlit příčiny a následky této skutečnosti, kvůli čemuž je zase těžší zjistit, jak se s ní vyrovnat.
Nebezpečí spočívá v tom, že nás apokalyptický virus zamoří natolik, že nakonec vyvoláme skutečnou katastrofu – krach svých ekonomik a způsobů života –, abychom se vyvarovali katastrofě imaginární. Krátce, třebaže náboženský způsob myšlení si zasluhuje nejvyšší úctu, měli bychom se bránit tomu, aby náboženství znovu ovládlo otázky, které jsou záležitostí vědy.