Věk lidských práv
NEW YORK: V úsvitu jednadvacátého století se Spojené národy dostávají do centra života mnohem většího počtu lidí, než tomu bylo kdykoliv předtím. Díky naší práci v oblasti rozvoje společnosti, mírových operací, ochrany životního prostředí a zdravotní péče, pomáháme národům a jednotlivým společnostem budovat lepší, svobodnější a příznivější budoucnost. Ale nad tím vším stojí náš závazek základní myšlence, že lidská práva žádného jednotlivce – bez ohledu na pohlaví, národnost či rasu – nebudou poškozována ani ignorována.
Subscribe to PS Digital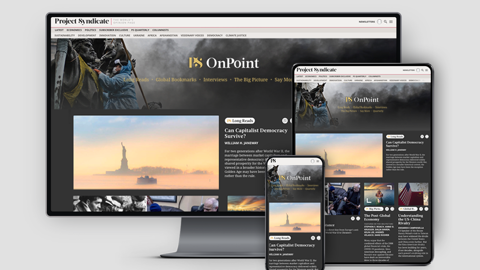 Subscribe to PS Digital
Access every new PS commentary, our entire On Point suite of subscriber-exclusive content – including Longer Reads, Insider Interviews, Big Picture/Big Question, and Say More – and the full PS archive.
Tato myšlenka je pevně zakotvena v Chartě (Organizace) Spojených národů a ve Všeobecné deklaraci lidských práv. Je zdrojem naší největší inspirace a impulsem k nejvyššímu úsilí. Dnes již dobře víme, více než kdykoliv předtím, že bez prvořadého respektu k lidským právům jednotlivce, nemůže žádný národ, žádná společnost ani žádná komunita dosáhnout skutečné svobody. Ať už to znamená podporu rozvoje dané společnosti anebo zdůrazňování důležitosti preventivních akcí, či dokonce intervenci – třeba i překračující státní hranice – jen aby bylo možné zastavit hrubé a systematické porušování lidských práv, byl to vždy jednotlivec, kdo stál v centru našeho zájmu. Podpora a ochrana lidských práv je základním aspektem každého našeho kroku a klíčem ke každému článku Charty Spojených národů. A především, jsem hluboce přesvědčen, že lidská práva jsou prazákladem posvátného svazku mezi našimi národy, sdruženými v Organizaci Spojených národů. Když jsou civilisté napadáni a masakrováni jen pro svůj etnický původ, jak se dělo například v Kosovu, svět právem hledí na Spojené národy, aby jejich jménem promluvil. Když jsou muži, ženy i děti znásilňováni a pak krutě mrzačeni a zabíjeni, jako například v Sierra Leoně, svět se zase obrací na Spojené národy. Když jsou ženám a dívkám odpírána jejich základní práva na rovnoprávnost, a příkladem budiž třeba Afghánistán, zase se svět obrací na Spojené národy, aby zaujaly stanovisko. Možná, že více než kterýkoliv jiný aspekt naší práce, je to právě boj za lidská práva, který plně resonuje se zájmy našeho globálního "auditoria", a tento boj je nesmírně důležitý pro vlastní životy těch, jež jsou v té největší nouzi – týraných, utlačovaných, umlčovaných, obětí "etnických čistek" a bezpráví. Jestliže, tváří v tvář takovému porušování těchto elementárních práv, nebudeme mluvit hlasitě, zřetelně a jasně, jestliže nezasáhneme na obranu lidských práv a nepostavíme se za jejich trvalou universalitu, jak bychom pak mohli čelit všem globálním výzvám. Ve světě, kde globalizace omezila nejen schopnost států kontrolovat a řídit své ekonomiky, regulovat své finanční politiky, ale stejně tak i schopnost izolovat se od vlivů škod na životním prostředí a lidské migrace, tam výklad právního státu nemůže a nesmí znamenat právo zotročovat, persekvovat a týrat své vlastní obyvatele.
Úspěchy OSN v oblasti lidských práv za posledních padesát let jsou založeny nejen na všeobecném universálním přijetí těchto práv, jež jsou vypočteny ve Všeobecné deklaraci, ale také na rostoucí hrůze praktik, pro které není možné nalézt nijaké omluvy, v žádné kultuře a za žádných okolností. A přesto si myslím, že Spojené národy by měly vědět mnohem víc o hrůzách proti kterým bojují. Svět musí se musí dozvědět proti komu stojíme. V tomto "věku lidských práv" musejí Spojené národy nalézt sdostatek odvahy a přiznat, že tak, jak existují společně sdílené cíle, existují rovněž společní nepřátelé.
Neměli bychom nechat nikoho na pochybách, že beztrestnost pro masové vrahy, katany etnických čistek, a všechny ty, co se dopouštějí hrůzných a šokujících činů porušování lidských práv, je přijatelnou věcí. Spojené národy již nikdy nebudou jejich útočištěm, její Charta už nikdy nebude zdrojem jejich klidu nebo ospravedlnění. Snad největší výzva vězí v boji s těmi nejohavnějšími porušováními lidských práv – mluvíme o hrubém násilí, při kterém jde mnohdy o hromadné popravy, velké násilné přesídlování, pogromy a bezohledné útoky proti civilnímu obyvatelstvu. Ale přes všechno toto strašné násilí, existuje ještě genocida a ta nemá v lidské historii žádnou paralelu. Tragickou ironií tohoto věku lidských práv, kdy se jim těší vskutku vyšší procento obyvatel Země než kdykoliv předtím, je právě to, že byl opakovaně pošpiněn výbuchy toho nejkrutějšího násilí a organizovanými masovými vraždami. V Kambodži v sedmdesátých letech bylo Pol Potovým režimem zabito až ke dvěma miliónům lidí. A v devadesátých letech, od Bosny až po Rwandu, byly zmasakrovány tisíce a tisíce lidských bytostí jen proto, že naležely k nesprávnému etniku. Pokaždé se svět dušuje: "nikdy více!" Nicméně se historie stále opakuje. Obludná a systematická kampaň za "etnické čištění", kterou vedly srbské úřady v Kosovu, měla jen jediný cíl: vyhnat nebo zabít co možná nejvíce etnických Albánců z Kosova, čímž byla popřena jejich nejzákladnější práva na život, svobodu a bezpečnost. Výsledkem byla humanitární katastrofa zuřící po celém regionu. Všichni hluboce litujeme skutečnosti, že mezinárodní společenství, přes mnoho měsíců diplomatických jednání, zklamalo v tom základním, tedy nepředešlo násilí. Co mi ale skutečně dává jakousi naději – a to platí i pro všechny budoucí "etnické čistky" nebo státem podporované sociální architekty masových vražd, je to, že všeobecně sdílený smysl pro hrubé násilí nakonec povede k eventuálnímu návratu albánské populace zpět do Kosova. Pomalu, přesto jistě, jak alespoň já věřím, se definuje mezinárodní právní norma postihující násilné represe menšin, jenž se bude, resp. bude muset stát precedentem tvorby zájmových oblastí státní správy. Princip je celkem jednoduchý – ochránit menšiny, stejně jako většinu, před hrubým porušováním jejich práv. Dovolte mi prosím, abych byl na tomto místě velice konkrétní: dokonce i když jsme organizací členských států, existují jisté ideální právní normy, jejichž ochrana je jen na nás samotných. Žádná vláda nemá právo schovávat se za svoji národní suverenitu, aby mohla v klidu poškozovat lidská práva a základní svobody svých obyvatel. Ať už daný jedinec patří mezi menšinu, či většinu, lidská práva a fundamentální svobody takové lidské bytosti jsou věcí zcela posvátnou.