Eilanden van klimaatinnovatie
ORANJESTAD – Als je vandaag de dag in een kleine eilandstaat leeft moet je regelmatig rekening houden met de wreedste irone van de klimaatverandering. Eilanden dragen weinig bij aan de opwarming van de aarde, maar zij zijn de eersten die de verwoestende gevolgen ervan ondervinden, en het slechtst uitgerust om die in goede banen te leiden.
Nu de kooldioxide-emissies van grotere, rijkere industrielanden de planeet blijven opwarmen, claimt de stijgende zeewaterspiegel het grondgebied van deze eilanden. Bovendien verwoesten enorme orkanen als Maria en Irma, door het onnatuurlijk warme water sterker gemaakt dan van oudsher gebruikelijk is, huizen en elektriciteitssystemen, waardoor ze dood, vernietiging en ziekten in hun kielzog achterlaten.
Naarmate deze dreigingen het 'nieuwe normaal' worden, ondervinden kleine eilandstaten solidariteit in hun gemeenschappelijke kwetsbaarheid. Wij delen ook een nieuwe geest van weerbaarheid, en zijn toegewijd aan het samenwerken om de wereld te helpen tegen de klimaatverandering te strijden. In nog specifiekere zin kunnen onze eilanden dienen als ideale laboratoria voor het testen van innovatieve schone energie-technologieën.
In Aruba hebben we tijdens mijn ambtsperiode als premier het doel geformuleerd om in 2020 100% van onze elektriciteit te genereren met behulp van schone energie. We zijn dit initiatief begonnen door samen te werken met belangrijke partners – universiteiten als Harvard en de TU Delft, en denktanks als het Rocky Mountain Institute. We zijn ook gesteund door Sir Richard Branson, Al Gore, Wubbo Ockels, Daan Roosegaarde en José María Figueres – allemaal leiders van de klimaats- en duurzaamheidsbeweging.
De meeste eilanden zijn nog steeds voor een groot deel afhankelijk van geïmporteerde fossiele brandstoffen voor hun relatief kleine energiebehoeften, waardoor ze aan de genade van de mondiale markten zijn overgeleverd. Als gevolg daarvan moeten eilandbewoners onvoorspelbare prijsschokken en aanbodsontwrichtingen ondergaan, met name in tijden van crisis. Daarentegen maken lokaal gegenereerde duurzame energiebronnen zoals wind- en zonne-energie – ondersteund door accu's met veel opslagvermogen – eilanden weerbaarder, en wordt hun elektriciteitstoevoer erdoor gestabiliseerd.
Kleine eilandstaten willen nu schone energie, voor hun eigen welzijn en voor dat van de hele mensheid. Wij willen de wereld graag laten zien hoe praktisch en betaalbaar het is om af te stappen van fossiele brandstoffen en tegelijkertijd de economie te laten groeien, waardoor we betrouwbare toegang tot energie voor iedereen kunnen verzekeren, en banen kunnen creëren voor de plaatselijke bevolking.
Subscribe to PS Digital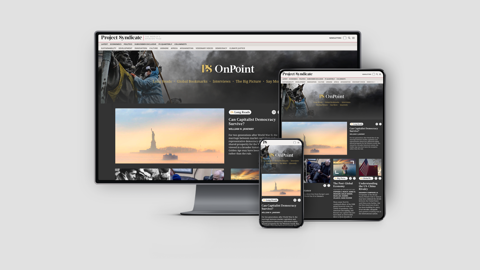 Subscribe to PS Digital
Access every new PS commentary, our entire On Point suite of subscriber-exclusive content – including Longer Reads, Insider Interviews, Big Picture/Big Question, and Say More – and the full PS archive.
Veel van onze Caribische buurlanden hebben al ambitieuze doelstellingen geformuleerd voor vergaande decarbonisatie en de ontwikkeling van duurzame energiebronnen. De premier van Jamaica wil bijvoorbeeld dat zijn land in 2030 50% van zijn energie uit duurzame energiebronnen haalt. Barbados wil zelfs nog verder gaan, en tegen die tijd koolstofneutraal zijn en 100% duurzame energie bewerkstelligen.
Helaas blijven buitenlandse investeerders dikwijls op koolstof gebaseerde infrastructuurprojecten steunen in kleine eilandstaten en andere ontwikkelingslanden. China heeft bijvoorbeeld ruim $20 mrd toegezegd aan financiering voor kolencentrales over de hele wereld. Japan blijft nieuwe steenkoolprojecten in binnen- en buitenland financieren – het is het enige G7-land dat dat doet. Dergelijke investeringen dreigen kwetsbare regio's tientallen jaren lang aan fossiele brandstoffen gekoppeld te houden, terwijl de klimaatrisico's op de langere termijn erdoor toenemen.
Talloze grote, ontwikkelde landen hebben beloofd kleine, kwetsbare natiestaten te helpen zich aan de klimaatverandering aan te passen. Toch ondermijnen deze donors en creiteuren soms hun eigen toezeggingen door ook nieuwe projecten te financieren die op fossiele brandstoffen draaien.
Rijkere landen moeten zich richten op klimaat-vriendelijke investeringen die bedoeld zijn om de toekomstige lasten van de opwarming van de aarde terug te dringen. Volgens één schatting kunnen de gemiddelde kosten van het zich aan de klimaatverandering aanpassen voor negen van 's werelds meest kwetsbare landen tussen 2015 en 2030 de $15 mrd per jaar bereiken.
China is een goed voorbeeld als het gaat om de huidige inconsistentie met betrekking tot schone energie. Thuis toont het land hoe een snel industrialiserende economie kolencentrales kan sluiten en de toegang tot energie met schone duurzame energiebronnen kan uitbreiden. Maar onder het Belt and Road Initiative – China's massieve transnationale investeringsprogramma in infrastructuur – zijn de meeste energieprojecten gericht op olie, gas en steenkool.
Het hoeft niet zo te zijn. China kan makkelijk zijn schone energie- en klimaatvriendelijke technologie exporteren als debiteuren hierom vragen. In Argentinië leent de Export-Import Bank of China bijvoorbeeld bijna $400 mln voor de financiering van de bouw van het grootste zonne-energieproject in Zuid-Amerika.
Naast de BRI voeren ook andere landen, zoals Japan, hun investeringen in eilandstaten en andere ontwikkelingslanden op. Landen die deze fondsen ontvangen moeten goed nadenken over de manier waarop deze projecten hun burgers en lokale gemeenschappen op de langere termijn zullen dienen, en hoe nieuwe op bruinkool draaiende elektriciteitscentrales hun toch al hoge lasten van de klimaatverandering nog verder zullen verzwaren.
Intussen moeten de donorlanden overwegen hoe hun buitenlandse investeringen zich verhouden tot hun beloften op grond van het Parijse klimaatverdrag uit 2015. De enige mogelijke manier om de opwarming van de aarde te beperken tot maximaal 1,5°C boven pre-industrieel niveau – een waarlijk existentiële drempel voor veel kleine eilandstaten – is het onmiddellijk stopzetten van de bouw van nieuwe centrales die op fossiele brandstoffen draaien. Als een energieproject niet verenigbaar is met deze limiet van 1,5°C, kan een zelfverklaarde "klimaatleider" als China of Japan dan de financiering ervan rechtvaardigen?
Het Parijse verdrag heeft tot een nieuw tijdperk van internationale samenwerking geleid, nu de wereldleiders hebben afgesproken samen de dreiging van de opwarming van de aarde te zullen bestrijden. Kwetsbare eilanden als het mijne verwelkomen buitenlandse investeringen in onze energietoekomst, vooropgesteld dat projecten schoon en CO2-vrij zullen zijn, en onze burgers zullen helpen werkelijke energiezekerheid te bereiken.
Kleine eilandstaten hebben onevenredig veel last van de klimaatverandering. Maar met de hulp van onze debiteuren kunnen we de ergste gevolgen ervan helpen verzachten.
Vertaling: Menno Grootveld