Vladimir Putin a riziko třetí světové války
SAN FRANCISCO – Ruská invaze na Ukrajinu 24. února se stala začátkem třetí světové války, která má potenciál zničit naši civilizaci. Invazi předcházelo dlouhé setkání ruského prezidenta Vladimira Putina a čínského prezidenta Si Ťin-pchinga, které se konalo 4. února – na začátku oslav čínského nového roku a zimních olympijských her v Pekingu. Po jednání vydali oba muži pečlivě formulované prohlášení o délce 5000 slov, v němž oznámili úzké partnerství mezi oběma zeměmi. Tento dokument je silnější než jakákoliv smlouva a muselo mu předcházet podrobné vyjednávání.
Překvapilo mě, že Si zřejmě poskytl Putinovi bianko šek k invazi a k válce proti Ukrajině. Zřejmě si je naprosto jistý, že jeho potvrzení v roli doživotního čínského vládce bude letos pouhou formalitou. Soustředil ve svých rukou veškerou moc a pečlivě si napsal scénář, podle něhož bude vynesen na úroveň Mao Ce-tunga a Teng Siao-pchinga.
Jakmile si Putin zajistil Siovu podporu, začal s neuvěřitelnou brutalitou realizovat svůj celoživotní sen. Brzy mu bude sedmdesát let a má pocit, že pokud se chce zapsat do ruských dějin, je to teď, nebo nikdy. Jeho koncept role Ruska ve světě je však pokřivený. Putin zřejmě věří, že ruský lid potřebuje cara, jehož by mohl slepě následovat. To je pravý opak demokratické společnosti a zároveň je to vize, která deformuje ruskou "duši" – tak emociální, že to hraničí se sentimentalitou.
Jako dítě jsem se mnohokrát setkal s ruskými vojáky, když v roce 1945 okupovali Maďarsko. Zjistil jsem, že když se na ně člověk obrátí se žádostí o pomoc, rozdělí se s ním i o poslední kousek chleba. Později, na počátku 80. let, jsem se vrhl na to, co nazývám svou politickou filantropií.
Nejprve jsem v rodném Maďarsku založil nadaci a pak jsem se aktivně podílel na rozpadu sovětského impéria. Když se v roce 1985 dostal k moci Michail Gorbačov, rozpad už započal. Založil jsem nadaci i v Rusku a poté jsem učinil totéž ve všech nástupnických státech. Na Ukrajině jsem nadaci založil ještě předtím, než se stala nezávislým státem. Zároveň jsem v roce 1984 navštívil Čínu, kde jsem se stal prvním cizincem, jemuž bylo umožněno založit nadaci (tu jsem pak zavřel v roce 1989, krátce před masakrem na náměstí Tchien-an-men).
Putina osobně neznám, ale velmi bedlivě sleduji jeho vzestup a uvědomuji si, jak je nelítostný. Hlavní město Čečenska Groznyj proměnil v trosky a momentálně hrozí, že stejně naloží i s hlavním městem Ukrajiny Kyjevem.
Subscribe to PS Digital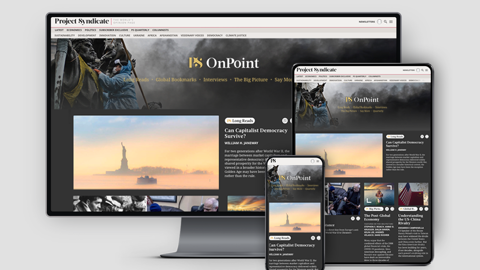 Subscribe to PS Digital
Access every new PS commentary, our entire On Point suite of subscriber-exclusive content – including Longer Reads, Insider Interviews, Big Picture/Big Question, and Say More – and the full PS archive.
Putin býval mazaným operativcem KGB, ale zdá se, že se v poslední době změnil. Vzal si do hlavy utkvělou představu a podle všeho ztratil kontakt s realitou. Situaci na Ukrajině rozhodně vyhodnotil špatně. Očekával, že rusky mluvící Ukrajinci přivítají ruské vojáky s otevřenou náručí, ale ukázalo se, že ti nejsou o nic jiní než ukrajinsky mluvící populace. A Ukrajinci se postavili na neuvěřitelně hrdinský odpor proti zdánlivě zdrcující přesile.
V červenci 2021 vydal Putin dlouhý esej, v němž tvrdí, že Rusové a Ukrajinci jsou ve skutečnosti jeden národ a že Ukrajinci se nechali svést na scestí neonacistickými štváči. První část jeho argumentace nepostrádá jisté historické ospravedlnění vzhledem k faktu, že Kyjev byl původním sídlem ruské pravoslavné církve. Ve druhé části se však nechal svést na scestí Putin. Měl by být znalejší. Během euromajdanu v roce 2014 mnozí Ukrajinci srdnatě bojovali.
Události z roku 2014 Putina velice rozezlily. Ruská armáda si však vedla velmi špatně, když dostala rozkaz zaútočit na ukrajinské bratry. Významnou roli v jejím mizerném výkonu sehrála i zakořeněná korupce při přidělování armádních zakázek. Místo aby však Putin vinil sám sebe, doslova zešílel. Rozhodl se, že ztrestá Ukrajinu za to, že se mu postavila, a zdá se, že jedná bez jakýchkoliv zábran. Vrhá do boje celou ruskou armádu a ignoruje veškerá pravidla války, v neposlední řadě tím, že bez rozdílu bombarduje civilní obyvatelstvo. Zasaženo bylo mnoho nemocnic a došlo i k poškození elektrického vedení, které napájí černobylskou jadernou elektrárnu (v současnosti okupovanou ruskými vojáky). V obléhaném Mariupolu je 400 000 lidí už téměř týden bez vody a bez potravin.
Rusko může docela dobře válku prohrát. Spojené státy i Evropská unie vysílají na Ukrajinu obranné zbraně a objevily se i snahy o nákup stíhaček MIG ruské výroby, s nimiž ukrajinští piloti umějí létat. Tyto věci mohou znamenat obrat. Bez ohledu na výsledek však Putin už dnes dokázal zázraky, když se mu podařilo posílit odhodlání a jednotu EU.
Prezidentovi Si zatím zřejmě došlo, že se z Putina stala neřízená střela. Osmého března, tedy den poté, co čínský ministr zahraničí Wang I trval na tom, že přátelství mezi Čínou a Ruskem zůstává "skálopevné", telefonoval Si francouzskému prezidentovi Emmanuelu Macronovi a německému kancléři Olafu Scholzovi a vyjádřil podporu jejich mírovému úsilí. Přál si ve válce maximální zdrženlivost, aby byla odvrácena humanitární krize.
Není zdaleka jisté, že se Putin Siovým přáním podvolí. Můžeme jen doufat, že Putin a Si budou odstaveni od moci dříve, než dokážou zničit naši civilizaci.
Z angličtiny přeložil Jiří Kobělka