Partilhar dados privados para o bem comum
NOVA IORQUE – Depois de o furacão Katrina ter fustigado Nova Orleães em 2005, a empresa de publicidade endereçada Valassis partilhou a sua base de dados com serviços de emergência e voluntários para ajudar a distribuição da assistência. Em Santiago do Chile, analistas da Universidad del Desarrollo, da ISI Foundation, da UNICEF e do GovLab colaboraram com a Telefónica, a maior operadora móvel na cidade, num estudo sobre os padrões de mobilidade associados ao género, para conceber uma política de transportes mais equitativa. E ao participarem no projecto Open Data Acess da Universidade de Yale, as empresas do sector da saúde Johnson & Johnson, Medtronic e SI-BONE permitem que investigadores acedam a dados anteriormente indisponíveis de 333 ensaios clínicos, abrindo caminho a possíveis inovações na medicina.
Estes são apenas três exemplos de "colaborações de dados", uma forma emergente de parceria onde os participantes trocam dados para o bem comum. Estas ligações envolvem normalmente organismos públicos que usam dados de empresas e de outras entidades do sector privado para benefício da sociedade. Mas as colaborações de dados também podem ajudar as empresas – as farmacêuticas partilham dados sobre biomarcadores para acelerarem os seus esforços de investigação em matéria de medicamentos, por exemplo. As iniciativas de partilha de dados também têm um potencial enorme para melhorar a Inteligência Artificial (IA). Mas têm de ser concebidas de forma responsável, e têm de prever as preocupações com a privacidade dos dados.
A compreensão da justificação social e empresarial para as colaborações de dados, bem como das formas que podem tomar, é crítica para se conseguir uma avaliação mais profunda do potencial e das limitações dessas iniciativas. A GovLab identificou mais de 150 colaborações de dados em vários continentes e indústrias; incluem empresas como a Air France, a Zillow e a Facebook. A nossa investigação sugere que estas parcerias podem criar valor de três formas principais.
Para começar, as colaborações de dados podem melhorar a análise situacional e causal. As suas recolhas específicas de dados ajudam os responsáveis governamentais a entender melhor as questões como os problemas de trânsito ou a desigualdade financeira, e a conceber políticas baseadas em provas, mais ágeis e mais orientadas para a sua resolução.
Além disso, estas trocas de dados melhoram a capacidade de previsão dos responsáveis pelas decisões. A enorme quantidade actual de dados públicos e privados pode proporcionar perspectivas eficazes sobre desenvolvimentos futuros, ajudando desse modo os decisores a planear e a implementar medidas mais eficazes.
Finalmente, e de forma mais importante, as colaborações de dados podem tornar a IA mais robusta, precisa e adequada. Embora os analistas sugiram que a IA estará no centro da governação do século XXI, a sua prestação dependerá dos modelos subjacentes. E a sofisticação e exactidão destes modelos depende da qualidade, da profundidade, da complexidade e da diversidade dos dados em que assentarem. Portanto, as colaborações de dados podem desempenhar um papel vital na construção de melhores modelos de IA, ao promoverem a integração e ao agregarem dados de origens novas e alternativas.
Subscribe to PS Digital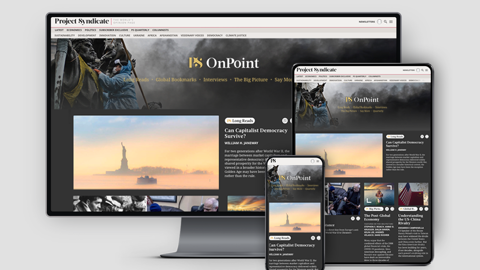 Subscribe to PS Digital
Access every new PS commentary, our entire On Point suite of subscriber-exclusive content – including Longer Reads, Insider Interviews, Big Picture/Big Question, and Say More – and the full PS archive.
As colaborações de dados público-privadas têm grande potencial para beneficiar a sociedade. Os responsáveis políticos que analisem os padrões do trânsito ou o desenvolvimento económico das cidades podem melhorar a exactidão dos seus modelos usando os registos detalhados de chamadas gerados pelas empresas de telecomunicações, por exemplo. E os investigadores podem melhorar os seus modelos de previsão climática adicionando dados provenientes de operadores de satélites comerciais. O intercâmbio de dados pode ser igualmente útil para o sector privado, ao ajudar as empresas a reforçar a reputação da sua marca, a canalizar de forma mais eficaz as suas despesas de investigação e desenvolvimento, a aumentar os lucros e a identificar novos riscos e oportunidades.
Ainda assim, apesar do progresso e da promessa, a colaboração de dados é ainda um domínio emergente, e só agora começamos a compreender os seus benefícios e potenciais inconvenientes. A nossa abordagem no GovLab salienta os benefícios mútuos da colaboração e visa desenvolver a confiança entre os fornecedores e os utilizadores dos dados.
Como parte deste processo, começámos a desenhar um enquadramento institucional que coloca a colaboração de dados responsável no centro das operações de entidades dos sectores público e privado. Isto inclui a identificação de responsáveis pelos dados nestas organizações que liderem a concepção e implementação de esforços colaborativos sistemáticos, sustentáveis e éticos. O objectivo consiste em construir uma rede de indivíduos provenientes dos sectores público e privado que promovam a administração de dados.
Dadas as preocupações acentuadas sobre a privacidade e o uso indevido dos dados – o chamado techlash (NdT: termo usado para identificar a reacção negativa do público quanto ao poder das empresas tecnológicas) – algumas pessoas terão compreensivelmente reticências relativas às iniciativas de partilha de dados. Estamos conscientes destas inquietações legítimas, e dos motivos para a erosão mais geral da confiança do público. Mas também acreditamos que a criação de enquadramentos rigorosos e de abordagens mais sistémicas à colaboração de dados são as melhores maneiras de abordar essas preocupações.
As colaborações de dados reúnem dados que de outra forma não seriam integrados e experiências dispersas, o que ajuda a ligar a oferta à procura destas informações. Iniciativas bem concebidas garantem que as instituições e os indivíduos adequados usam dados de forma responsável e para maximizar o potencial de políticas sociais inovadoras. E a aceleração do crescimento das colaborações de dados é crucial para o desenvolvimento futuro da IA.
A partilha de dados envolve riscos, mas também tem potencial para transformar o modo como somos governados. Se aproveitarem o poder das colaborações de dados, os governos podem desenvolver políticas mais inteligentes que melhorem as vidas das pessoas.