Odliczanie do Katastrofy Klimatycznej
MALÉ/MANILA - Jamajka, Rwanda, Wyspy Marshalla i Mongolia należą do najbardziej wrażliwych na klimat krajów świata i odpowiadają za niewielki procent globalnych emisji. W tym roku ich gospodarki również ucierpiały na skutek pandemii COVID-19. Jednak każdy z tych krajów dostarczył Organizacji Narodów Zjednoczonych zaktualizowane plany klimatyczne, określone w porozumieniu klimatycznym z Paryża z 2015 roku, przed upływem tego roku.
Innymi słowy, kraje - które w najmniejszym stopniu przyczyniły się do kryzysu klimatycznego - są obecnie jednymi z najbardziej zaangażowanych w jego rozwiązanie. Powinno to stanowić przykład dla krajów rozwiniętych, w tym Stanów Zjednoczonych, których plany redukcji emisji - z terminem o północy 31 grudnia - nie zostały jeszcze zrealizowane.
Oprócz planów klimatycznych porozumienie paryskie wzywa do pomocy finansowej od bogatszych krajów w celu wsparcia działań na rzecz klimatu. Jak dotąd tego wsparcia - także planowanego do końca 2020 r. - również brakuje. OECD szacuje, że tylko około 79 miliardów dolarów z obiecanych 100 miliardów dolarów rocznie trafia do krajów, w których jest to najbardziej potrzebne.
Kraje wrażliwe już teraz odczuwają finansowe skutki zmiany klimatu. Według ONZ wrażliwość klimatyczna podniosła koszt zadłużenia tych krajów oponad 60 miliardówdolarów w ciągu ostatniej dekady. Oczekuje się, że spłaty odsetek wzrosną do 168 miliardówdolarów w nadchodzącej dekadzie z tego samego powodu. Najbardziej zagrożone gospodarki wymagają natychmiastowego zastrzyku płynnej gotówki, a takżerestrukturyzacjizadłużeniaiumorzenia.
COVID-19 potęguje te problemy gospodarcze i widać, że obecna pandemia nie będzie ostatnią w swoim rodzaju. Zmiana klimatu, wylesianie oraz niszczenie siedlisk przyrodniczych zwiększają ryzyko nowych chorób przenoszonych przez nosicieli zarazków.
Zaawansowane gospodarki są odpowiedzialne za pomoc w zapewnieniu, że rozwijający się świat nie zostanie pogrążony w długach i nękany wzajemnie powiązanymi zagrożeniami związanymi z COVID-19 i zmianą klimatu. Oprócz pomocy podatnym krajom muszą one ponownie rozważyć własne plany odbudowy po COVID-19.
Subscribe to PS Digital Now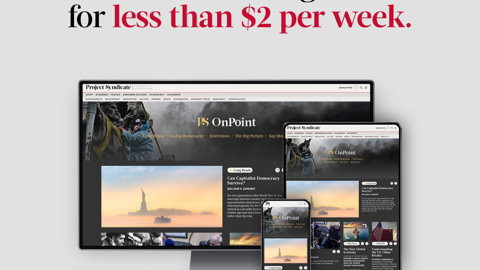 Subscribe to PS Digital Now
Access every new PS commentary, our entire On Point suite of subscriber-exclusive content – including Longer Reads, Insider Interviews, Big Picture/Big Question, and Say More – and the full PS archive.
Niestety tak się nie dzieje. Biliony dolarów przeznacza się na pakiety naprawcze, które zdaniem ekonomistów nagradzająsektoryodpowiedzialnezazanieczyszczenie. W raporcie Międzynarodowego Funduszu Walutowego na rok 2020 WorldEconomicOutlook podkreślono również odpowiedzialność krajów G20 za wdrażanie pakietów rozwojowych, które zmniejszają ich zależność od paliw kopalnych. Niezwykle ważne jest, aby rządy zrozumiały, że jeśli chcemy zapewnić przyszłym pokoleniom bezpieczniejszy świat, lepsze i bardziej ekologiczne budowanie nie jest polisą tylko na najbliższy rok.
Kraje najbardziej zagrożone są zmęczone bezczynnością. I nie tylko proszą o pomoc, ale starają się dawać przykład. Na przykład Bank Centralny Filipin przyjął niedawno ramyzrównoważonegofinansowania, aby zabezpieczyć system finansowy przed zmieniającym się ryzykiem klimatycznym. Nowe ramy zachęcają banki do wyceny ryzyka związanego z klimatem fizycznym i transformacją, a także do oceny odporności na zmianę klimatu i możliwości niskoemisyjnych. Ponadto bank centralny musi ujawnić swoją własną ekspozycję na ryzyka środowiskowe, co może prowadzić do wykluczenia określonych aktywów - takich jak paliwa kopalne - z jego polisy w przyszłości. Pod koniec października Filipiny nałożyły również moratorium na nowe elektrownie węglowe.
W skali globalnej Bank Światowy i Międzynarodowy Fundusz Walutowy współpracujązG20, aby przyciągnąć więcej inwestycji do biedniejszych krajów poprzez obniżenie kosztów związanych z "zielonymi" projektami. W Stanach Zjednoczonych prezydent elekt Joe Biden obiecał przywrócić USA jako państwo zobowiązane do przestrzegania ONZ, porozumień wielostronnych, takich jak porozumienie paryskie, oraz prawa międzynarodowego. Z zadowoleniem należy przyjąć powrót Ameryki na pozycję światowego lidera w walce ze zmianami klimatycznymi. Jednak podobnie jak inne kraje rozwinięte Stany Zjednoczone nadal muszą dostarczyć zaktualizowany plan klimatyczny.
Kryzys COVID-19 podkreśla pilną potrzebę bardziej ambitnych środków działania. Podczas I wojny światowej Wielka Brytania wyemitowała obligacje wojenne, aby sfinansować zarówno konflikt, jak i późniejsze ożywienie gospodarcze. Podobne instrumenty można by wykorzystać, aby pomóc Globalnemu Południu wydostać się z klęski związanej zarówno z pandemią, jak i klimatem. Ponadto główne banki rozwoju i prywatni inwestorzy powinni wykazać się przywództwem, wdrażając wizję porozumienia paryskiego dotyczącą globalnego przejścia z brudnej na czystą energię.
Nie możemy już dłużej opóźniać działań w kwestii klimatu, a liderzy gospodarek rozwiniętych muszą zintensyfikować konkretne kroki i pójść za przykładem krajów rozwijających się. Prawdziwymi liderami nie są ci, którzy krzyczą najgłośniej lub najczęściej tweetują. Prawdziwi przywódcy to ci, którzy dotrzymują obietnic. Wzywamy bogatsze kraje do przedłożenia zaktualizowanych planów klimatycznych przed końcem roku oraz do wypełnienia pozostałych obietnic zawartych w porozumieniu klimatycznym z Paryża - zarówno dla nas, jak i dla przyszłych pokoleń.
Z angielskiego przetłumaczyła Marz McNamer