Management Země
Někdy v příštích dvaceti letech se hluboce a navždy změní vztah mezi lidskými bytostmi a světem přírody. Nedojde k tomu přes noc, ale vzhledem k současným vědeckým pokrokům bude změna nevyhnutelná. Ať se nám to líbí, nebo ne, ať jsme na to připraveni, nebo ne, pokroky ve vědě nás přibližují okamžiku, kdy už nebudeme pouhými účastníky globálního ekosystému, nýbrž jeho manažery.
Rád o této nadcházející revoluci přemýšlím z historického hlediska. Po většinu z oněch tři a půl milionu let, co se po Zemi procházejí bytosti, jež můžeme označit za "lidské", byli tito tvorové jednoznačně součástí řádu přírody. Jejich přežití ovládaly železné zákony evoluce a ti, kdo neobstáli v konkurenci, nežili dlouho a rychle upadali do zapomnění. Jedinou obranou, již jsme proti nepřátelskému světu měli, byly primitivní kamenné nástroje a oheň, což je ochrana přinejlepším chabá.
Pak se asi před deseti tisíci lety stalo něco pozoruhodného. Kdesi v pohoří Taurus na území dnešního Turecka začala skupinka lidí, zřejmě žen, vytvářet nové technologie, jež měly změnit způsob interakce mezi člověkem a jeho okolím. Tyto technologie nazýváme "zemědělstvím" a právě ony daly lidským bytostem poprvé schopnost vymanit se ze zákonů přirozené selekce. Naši předci už si nemuseli vystačit s potravou, již jim nabídla příroda - mohli začít pěstovat svou vlastní, která daleko předčila hubené příděly přírody.
Od zrodu zemědělství byly lidské dějiny ustavičným pokrokem postupného osvobozování od omezujících faktorů přírody. Abychom nahradili vytváření energie lidskými a zvířecími svaly, sestrojili jsme stroje, které umí uvolňovat sluneční svit z uhlí a ropy. Místo spoléhání na přirozenou obranyschopnost organismu jsme vyvinuli antibiotika a další prostředky moderního lékařství.
Výsledkem je to, že lidské bytosti už skutečně nejsou součástí přírody - přežití našeho druhu už nezávisí na schopnosti soupeřit v darwinovské džungli. Jsme odkázáni spíše na sociální strukturu a technologie než na své geny.
Dnes se blížíme k dalšímu obrovskému kroku, který nás přírodní soustavě naší planety nevzdálí, ale naopak nás k ní opět přiblíží. Poprvé v dějinách začínáme chápat, jak živé věci kolem nás fungují, jak do sebe zapadají jednotlivé články.
Introductory Offer: Save 30% on PS Digital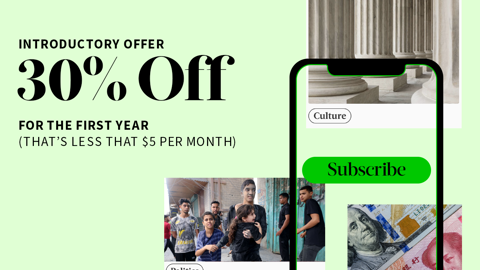 Introductory Offer: Save 30% on PS Digital
Subscribe now to gain greater access to Project Syndicate – including every commentary and our entire On Point suite of subscriber-exclusive content – starting at less than $5 per month.
Některé z těchto pokroků jsou teoretické a umožňují nám vytvářet počítačové modely spletitých systémů, jako jsou celokontinentální pralesy nebo celé oceány. Jiné jsou všednější, jako třeba dlouhodobé experimenty a pozorování menších ekosystémů, například nevelkých ploch prérijních travin či mokřin. Konečně, dochází samozřejmě k velkolepým pokrokům ve znalostech genomiky, vědy, která nás učí chápat základní mechanismy, jež se uplatňují uvnitř všech živých soustav, včetně člověka.
Tyto nové oblasti vědy dohromady nám umožní na naší planetě řídit ekosystémy, neboť budeme umět předpovídat dopady lidských zásahů a předjímat průběh přírodních cyklů. Skutečně máme schopnost stát se manažery planety Země.
Jde o zodpovědnost, jíž se nemůžeme vyhnout. Analogie, již rád používám, spoléhá na prachobyčejný příklad údržby trávníku na předměstí. Můžeme se rozhodnout trávu sekat, čímž vytvoříme jistý ekosystém, jistou budoucnost. Nebo se rozhodneme trávu nesekat a vytvoříme jiný ekosystém, jinou budoucnost. Ať tak či onak, naše jednání určuje, co se s trávníkem stane. Není možné se nerozhodnout. Ať uděláme cokoliv, třeba se i rozhodneme neudělat nic, budoucnost trávníku závisí na nás.
Ve skutečnosti bude náš vztah k planetě obdobou vztahu zahradníka k zahradě. Zahradník neničí rostliny bez rozmyslu, ale pravidelně vytrhává plevel. Rostliny si nepodrobuje, nýbrž je studuje, aby vytvořil zahrádku, jakou si přeje. Nejdůležitější však je, že zahradu nespravuje kvůli samotným rostlinám, ale z nějakého jiného důvodu - aby získal úrodu, vypěstoval květiny nebo prostě aby měl hezkou zahrádku.
Obdobně platí, že lidé budou zanedlouho schopni spravovat Zemi a naše rozhodnutí budou určovat budoucnost planety. Vzhledem k mimořádnému tempu, jímž v současnosti věda postupuje, není vůbec předčasné začít přemýšlet, jak se svou ohromnou odpovědností naložíme.