Cómo una sanidad pública global puede reactivar el multilateralismo
MADRID – Mientras el mundo se esfuerza en contener el SARS-CoV-2 y en mitigar su impacto en nuestras vidas y medios de subsistencia, debería ser obvio para todo el mundo que la cooperación internacional es la única forma eficaz de ganar la batalla. Las respuestas nacionales son vitales, pero a medio plazo el multilateralismo será nuestra mejor arma en esta batalla – y nuestra mejor defensa frente a futuras amenazas globales.
Mi país, España, está en primera línea frente a la pandemia. El coronavirus nos golpeó antes y con más fuerza que a la mayoría de los países. Hemos tenido que llorar miles de muertes, y nuestro sistema de salud se ha puesto a prueba hasta el extremo. Nuestros ciudadanos están soportando un largo confinamiento con un sentido del deber ejemplar. Y hemos tenido que adoptar medidas sin precedentes para proteger nuestra economía.
Nuestra primera responsabilidad como gobernantes es hacia nuestros ciudadanos. Pero sabemos que ningún país estará completamente a salvo hasta que todos controlen la pandemia, y en última instancia, la erradiquen. Nuestra inicial desunión internacional no ha hecho más que fortalecer a nuestro enemigo, alejándonos aún más de nuestro objetivo común.
Basándonos en las lecciones que aún estamos aprendiendo, necesitamos elaborar con urgencia una estrategia más eficaz de salud pública global que integre nuevas políticas e iniciativas internacionales, europeas y nacionales.
En primer lugar, a nivel internacional, necesitamos un marco más eficaz para prevenir, detectar y responder a enfermedades y pandemias, que tenga sus raíces en instituciones reforzadas y en nuevos mecanismos diseñados para prevenir algunos de los fallos que hemos presenciado. El nuevo marco institucional debería estar basado en una Organización Mundial de la Salud renovada y reformada, con un mandato más amplio y mayor autoridad para la implementación y ejecución. La OMS debería tener la capacidad de diseñar e imponer mejores protocolos para la preparación y la reacción, imponer el intercambio de datos, y movilizar los recursos que sean necesarios.
Un marco de salud global con capacidad para imponerse debe ser también lo suficientemente ágil para abarcar la sucesión completa de actuaciones en materia de salud pública, desde la investigación científica y la alerta temprana, a la formulación, implementación y evaluación de políticas. Por ello, aparte de la necesaria reforma del proceso de toma de decisiones de la OMS y de su Comité de Emergencias, no debe subestimarse el potencial que ofrecen otras plataformas y organizaciones internacionales para contribuir al sistema de salud global que necesitamos.
Subscribe to PS Digital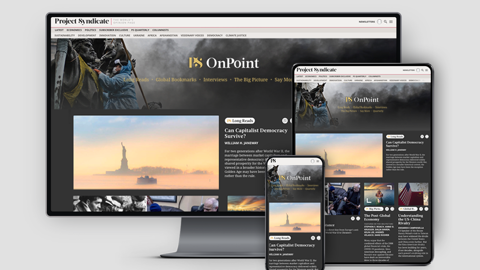 Subscribe to PS Digital
Access every new PS commentary, our entire On Point suite of subscriber-exclusive content – including Longer Reads, Insider Interviews, Big Picture/Big Question, and Say More – and the full PS archive.
Por ejemplo, el G20 y el G7 pueden ayudar a canalizar la voluntad política necesaria. El Banco Mundial y otros bancos regionales de desarrollo están en una posición única para orientar recursos hacia la reforma de los sistemas sanitarios nacionales. Y organizaciones como la OCDE tienen la capacidad de análisis suficiente para destilar las mejores prácticas y políticas sanitarias. En suma, necesitamos avanzar hacia un concepto de "salud compartida" que aúne las dimensiones medioambientales, económicas, sociales y de seguridad de la salud pública.
En segundo lugar, la Unión Europea debería aportar un modelo de preparación y gestión de crisis que otras regiones podrían emular, mediante la puesta en común de recursos y el diseño de nuevos mecanismos para la acción común. Además de liderar el establecimiento de este nuevo y reforzado marco de salud global, la UE puede y debe mejorar su propia coordinación interna.
Al fin y al cabo, fue la cooperación sectorial en el carbón y el acero lo que alumbró a la UE, el mecanismo más innovador de gobernanza global que el mundo ha presenciado. Ahora necesitamos un nivel de ambición similar para combatir los retos sanitarios que compartimos.
Una integración europea más profunda en esta área ofrecería beneficios considerables. El Centro Europeo para la Prevención y Control de Enfermedades debería tener mayor autonomía y más recursos. Se podría crear una auténtica Unidad Europea de Gestión de Crisis, con los medios necesarios para asegurar una respuesta rápida a una emergencia. Se deberían realizar test sistemáticos de estrés a los sistemas nacionales de salud, para evaluar la resiliencia de los Estados miembro frente a las crisis. Al igual que sucede con los rigurosos test de estrés que se llevan a cabo sobre nuestros sectores financieros, el proceso debería permitir corregir las deficiencias, compartir mejores prácticas, y desarrollar herramientas de coordinación.
Es más, la UE debería invertir en bases de datos conjuntas y reservas estratégicas de material sanitario. Del mismo modo, se deberían armonizar protocolos y fomentar la colaboración en el desarrollo de tratamientos y vacunas. En el corto plazo, los países europeos deberían cooperar en una estrategia coordinada de transición para reactivar la economía sin provocar un nuevo brote.
Finalmente, en el plano nacional, todos tenemos mucho que hacer - no solo como una obligación hacia nosotros mismos y nuestros ciudadanos, sino también hacia nuestros vecinos y la comunidad internacional en su conjunto. En España, crearemos una comisión para evaluar el estado de nuestro sistema sanitario, y solucionar sus debilidades y sus defectos. No obstante, al ser conscientes de que las poblaciones más vulnerables del mundo son las más afectadas por las pandemias, reforzaremos también nuestra diplomacia sanitaria. El fortalecimiento de nuestros sistemas nacionales de salud requiere que compartamos nuestra experiencia con otros países y que aprendamos de las suyas, y también que prioricemos la reforma de los sectores sanitarios en nuestra cooperación al desarrollo.
Si damos pasos como los aquí propuestos, esta pandemia nos dejará mejor preparados para la siguiente. Pero podemos aspirar a algo aún mejor. La cooperación internacional en materia de salud debería extenderse a otros "males públicos" que no hemos sido capaces de afrontar de forma eficaz: el cambio climático, los conflictos armados, la pobreza, la desigualdad creciente, las migraciones internacionales, la proliferación nuclear, el terrorismo, y otros tantos. La urgencia de estos retos puede parecer ahora menos acuciante, pero las amenazas que suponen para todos siguen persistiendo.
En nuestro mundo interconectado, necesitamos reactivar el multilateralismo haciéndolo más coherente y adecuado a sus propósitos. Esto supone reforzar las instituciones y los mecanismos que funcionan, reformando o eliminando aquellos que no lo hacen, y creando los que necesitemos. Esta crisis nos recuerda nuestra fragilidad y la importancia de la unidad internacional. No cabe duda de que estamos juntos en esto. Y pone de manifiesto que una cooperación más estrecha en salud pública global es el catalizador para el multilateralismo que necesitamos.