Die versteckten Kohlenstoffsubventionen werden uns zerstören
NEW DELHI – Der jüngste Bericht des Weltklimarats (IPCC) sollte Politiker und Normalbürger weltweit in Angst und Schrecken versetzen. Der IPCC warnt, dass einige katastrophale Folgen des Klimawandelns nicht in ferner Zukunft, sondern vermutlich bereits innerhalb der nächsten 15 Jahre oder sogar des nächsten Jahrzehnts eintreten werden.
Doch statt sich die Bedrohung bewusst zu machen und rasch darauf zu reagieren, konzentrieren sich die Politiker weiterhin auf Russlands schrecklichen Krieg gegen die Ukraine und seine unmittelbaren Folgen. Während dies verständlich sein mag, hat die Ukraine-Krise zugleich die übermäßig kurzfristige Orientierung der westlichen Regierungen deutlich gemacht. Viele haben rasch selbst die relativ mageren und offensichtlich unzureichenden Klimazusagen gebrochen, die sie erst vor wenigen Monaten auf der UN-Klimakonferenz in Glasgow abgegeben hatten.
Die Invasion der Ukraine und die darauf folgenden, vom Westen ausgehenden Sanktionen gegenüber Russland haben einen dramatischen Anstieg der Brennstoffpreise ausgelöst, und das zu einem Zeitpunkt, an dem der Energiemarkt aufgrund der wirtschaftlichen Erholung in den USA und Europa bereits am Erhitzen war. Doch statt diesen Preisanstieg als Chance zu begreifen, den Wandel weg von fossilen Brennstoffen zu forcieren, versuchen die Regierungen in den hochentwickelten Volkswirtschaften aus kurzsichtigen innenpolitischen Gründen, die Schmerzen abzumildern, indem sie die nationalen Energiepreise niedrig halten.
Die Regierung von US-Präsident Joe Biden hat, nachdem sie Saudi-Arabien erfolglos um eine Ausweitung seiner Ölförderung gebeten hatte, nun versprochen, während der nächsten sechs Monate eine Million Barrel täglich aus den staatlichen strategischen US-Reserven freizugeben. In Europa, das aufgrund seiner starken Abhängigkeit von russischem Erdgas viel stärker unter den Kriegsfolgen leidet, ist die Rede nicht nur von weiteren Kernkraftwerken, sondern sogar von einer Wiederinbetriebnahme von Kohlekraftwerken. Kohle ist der bei weitem "schmutzigste" fossile Brennstoff, und die reichen Länder stellen Indien und China routinemäßig an den Pranger, weil diese Kohle nutzen.
Nur wer bisher der nicht ernst gemeinten grünen Rhetorik der westlichen Regierungen vertraut hat, statt sich mit der Realität vertraut zu machen, dürfte von dieser Wendung der Ereignisse überrascht sein. Diese Regierungen subventionieren ihre eigenen Fossilbrennstoff-Industrien stark, während sie zugleich deutlich ärmere Länder ermahnen, mehr zur Verringerung der Treibhausgas-Emissionen zu tun. Doch wurde das ganze Ausmaß dieser Subventionen bisher durch die zu ihrer Messung verwandten Methoden verschleiert.
Die gängige Methode zur Messung der staatlichen Unterstützung der Produktion fossiler Brennstoffe besteht darin, sich die direkten Haushaltstransfers und Subventionen sowie die dem Sektor gewährten Steuererleichterungen anzusehen. Unter Verwendung dieser Methode schätzen OECD und Internationale Energie-Agentur, dass die Regierungen von 52 hochentwickelten Ländern und Schwellenvolkswirtschaften – auf die etwa 90 % des weltweiten auf fossilen Brennstoffen beruhenden Energieangebots entfallen – fossile Brennstoffe in den Jahren 2017-2019 mit durchschnittlich 555 Milliarden Dollar jährlich subventioniert haben.
Subscribe to PS Digital Now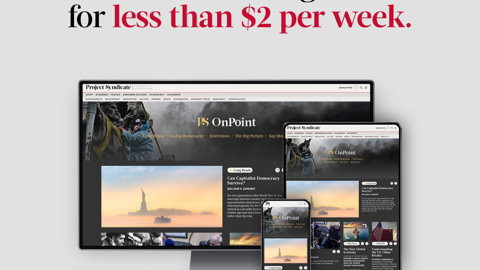 Subscribe to PS Digital Now
Access every new PS commentary, our entire On Point suite of subscriber-exclusive content – including Longer Reads, Insider Interviews, Big Picture/Big Question, and Say More – and the full PS archive.
Diese Unterstützung ging 2020 auf 345 Milliarden Dollar zurück. Das lag überwiegend am Einbruch der Kraftstoffpreise und am Rückgang des Verbrauchs während der COVID-19-Pandemie. Doch schon vor dem Ukraine-Krieg gab es Befürchtungen, dass angesichts der Erholung der Weltwirtschaft steigende Brennstoffpreise die Subventionen wieder in die Höhe treiben würden.
Diese Befürchtungen haben sich mehr als bestätigt. Es erwies sich, dass die düstersten Schätzungen die tatsächlichen staatlichen Subventionen fossiler Brennstoffe massiv zu niedrig angaben. In einer jüngsten Studie entwickelte der Internationale Währungsfonds eine umfassendere Messgröße, die sowohl die expliziten Subventionen, d. h. die Berechnung zu niedriger Angebotskosten berücksichtigt als auch die impliziten Subventionen, d. h. die Berechnung zu niedriger ökologischer Kosten und entgangener Verbrauchssteuern.
Der IWF schätzt, dass sich die weltweiten Subventionen für fossile Brennstoffe 2020 auf 5,9 Billionen Dollar beliefen. Das ist mehr als zehn Mal so viel wie in der Schätzung von OECD und IEA. Dies überrascht nicht: 92 % der Gesamtsumme entfielen auf implizite Subventionen.
Nach beiden Methodologien ist Indien ein starker Subventionierer fossiler Brennstoffe, auch wenn man das einkommensschwachen Ländern angesichts der hohen Kosten der Umstellung auf umweltfreundliche Energieträger zum Teil nachsehen kann. Die Rankings anderer Länder jedoch verändern sich bei Berücksichtigung impliziter Subventionen auf interessante Weise. Russland war der größte Bereitsteller expliziter Subventionen auf fossile Brennstoffe, doch die Gesamtsubventionen der USA – mit 662 Milliarden an impliziten Subventionen im Jahr 2020 und fast 800 Milliarden im Jahr 2021 – sind beträchtlich höher. China stellte 2020 mit geschätzten 2,2 Billionen Dollar die höchsten impliziten Subventionen bereit.
Diese wichtigen Zahlen beleuchten das Ausmaß, in dem staatliche Subventionen die Preise und damit die Marktanreize zugunsten – und nicht zu ungunsten – fossiler Brennstoffe verzerren. Während die Regierungen die Fossilbrennstoff-Industrie 2020 in der Größenordnung von 5,9 Billionen Dollar unterstützten, belief sich die weltweite finanzielle Unterstützung aus öffentlichen und privaten Quellen zusammen laut IPCC-Schätzungen im selben Jahr nur auf insgesamt rund 640 Milliarden Dollar.
Angesichts dieser enormen Diskrepanz sollte niemand über die fortdauernde Resilienz der Fossilbrennstoff-Industrie schockiert sein. Der Welt bleibt kaum noch Zeit, um die globale Erwärmung auf 1,5 °C zu begrenzen und eine Klimakatastrophe abzuwenden. Doch das Weltwirtschaftssystem und viele Regierungen scheinen unfähig, die Bedrohung ernst zu nehmen.
Aus dem Englischen von Jan Doolan