Naar een wereld zonder uitlaten
SAN JOSÉ – Het efficiënte vervoer van mensen is voor elke maatschappij van levensbelang. Wanneer transportnetwerken goed functioneren drijven ze economische ontwikkeling aan en brengen mensen letterlijk samen. Maar in vele delen van de wereld is mobiliteit een kwestie van leven of dood; smerig, onveilig, en chaotisch. Vervuiling en files door trucks, bussen, en auto's zijn voor miljoenen mensen dagelijkse risico's, en vooral in opkomende landen.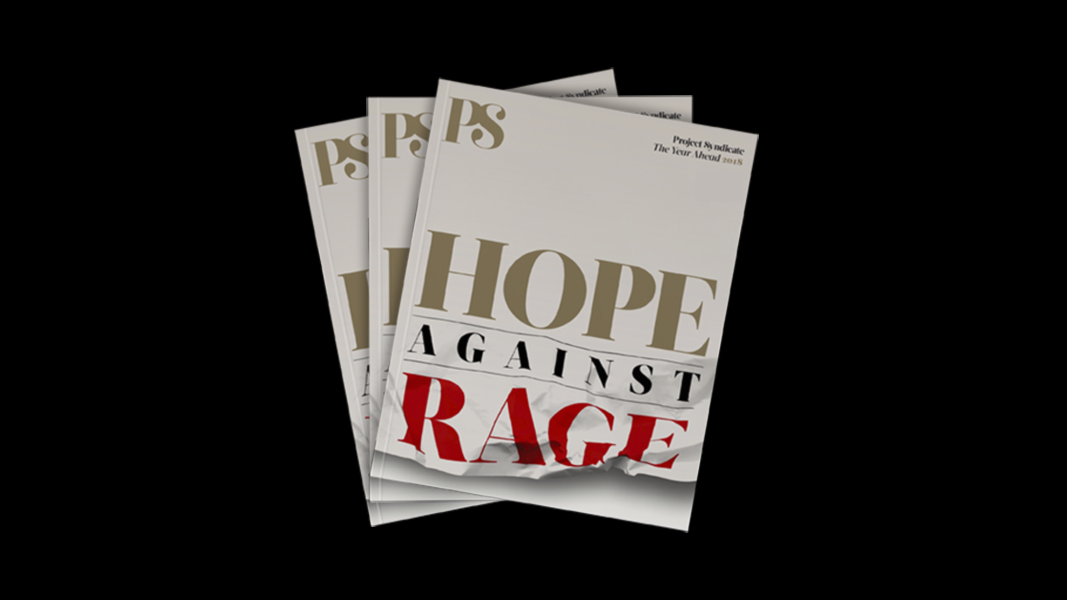 The Year Ahead 2018
The world's leading thinkers and policymakers examine what's come apart in the past year, and anticipate what will define the year ahead.
Gelukkig zijn er grote veranderingen op til qua hoe mensen zich bewegen. Voor de eerste keer sinds midden negentiende eeuw, toen de verbrandingsmotor werd uitgevonden, is zijn verscheiden in zicht. Autoproducenten hebben plannen aangekondigd voor grote aantallen elektrische modellen, en politici in verschillende Europese landen hebben een uiterste datum voor benzine- en dieselauto's gesteld, en leiders in India en China zijn hetzelfde van plan.
Bedrijven over de hele wereld doen moedige voorspellingen dat elektrische mobiliteit de toekomst van het transport is. Zelfs de degenen die het meest te verliezen hebben bij een verschuiving weg van fossiele brandstoffen begrijpen dat Electric Vehicles (EV's) onontkoombaar zijn. In juli gaf zelfs Ben van Beurden, CEO van Shell, toe dat zijn volgende auto een elektrische zal zijn.
Steeds meer mensen komen tot dezelfde conclusie, en degenen onder ons die EV's hebben gepromoot als één van de oplossingen voor klimaatverandering zijn optimistisch dat er een kantelpunt aanstaande is. De verkopen van elektrische auto's zijn de afgelopen jaren drastisch toegenomen: er werden er in 2016 ongeveer 750.000 geregistreerd, waarvan bijna de helft in China.
Toch zit het in de menselijke natuur om zich tegen verandering te verzetten, en veel eventuele kopers blijven twijfelen. Daarom moet het aanpakken van deze consumptiebias de komende jaren de hoogste prioriteit hebben. Er zijn verschillende veranderingen nodig om te garanderen dat de groei in het gebruik en de verkoop van EV's aan zal houden .
Om te beginnen moeten consumenten het geloof overkomen dat emissievrije mobiliteit alleen iets voor rijken in geavanceerde landen is. Elk jaar sterven er 6,5 miljoen mensen door luchtvervuiling, en 92% van de wereldbevolking woont op plekken waar de lucht niet veilig is om in te ademen. De uitstoot uit voertuigen draagt veel bij aan smerige lucht overal ter wereld. Het investeren in elektrische mobiliteit en infrastructuur – inclusief geëlektrificeerd openbaar vervoer, oplaadstations, en programma's voor het delen van elektrische auto's – zal de ontwikkeling aanjagen, in plaats van pijn doen.
Steun voor zulke investeringen eist van mensen om de valse belofte van 'schone' fossiele brandstoffen te verwerpen. Sommigen uit de industrie beweren dat elektrische auto's nog niet klaar zijn voor massale toepassing, en dat het een betere oplossing zou zijn om efficiëntere benzine- en dieselmotoren te bouwen. Dit verhaal horen we het meest van autoverkopers hier in Latijns-Amerika. Maar dit soort visies zijn net zo inaccuraat als egoïstisch.
Ik heb het geluk gehad dat ik zelf heb mogen ervaren hoe elektrische mobiliteit voelt, en hoe superieur deze is aan auto's die alleen benzine of diesel gebruiken. Ik heb duizenden kilometers gereisd door verschillende landen op geheel elektrische autoreizen. Wanneer je als chauffeur eenmaal deze schone, stille, en krachtige technologie hebt ervaren is het moeilijk om de sleutels weer in te moeten leveren. Overheden en consumentenorganisaties overal moeten samenwerken om meer mensen achter het stuur van deze inspirerende voertuigen te krijgen.
Ten slotte moeten we de structurele onevenwichtigheden die in ons transportbeleid aanwezig blijven aanpakken. Simpel gezegd hebben zij die het meeste lijden onder 'smerige' mobiliteit vaak de zwakste politieke stem. Zo laten data uit het Verenigd Koninkrijk bijvoorbeeld zien dat het vaak de allerarmsten zijn die lopen of de bus nemen. De ontwikkeling van openbaar vervoer met nul uitstoot is daarom vrijwel nooit een topprioriteit voor regeringsleiders. Om ze te overtuigen moeten voorvechters hun argumenten voor de economische en sociale voordelen van emissievrije mobiliteit aanscherpen, zoals wat betreft de positieve effecten op de volksgezondheid.
Van koers veranderen zal tijd kosten. In Costa Rica werkt mijn organisatie eraan om bedrijven en regeringen aan te moedigen om een 'elektrische-mobiliteit-pact' te ondertekenen om investeringen in EV-infrastructuur aan te moedigen. Begin 2018 starten we met online registratie en tegen het eind van volgend jaar doelen we erop honderd publieke en private organisaties aan boord te hebben. Verder debatteert de wetgevende macht van Costa Rica over een wetsvoorstel dat belastingvoordelen biedt aan elektrisch transport.
Anderen in Latijns-Amerika vinden hun eigen manieren om elektrische mobiliteit te bevorderen. In Chili bijvoorbeeld ligt de focus op zonne-energie en het verband tussen mijnbouw en de productie van EV's.
Maar politieke veranderingen alleen zullen EV's niet op de inhaalstrook brengen. Om dat te bewerkstelligen zullen consumenten een nieuw narratief van schone mobiliteit moeten omarmen. In Costa Rica zijn we er trots op dat bijna al onze elektriciteit wordt geproduceerd uit hernieuwbare bronnen, waaronder waterkracht, bodemwarmte, en windenergie. Dit geeft ons de stimulans om de leiding te nemen in de mondiale transitie van door benzine aangedreven voertuigen naar elektrische auto's, bussen, en treinen. Wij Costa Ricanen streven naar 'un país sin muflas' – een land zonder uitlaten. Deze visie mondiaal te bevorderen is ons ultieme doel.
Zeker, de elektrische motor het door benzine aangedreven reliek te laten passeren blijft een ongelijke strijd, maar nieuwe technologieën, zoals betere batterijen en snellere oplaadpunten, zullen de transitie helpen versnellen. Ik geloof net zoals de CEO van Shell dat de transitie naar elektrische mobiliteit onvermijdelijk is. Wat we momenteel op onze wegen zien is pas het begin.
Vertaling Melle Trap