Potrzeba Klimatycznej Konwersji Długów
ISLAMABAD – Zbliża się światowy kryzys zadłużenia. Jeszcze zanim COVID-19 rozprzestrzenił się na cały świat Międzynarodowy Fundusz Walutowy (MFW) wydał ostrzeżenie o obciążeniu długiem publicznym krajów rozwijających się, zwracającuwagę, że połowa wszystkich krajów o niższych dochodach była "w dużym stopniu zagrożona lub już boryka się z zadłużeniem." W miarę pogłębiania się kryzysu gospodarczego kraje te doświadczają gwałtownych spadków produkcji, a jednocześnie wysiłki na rzecz pomocy jeśli chodzi o COVID-19 wymagają ogromnego wzrostu wydatków.
Według Konferencji Narodów Zjednoczonych ds. Handlu i Rozwoju, spłaty zadłużenia publicznego krajów rozwijających się tylko w 2020 i 2021 roku będą kosztować 2,6-3,4 bilionadolarów. W związku z tym analitycy rynkowi sugerują obecnie, że prawie 40% zadłużenia zagranicznego państw wschodzących i rynków granicznych może być zagrożonych niewypłacalnością w przyszłym roku.
Co gorsza, środki do zmierzenia się z obecnym kryzysem zadłużenia zderzają się bezpośrednio z globalnymi wysiłkami na rzecz zwalczania zmian klimatycznych, nierówności i innych nasilających się globalnych kryzysów. Dlatego też potrzebujemy kreatywnego myślenia jak realizować wiele celów jednocześnie. Musimy wyjść z kryzysu wywołanego pandemią i zmobilizować biliony dolarów na przejście do bardziej stabilnej finansowo gospodarki, która sprzyja integracji społecznej i jest niskoemisyjna.
W kwietniu tego roku ministrowie finansów krajów G20 poparli inicjatywę tymczasowego zawieszenia obsługi zadłużenia najbiedniejszych krajów świata na czas walki z kryzysem COVID-19. Niestety niewiele krajów zadłużonych skorzystało z tej oferty, obawiając się, jak może ona wyglądać dla rynków i agencji ratingowych. Ponadto pożyczkodawcy z sektora prywatnego w dużej mierze odmówili udzielenia znaczącej pomocy, podcinając tym samym wysiłki rządów.
Przy braku nowych środków płynności i znacznej redukcji zadłużenia gospodarka światowa nie jest w stanie powrócić do poziomu wzrostu z okresu przed pandemią bez kosztów sprzedaży i klimatycznych oraz niepokojów społecznych. Klimatolodzy mówiąnam, że aby osiągnąć cele określone w porozumieniu klimatycznym z Paryża, globalne emisje netto dwutlenku węgla muszą spaść o około 45% do 2030 r. i o 100% do 2050 r. Biorąc pod uwagę, że zmiany klimatu są już odczuwalne na całym świecie, kraje pilnie muszą zwiększyć swoje inwestycje w zmiany klimatu i łagodzenie jego efektów.
Nie będzie to jednak możliwe, jeśli rządy ugrzęzną w kryzysie zadłużenia. Jeśli już, wymogi dotyczące obsługi zadłużenia zmuszą kraje do dążenia za wszelką cenę do przychodów z eksportu, w tym poprzez ograniczanie możliwości infrastruktury odpornej na zmiany klimatu i zwiększanie własnego zużycia paliw kopalnych i wydobywania zasobów. Taki bieg wydarzeń jeszcze bardziej obniży ceny surowców, tworząc pętlę zagłady dla krajów producenckich.
Subscribe to PS Digital Now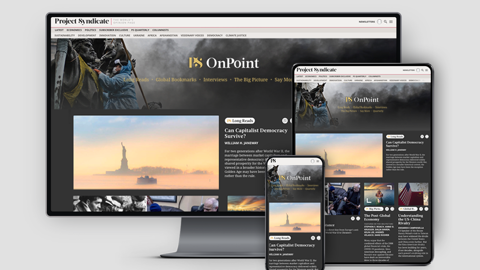 Subscribe to PS Digital Now
Access every new PS commentary, our entire On Point suite of subscriber-exclusive content – including Longer Reads, Insider Interviews, Big Picture/Big Question, and Say More – and the full PS archive.
W świetle tych obaw grupa G20 wezwała MFW "do zbadania dodatkowych narzędzi, które mogłyby służyć potrzebom jej członków w miarę rozwoju kryzysu, opierając się na odpowiednich doświadczeniach z poprzednich kryzysów." Jednym z takich narzędzi, które należy rozważyć jest instrument "klimatycznej konwersji długów." W latach 80-tych i 90-tych kraje rozwijające się i ich wierzyciele angażowali się w "zamianydługównanaturę," w ramach których redukcja zadłużenia była powiązana z inwestycjami w ponowne zalesianie, różnorodność biologiczną i ochronę rdzennych mieszkańców.
Należy teraz rozszerzyć tę koncepcję, aby uwzględnić inwestycje ukierunkowane na ludzi, które dotyczą zarówno zmian klimatycznych, jak i nierówności. Kraje rozwijające się będą potrzebowały dodatkowych zasobów, jeśli mają mieć jakąkolwiek szansę na pozostawienie paliw kopalnych w ziemi, wystarczające inwestycje w przystosowanie się do zmian klimatu i stworzenie możliwości zatrudnienia w XXI wieku. Jednym ze źródeł takich środków jest umorzenie długów uwarunkowanych inwestycjami.
Tego rodzaju narzędzie polityczne nie tylko postawiłoby nas na ścieżce do naprawy, ale mogłoby również pomóc w zapobieganiu przyszłym problemom ze zdolnością do obsługi zadłużenia, które mogą się pojawić, gdy więcej zasobów paliw kopalnych i nieodpornej infrastruktury stanie się "osieroconymiaktywami." Ponadto dramatyczny spadek kosztów energii odnawialnej stanowi okazję do dużych inwestycji w infrastrukturę energii o zerowej emisji dwutlenku węgla, co samo w sobie pomogłoby w walce z ubóstwem energetycznym i niezrównoważonym wzrostem.
Niektórzy ekonomiści szacują, że skierowanie gospodarki światowej na ścieżkę potrzebną do ograniczenia globalnego ocieplenia do 1,5 °C stworzyłoby około 150 milionów miejsc pracy na całym świecie. Jednocześnie raport na temat przerw w produkcji ProductionGapReport w ramach programu ochrony środowiska ONZ wskazał, że obecne plany produkcyjne spowodowałyby przesunięcie emisji do atmosfery daleko poza granicę tego, co jest zrównoważone. Aby osiągnąć cele porozumienia klimatycznego z Paryża, ponad 80% wszystkich potwierdzonych rezerw paliw kopalnych będzie musiało pozostać w ziemi.
Biorąc pod uwagę realia kryzysu klimatycznego nierozsądne byłoby włączenie inwestycji wysokiego ryzyka w wydobycie paliw kopalnych i infrastrukturę do strategii naprawy. Na szczęście dzięki zamianie zadłużenia na klimat mogliśmy aktywnie stymulować przejście na gospodarkę niskoemisyjną, jednocześnie stabilizując ceny towarów i zapewniając krajom rozwijającym się przestrzeń fiskalną do inwestowania w odporność i zrównoważony rozwój.
Nie ma wątpliwości, że wiele krajów będzie potrzebowało umorzenia długów, aby skutecznie zareagować na kryzys COVID-19, a następnie uodpornić swoje gospodarki na zmiany klimatyczne w sposób sprzyjający włączeniu społecznemu. Dla wielu ludzi w krajach najbardziej narażonych na zmiany klimatu znalezienie środków na takie inwestycje to kwestia przetrwania.
Grupa G-20 wezwała MFW do opracowania nowych narzędzi i strategii, które zostaną zaprezentowane na jesiennym zgromadzeniu. Ambitne globalne porozumienie dotyczące zamiany długów na działania w dziedzinach klimatu i sprawiedliwości społecznej powinno być głównym punktem programu.
Z angielskiego przetłumaczyła Marz McNamer