Een groene herstart na de pandemie
NEW YORK – Het coronavirus COVID-19 heeft hele landen gedwongen zo ongeveer alles te sluiten (scholen, winkels, theaters, enz.), burgers over de hele wereld angst aangejaagd en een meltdown op de financiële markten veroorzaakt. De pandemie vergt een krachtige, onmiddellijke reactie. Maar tijdens het in goede banen leiden van de crisis moeten overheden ook naar de langere termijn kijken. Een belangrijke beleidsblauwdruk met een diepgaande tijdshorizon is de European Green Deal van de Europese Commissie, die verschillende manieren schetst waarop de gemeenschappen en bedrijven die het grootste risico lopen door de huidige crisis heen kunnen worden geloodst.
COVID-19 is de weerspiegeling van een bredere trend: er komen meer planetaire crises op ons af. Als we bij iedere nieuwe crisis blijven doormodderen en vasthouden aan het economische model dat ons hier heeft gebracht, zullen toekomstige schokken uiteindelijk het vermogen van overheden, financiële instellingen en crisismanagers uit het bedrijfsleven te boven gaan om te reageren. Bij de "coronacrisis" is dat in feite ook al zo.
De Club van Rome heeft een soortgelijke waarschuwing doen uitgaan in zijn beroemde rapport uit 1972, The Limits to Growth, en daarna opnieuw in Beyond the Limits, een boek uit 1992 van de voornaamste auteur van dat eerdere rapport, Donella Meadows. Zoals Meadows destijds al zei, zal de toekomst van de mensheid niet worden bepaald door één enkele ramp, maar door veel afzonderlijke maar verwante crises die voortvloeien uit ons onvermogen om duurzaam te leven.  Door de middelen van de aarde sneller te gebruiken dan ze hersteld kunnen worden, en door afval- en verontreinigende stoffen sneller in het milieu te brengen dan ze kunnen worden opgenomen en afgebroken, zijn we al een behoorlijk eind op weg naar een grote ramp.
Op onze planeet zijn alle plant- en diersoorten, landen en geopolitieke kwesties uiteindelijk allemaal met elkaar verbonden. We zijn er getuige van hoe de uitbraak van een nieuw coronavirus in China chaos en verwoesting heeft kunnen aanrichten in de hele wereld. Net als COVID-19 houden de klimaatverandering, het verlies aan biodiversiteit en financiële ineenstortingen zich niet aan nationale of zelfs fysieke grenzen. Deze problemen zijn uitsluitend beheersbaar met behulp van collectieve actie die al moet beginnen lang voordat die problemen uitgroeien tot regelrechte crises.
De coronavirus-pandemie is een wake-up call om te stoppen met het overschrijden van de grenzen van de planeet. Ontbossing, biodiversiteitsverlies en klimaatverandering zorgen er immers allemaal voor dat pandemieën steeds waarschijnlijker worden. Ontbossing zorgt ervoor dat wilde dieren dichter in de buurt komen van menselijke populaties, waardoor de waarschijnlijkheid groter wordt dat zoönotische virussen als SARS-CoV-2 de sprong naar de mens maken. Op dezelfde manier waarschuwt het Intergovernmental Panel on Climate Change dat de opwarming van de aarde het ontstaan van nieuwe virussen vermoedelijk zal bespoedigen.
Overheden die erin slagen epidemieën in bedwang te houden volgen allemaal stilzwijgend dezelfde mantra: "Volg de wetenschap en bereid je voor op de toekomst." Maar we kunnen veel beter dan dat. In plaats van eenvoudigweg op rampen te reageren, kunnen we de wetenschap gebruiken om economieën te ontwerpen die de risico's van klimaatverandering, biodiversiteitsverlies en pandemieën verzachten. We moeten beginnen te investeren in wat ertoe doet, door het fundament te leggen voor een groene, circulaire economie die geworteld is in op de natuur gebaseerde oplossingen en gericht op het publieke goed.
Subscribe to Project Syndicate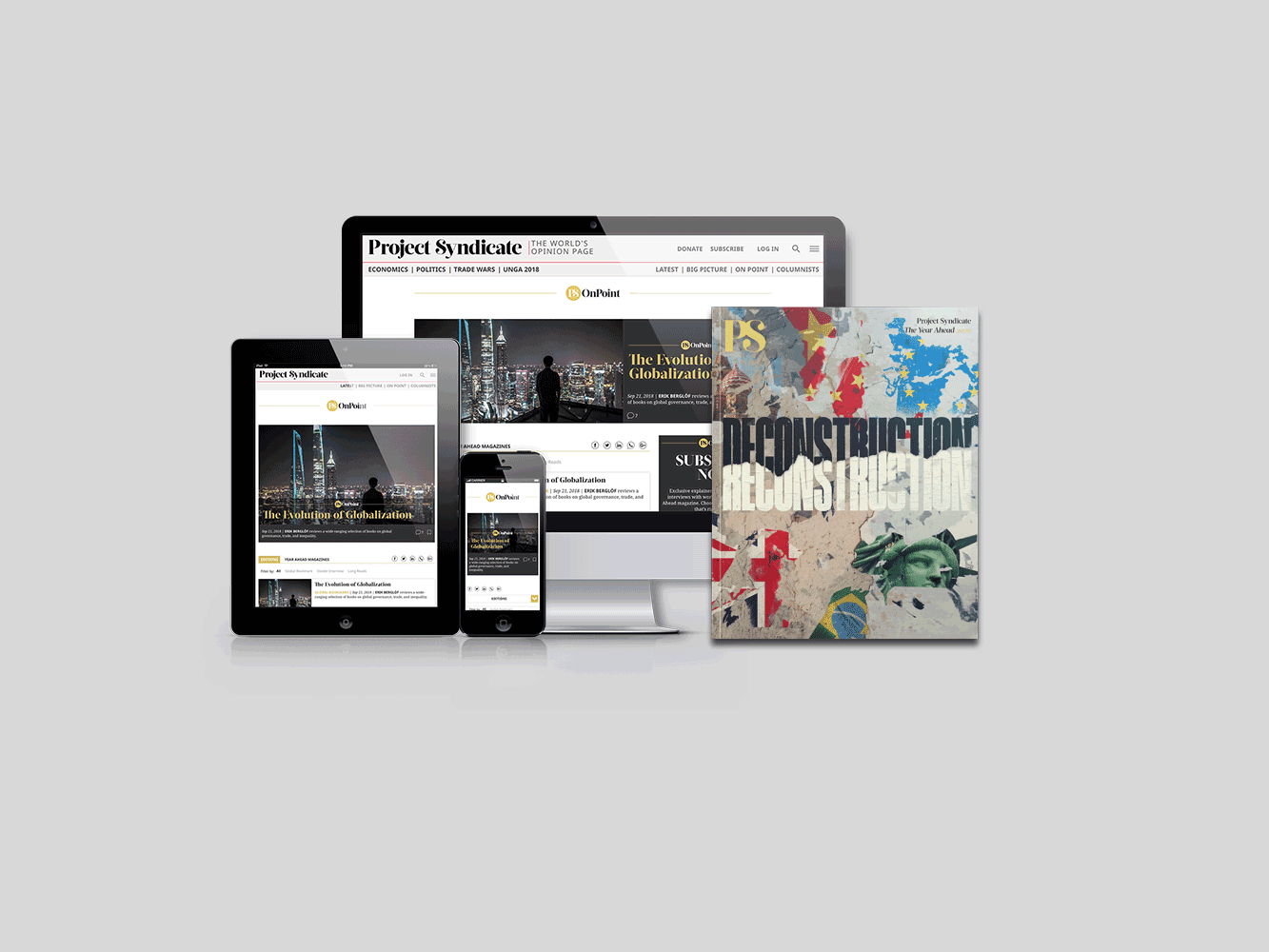 Subscribe to Project Syndicate
Enjoy unlimited access to the ideas and opinions of the world's leading thinkers, including weekly long reads, book reviews, and interviews; The Year Ahead annual print magazine; the complete PS archive; and more – all for less than $2 a week.
De COVID-19-crisis toont aan dat het mogelijk is om binnen korte tijd grote veranderingen door te voeren. We zijn plotseling in een andere wereld met een andere economie terechtgekomen. Overheden haasten zich om hun burgers op de korte termijn medisch en economisch te ondersteunen. Maar er is ook veel voor te zeggen om deze crisis aan te wenden voor mondiale systeemverandering.
Er is nu bijvoorbeeld geen goede reden meer om fossiele brandstoffen niet gestaag te laten verdwijnen en geen duurzame energietechnologieën in te zetten, waarvan de meeste nu wereldwijd beschikbaar zijn en vaak al goedkoper zijn dan fossiele brandstoffen. Door de recente daling van de olieprijs kunnen en moeten perverse brandstofsubsidies worden afgeschaft, zoals de G7 en veel Europese landen hebben beloofd te zullen doen tegen 2025.
Een overstap van een industriële naar een regeneratieve landbouw is eveneens onmiddellijk mogelijk, en zou ons in staat stellen om koolstof in de bodem op te slaan in een tempo dat volstaat om de klimaatcrisis te keren. Bovendien zou dat winst opleveren, de economische en ecologische veerkracht vergroten, banen scheppen en het welzijn verbeteren, zowel in landelijke als in stedelijke gemeenschappen.
De regeneratieve landbouw speelt een belangrijke rol in veel van de nieuwe economische modellen die nu door gemeentelijke overheden in de hele wereld worden onderzocht, en die allemaal zijn gebaseerd op het beginsel van het leven binnen de grenzen van onze planeet. Zoals een van ons (Raworth) betoogt in haar boek "De donut-economie," moet het doel zijn het scheppen van een "veilige en rechtvaardige operationele ruimte voor de hele mensheid." Met andere woorden: we moeten werken binnen de natuurlijke grenzen van de planeet (de buitengrens van de donut), terwijl we ervoor zorgen dat gemarginaliseerde gemeenschappen niet achterop raken (en in het gat van de donut vallen).
Voor beleidsmakers die op de huidige crisis reageren moet het doel zijn het levensonderhoud van burgers te ondersteunen door in duurzame energie te investeren in plaats van in fossiele brandstoffen. Nu is het tijd om de $5,2 bln die jaarlijks in subsidies voor fossiele brandstoffen wordt gestoken te bestemmen voor groene infrastructuur, herbebossing en investeringen in een circulaire, gedeelde, regeneratieve en koolstofarme economie.
Mensen zijn veerkrachtig en ondernemend. We zijn heel goed in staat om opnieuw te beginnen. Als we van onze fouten leren, kunnen we een zonniger toekomst tegemoet zien dan de toekomst waar we nu op af stevenen. Laten we dit moment van opschudding aangrijpen als een kans om te gaan investeren in veerkracht, gedeelde voorspoed, welzijn en planetaire gezondheid. We zijn onze natuurlijke grenzen al lange tijd aan het overschrijden; het is tijd om iets nieuws te proberen.
Vertaling: Menno Grootveld