We moeten een debat gaan voeren over het vergaren van gedragsgegevens
BERLIJN – Slechts een paar weken nadat er sprake was van de eerste COVID-19-besmettingen buiten China lanceerde Zuid-Korea een systeem voor de distributie van de exacte profielen en bewegingen van individuen die positief waren getest op de ziekte. Andere Aziatische en ook Europese landen ontwikkelden vervolgens snel hun eigen ʻtrack-and-trace'-systemen, met verschillende mates van succes en bekommernis om de ermee samenhangende ethische vraagstukken.
Deze snelheid was begrijpelijk: als bestaande systemen duizenden levens konden redden, waarom zouden landen ze dan niet gebruiken? Maar in hun haast om de pandemie te verslaan hebben samenlevingen weinig aandacht besteed aan de vraag hoe het mogelijk was dat dergelijke systemen vrijwel onmiddellijk konden worden ingevoerd, en aan wat we daarna nog zouden kunnen verwachten.
De eerlijkheid gebiedt te zeggen dat het ʻtrack-and trace'-regime van Zuid-Korea inmiddels tot aanzienlijke discussies heeft geleid. Aanvankelijk kwam dat doordat het systeem ethische grenzen overschreed door de exacte bewegingen van individuen die positief hadden getest op COVID-19 door te geven aan andere plaatselijke inwoners, waarbij bijvoorbeeld ook bezoekjes aan karaoke-bars, short-stay hotels en gay clubs werden vermeld.
Maar het Zuid-Koreaanse systeem onderscheidt zich ook omdat het de locatiegegevens van mobiele telefoons koppelt aan individuele reisverhalen, gezondheidsdata, beelden van bewakingscamera's van de politie en de gegevens van tientallen creditcardbedrijven. Deze informatie wordt vervolgens geanalyseerd door een ʻclearinghouse' voor data dat oorspronkelijk werd ontwikkeld voor de ʻsmart cities' van het land. Door de bureaucratische goedkeuringsbarrières weg te nemen heeft dit systeem naar verluidt de tijd die gemoeid is met het opsporen van contacten teruggebracht van één dag naar slechts tien minuten.
Pleitbezorgers van digitale privacy en veiligheid waarschuwen al jaren voor het koppelen van afzonderlijke private en publieke databronnen. Maar de pandemie heeft voor het eerst aangetoond hoe makkelijk zulke datastromen op afroep kunnen worden gecentraliseerd en op elkaar aangesloten – niet alleen in Zuid-Korea, maar over de hele wereld.
De ongemakkelijke waarheid is dat we al enige tijd de infrastructuur aan het bouwen zijn voor het verzamelen van zeer persoonlijke gedragsgegevens op mondiale schaal. De auteur Shoshana Zuboff herleidt de geboorte van dit ʻsurveillance-kapitalisme' naar de uitbreiding van de veiligheidsbevoegdheden van staten in de nasleep van de terreuraanslagen van 11 september 2001 op de Verenigde Staten.
Subscribe to PS Digital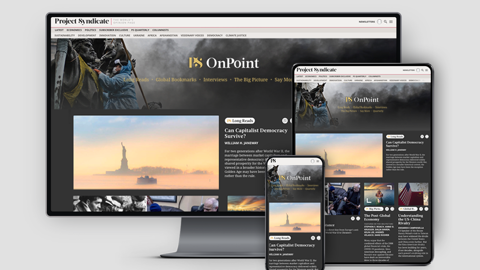 Subscribe to PS Digital
Access every new PS commentary, our entire On Point suite of subscriber-exclusive content – including Longer Reads, Insider Interviews, Big Picture/Big Question, and Say More – and the full PS archive.
Door data gedreven bedrijfsmodellen hebben de sleutelelementen van deze infrastructuur in stelling gebracht: smartphones, sensoren, camera's, digitaal geld, biometrics en machine learning. Het gemak en de efficiency hiervan – de belofte om méér te doen met minder geld – heeft zowel individuen als bedrijven over de streep getrokken. Maar onze snelle, enthousiaste adoptie van digitale technologieën heeft ons weinig tijd en nauwelijks redenen gegeven om na te denken over de gevolgen van het aan elkaar knopen van dit alles.
Hoewel de media dikwijls verwijzen naar met de pandemie samenhangende technologische initiatieven als ʻcutting-edge,' is heel weinig hiervan echt nieuw – behalve wellicht hun toegenomen zichtbaarheid. Het volgen van de bewegingen van mensen op zowel individueel als mondiaal niveau is de kernactiviteit van veel gevestigde bedrijven. De COVID-19 mobility reports van Google presenteren bijvoorbeeld een duizelingwekkend scala aan data, van het niveau van de individuele gebruiker tot het niveau van een stad of land – waaruit blijkt wie thuis blijft en naar zijn werk gaat, en hoe die patronen onder de lockdown zijn veranderd.
Hetzelfde geldt voor de data over wat we kopen en hoe we ons als individuen en groepen gedragen. Het op schaal volgen van individuele gedragspatronen is zo cruciaal voor de automatisering dat pandemie-gerelateerde lockdowns, waarbij ruim vier miljard mensen waren betrokken, AI- en machine learning-modellen in verwarring hebben gebracht, waardoor algoritmen die fraude moesten ontdekken op een dwaalspoor zijn gezet en beheerssystemen voor aanbodketens zijn misleid.
Deze plotselinge publieke zichtbaarheid van gedragsgegevens zou voor een publiek ontwaken gezorgd kunnen hebben. Door de onthullingen van Edward Snowden zijn mensen immers gaan beseffen dat hun Skype-gesprekken en e-mails worden gemonitord uit naam van het anti-terrorisme, en het Cambridge Analytica-schandaal in Groot-Brittannië heeft de verkoop en het misbruik van persoonlijke gegevens voor politieke doeleinden aan het licht gebracht.
Vooral de COVID-19-crisis had kunnen aantonen hoe gedragsgegevens verhalen vertellen over wat we iedere minuut van de dag doen, en waarom dat ertoe doet. In plaats daarvan hebben we deze technologieën aanvaard omdat we ze – althans tijdens de huidige crisis – beschouwen als bedoeld voor een groter goed (ook al zien we de vraag naar hun effectiviteit over het hoofd).
Maar nu de grenzen tussen de particuliere en de publieke gezondheid permanent vervagen, zouden we anders kunnen gaan nadenken over de trade-offs die van ons worden gevraagd. We zouden minder tolerant kunnen gaan staan tegenover het volgen van gedragspatronen, als individuele keuzes voortdurend worden gemonitord omwille van het algemeen belang. Potentiële technologieën om ons te helpen de toekomst na de pandemie te managen, van instrumenten voor surveillance op de werkplek tot permanente digitale gezondheidspaspoorten, kunnen onze waardesystemen ernstig op de proef stellen. Dat zou kunnen leiden tot sterke onenigheid langs culturele en politieke lijnen over welke technologieën wel en niet in gebruik mogen worden genomen.
Het zou makkelijk zijn om dit hele debat te framen in termen van surveillance en privacy. Maar dat is niet eens de belangrijkste kwestie. Het op grote schaal verzamelen van intieme gedragsgegevens geeft niet alleen het bedrijfsleven veel macht, maar maakt ook voorspellende modellen, early-warning systems, en nationale en mondiale politie- en controlesystemen mogelijk. Bovendien zal de toekomst waarschijnlijk worden gekenmerkt door crises, van natuurrampen tot hongersnoden en pandemieën. En digitale technologieën, menselijke gedragsgegevens, en algoritmische besluitvorming zullen een steeds belangrijker rol gaan spelen in het voorspellen, verzachten en managen daarvan.
Samenlevingen zullen daarom de confrontatie moeten aangaan met lastige vragen over hoe ze moeten omgaan met technologieën die de burgerlijke vrijheden onder druk zetten, en met de vooroordelen, discriminatie en ongelijkheid die worden blootgelegd door datagaring. We zullen moeten beslissen wie de gedragsgegevens mag bezitten en hoe die in het algemeen belang (mogen) worden gebruikt. En we zullen moeten onderkennen dat de antwoorden op de vragen wie iets kan beslissen op grond van deze gegevens, en welke politieke ideeën daaraan ten grondslag liggen, nieuwe vormen van macht zullen creëren, met verreikende gevolgen voor onze levens.
Naarmate we steeds meer vertrouwen in big data stellen om grote problemen op te kunnen lossen, is de grootste vraag waar we voor staan niet meer wat we ermee kunnen doen, maar wat we bereid zijn ermee te doen. Als we die vraag niet zelf stellen, laten we de beantwoording ervan aan anderen over.
Vertaling: Menno Grootveld