Porażka w Dziedzinie Bezpieczeństwa Klimatycznego
GABORONE - Światowi przywódcy, dyplomaci, oficerowie wywiadu i naukowcy zebrali się w lutym w Niemczech na dorocznej Monachijskiej Konferencji Bezpieczeństwa (MSC) w obliczu szalejącej wojny lądowej w Europie i podwyższonych napięć geopolitycznych. W rezultacie skupiono się na tradycyjnych zagrożeniach bezpieczeństwa. Jest to zarówno zrozumiałe, jak i rozczarowujące.
Podczas gdy pierwsza rocznica inwazji Rosji na Ukrainę zdominowała dyskusje w MSC, wraz z masową migracją i nadejściem nowej zimnej wojny, zainteresowanie takimi kwestiami jak adaptacja do zmian klimatycznych i zielone finanse było niewielkie. Biorąc pod uwagę, że organizatorzy MSC zdefiniowali transformację relacji między globalną Północą i Południem jako jeden z tegorocznych tematów, brak zainteresowania łagodzeniem najgorszych skutków globalnego ocieplenia stanowi straconą szansę. Co ważniejsze, odzwierciedla to głębokie niezrozumienie największego zagrożenia, przed jakim stoi dziś nasza planeta.
To nie pierwszy raz, kiedy społeczność wywiadowcza bagatelizuje poważne (choć nietradycyjne) zagrożenie. Podobnie jak konferencja w 2019 roku zignorowała ryzyko pandemii, tegoroczna konferencja w dużej mierze zignorowała systemowe zagrożenia - w tym regres ekonomiczny, brak bezpieczeństwa żywnościowego i przymusowe przesiedlenia - stwarzane przez zmiany klimatu.
Jednak w przeciwieństwie do hipotetycznego wówczas zagrożenia pandemią w 2019 roku, zmiany klimatyczne już teraz sieją spustoszenie na całym świecie. Czterdzieści procent firm z S&P 500 doświadczyło zakłóceń w łańcuchu dostaw w 2021 roku, a oczekuje się, że zeszłoroczne niszczycielskie powodzie w Pakistanie zmniejszą w tym roku produkcję ryżu w tym kraju o 7%. Zwiększy to brak bezpieczeństwa żywnościowego i podsyci niestabilność polityczną w krajach, które są uzależnione od Pakistanu w zakresie importu ryżu, takich jak Afganistan, Kazachstan oraz Kenia.
W miarę jak ekstremalne zjawiska pogodowe stają się coraz częstsze i intensywniejsze, kraje rozwijające się będą prawdopodobnie najbardziej dotknięte. W zeszłym roku powódź spustoszyła port w Durbanie w RPA, odcinając światowe dostawy kobaltu i innych towarów. Supertajfun uderzający w przemysłowe serce Tajwanu lub Chin sparaliżowałby globalną produkcję półprzewodników, podobnie jak niszczycielskie powodzie w Tajlandii w 2011 roku, które zakłóciły dostawy dysków twardych do komputerów i spowodowały gwałtowny wzrost cen samochodów, aparatów fotograficznych i telefonów.
Aby zwiększyć globalne bezpieczeństwo i odporność, musimy uznać, że finansowanie adaptacji jest "nieuniknioną koniecznością", jak to ujął niedawny raport ubezpieczyciela Swiss Re (i jak potwierdziła zeszłoroczna Konferencja Narodów Zjednoczonych w sprawie Zmian Klimatu w Egipcie, przyjmując Agendę Adaptacji w Sharm el-Sheikh). Według ONZ, międzynarodowe fundusze płynące do krajów rozwijających się na programy adaptacji do zmian klimatu są 5-10 razy niższe od potrzeb. A różnica ta się powiększa: oczekuje się, że roczne potrzeby krajów rozwijających się w zakresie adaptacji do zmian klimatu wzrosną do 160-340 miliardów dolarów do roku 2030 i do 315-565 miliardów dolarów do roku 2050.
Subscribe to PS Digital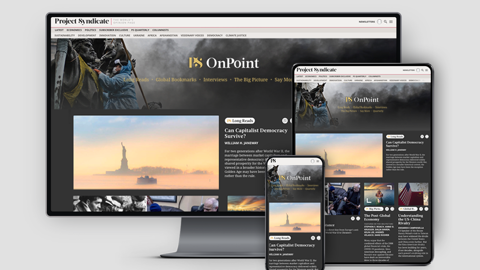 Subscribe to PS Digital
Access every new PS commentary, our entire On Point suite of subscriber-exclusive content – including Longer Reads, Insider Interviews, Big Picture/Big Question, and Say More – and the full PS archive.
Na szczęście rządy stają się coraz bardziej świadome pilnej potrzeby zwiększenia finansowania działań łagodzących i dostosowawczych. Jednak nie działają one wystarczająco szybko, aby wzmocnić swoje łańcuchy dostaw przed nieuniknionymi zakłóceniami. Komisja ds. Zmian Klimatu - który doradza rządowi brytyjskiemu - zalecił w listopadzie zeszłego roku, aby Wielka Brytania zaoferowała wsparcie finansowe krajom, od których jest uzależniona w zakresie importu kluczowych produktów żywnościowych. W ostatnim raporcie Komisja ostrzegła, że prawie 20% brytyjskiego handlu opiera się na krajach wrażliwych na zmiany klimatu i zauważyła, że gwałtowny wzrost cen importu żywności uderzyłby najmocniej w najuboższych.
Analiza ta odzwierciedla podobne badania przeprowadzone w Niemczech i Szwecji, które wzywały kraje rozwinięte do zmniejszenia ich narażenia na ryzyko związane z klimatem, zamiast skupiać się na reagowaniu na katastrofy. Jednak w czasie, gdy rządy wydają miliardy na zwiększenie budżetów obronnych, postęp w tej dziedzinie jest w najlepszym razie powolny, mimo że zaniedbanie tego egzystencjalnego zagrożenia może mieć katastrofalne skutki.
Aby przetrwać naszą erę "polikryzysu" - przyspieszających zmian klimatu, wojny, inflacji i trwającej pandemii - musimy poczynić szeroko zakrojone inwestycje w łagodzenie skutków i dostosowanie. Kraje rozwinięte muszą również podjąć działania i zapewnić, że kraje o niższych dochodach, znajdujące się na pierwszej linii frontu zmian klimatycznych, będą mogły wzmocnić swoją odporność. Finansując inicjatywy takie jak Fundusz Adaptacyjny Afrykańskiego Banku Rozwoju i Afrykański Instrument Ryzyka Klimatycznego, społeczność międzynarodowa może zapewnić bardzo potrzebną ochronę najbardziej narażonym grupom społecznym na świecie.
Jednak nawet te inicjatywy, choć bardzo ważne, nie są wystarczające. Reformy praktyk udzielania pożyczek w wielostronnych bankach rozwoju są niezbędne do zlikwidowania luki w finansowaniu działań na rzecz klimatu w krajach rozwijających się. Wspieranie integracyjnej ekologicznej infrastruktury finansowej, która może poradzić sobie z nadchodzącym światowym kryzysem, podobnie jak w przypadku tworzenia instytucji z Bretton Woods po II wojnie światowej, pomogłoby nam uniknąć katastrofy ekologicznej i humanitarnej.
Zmiany klimatyczne stanowią ogromne zagrożenie dla globalnej stabilności. Jeśli mamy zbudować długoterminową odporność gospodarczą, w interesie bezpieczeństwa narodowego każdego kraju - w tym najbogatszych na świecie - leży wspieranie działań łagodzących i dostosowawczych w krajach globalnego Południa. Jak dowiedzieliśmy się podczas pandemii COVID-19, nikt nie jest bezpieczny, dopóki wszyscy nie są bezpieczni.
Z angielskiego przetłumaczyła Marz McNamer