Geoengineering vraagt om mondiaal beheer
NEW YORK – De klimaatverandering is een ongekende dreiging voor de mensheid. Het lijkt steeds waarschijnlijker dat de mondiale levensstandaard er nog tijdens ons leven door zal achteruitgaan, en dat er op de langere termijn ongekende schade door zal worden veroorzaakt. En omdat het aanpakken van zo'n ontzagwekkend planetair probleem radicale oplossingen vereist, zijn er brede discussies gevoerd over de vraag wat de wereld het meest dringend moet doen om de stijging van de mondiale temperatuur te beperken tot niet meer dan 1,5°C boven het pre-industriële niveau.
Hoewel het terugdringen van de broeikasgassen de hoogste prioriteit moet blijven krijgen, zegt het Intergovernmental Panel on Climate Change (IPCC) van de Verenigde Naties dat dit niet genoeg is. Sommigen suggereren nu dat we ook grote hoeveelheden koolstofdioxide uit de lucht zullen moeten halen. Anderen betogen dat we misschien ook het zonlicht terug de ruimte in zullen moeten weerkaatsen, om de wereld meer tijd te geven om de uitstoot te verminderen en te verwijderen.
Deze twee benaderingen staan samen bekend als "geoengineering." En naarmate de gevolgen van de klimaatverandering verergeren, overweegt een toenemend aantal beleidsmakers, wetenschappers en ondernemers dergelijke opties steeds serieuzer.
Maar op dit moment hebben we geen idee welke onvoorziene en onbedoelde gevolgen het inzetten van deze nieuwe technologieën zou kunnen hebben. De onbekende gevolgen – vooral in het geval van het zogenoemde "solar geoengineering" – zouden wel eens net zo slecht kunnen zijn als de bekende problemen waarvoor de klimaatverandering ons stelt.
Bovendien zal, net als met de opwarming van de aarde, de impact van deze technologieën nationale grenzen overschrijden. Dit plaatst degenen die het minst in de melk te brokkelen hebben – de kwetsbaren en de armen – in de frontlinie. Het dreigt ook de toch al aanzienlijke risico's voor de internationale vrede en veiligheid te verscherpen, zoals de schaarste aan grondstoffen en de gedwongen klimaatmigratie.
Dit is de reden dat de Elders, een groep onafhankelijke wereldleiders, de internationale gemeenschap oproept om het eens te worden over een rigoureus beheerskader voor geoengineering en dat zonder dralen in te voeren. Een dergelijk besluitvormingssysteem moet transparant, participatoir en verantwoordelijk zijn. Het moet de stemmen omvatten van degenen die het hardst getroffen worden, en alle overheden en niet-gouvernementele stakeholders in staat stellen het best mogelijke inzicht in deze nieuwe technologieën te verwerven, ten behoeve van een beter geïnformeerde besluitvorming.
WINTER SALE: Save 25% on a new PS subscription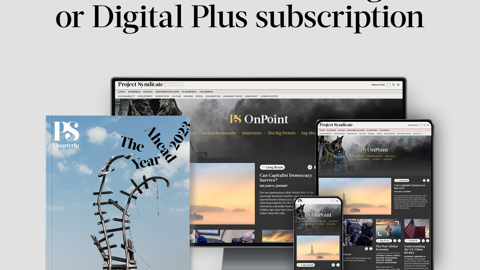 WINTER SALE: Save 25% on a new PS subscription
For a limited time, you can gain greater access to Project Syndicate – including every commentary and our entire On Point suite of subscriber-exclusive content – starting at less than $6 per month.
Sinds de Industriële Revolutie weten we dat technologie geen wondermiddel is, en dat het menselijk welzijn er alleen door wordt bevorderd als alle betrokkenen de kans krijgen in de ontwikkeling ervan te participeren. Deze overweging is bijzonder relevant met betrekking tot geoengineering, omdat onze kennis van deze technologieën en hun impact beperkt blijft.
Gelukkig zijn er pogingen gaande om hier iets aan te doen. Deze week zal de UN Environment Assembly – 's werelds hoogste besluitvormingsorgaan als het om milieukwesties gaat – overwegen of het een goed idee is om de aanzet te geven tot een mondiaal leerproces met betrekking tot de wetenschappelijke en bestuurlijke aspecten van geoengineering. Met dit doel voor ogen zou de UNEA kunnen oproepen tot een wereldwijde beoordeling van deze opkomende technologieën, zodat alle landen toegang krijgen tot een gemeenschappelijk kennisplatform.
Dit gedeelde inzicht is een belangrijke eerste stap op weg naar het zeker stellen dat besluiten over het wel of niet gebruiken van geoengineering gebaseerd zijn op de beginselen van gelijkheid, rechtvaardigheid en universele rechten. Dit zijn de waarden die ten grondslag liggen aan het Parijse klimaatakkoord van 2015 en de Sustainable Development Goals, (Duurzame Ontwikkelingsdoelstellingen), die allebei werden aangenomen toen ik nog secretaris-generaal van de VN was.
De VN zijn het best in staat de vereisten voor het beheerskader dat we nu nodig hebben te accommoderen. Alleen via de multilaterale processen van de VN kunnen we garanderen dat geoengineering-technologieën, en de manier waarop die kunnen worden toegepast, niet het exclusieve domein zijn van individuele staten. Dit is van essentieel belang voor de ecologische duurzaamheid, de internationale veiligheid en het welzijn van toekomstige generaties in de hele wereld.
Veel mensen maken zich zorgen over dit debat, met name in internationale fora. Zij zijn bamg dat het een voet tussen de deur kan betekenen voor zeer gevaarlijke ideeën, en dat alleen al het vestigen van de aandacht op deze technologieën kan leiden tot minder druk om de uitstoot te reduceren.
Ik begrijp deze zorgen en ben het ermee eens dat het nog steeds onze voornaamste gemeenschappelijke prioriteit moet zijn om de uitstoot terug te dringen; het gebruik van fossiele brandstoffen te beëindigen; en een economische transitie te bevorderen die kooldioxide-vrij is, vriendelijk voor het klimaat en gericht op de mens.
Maar we moeten ook onder ogen zien dat de geest van de geoengineering al uit de fles is. De waarschijnlijkheid dat landen op eigen houtje solar geoengineering zullen gaan inzetten neemt ieder jaar toe. De mondiale gemeenschap moet beslissen of we ons daar nu tegenaan gaan bemoeien, door duidelijke beheersregels op te stellen en vangrails te creëren, of dat we toestaan dat individuele spelers de leiding nemen, waardoor ze de rest van ons voor een fait accompli kunnen stellen.
Het negeren van dit debat zou een vergissing zijn. In plaats daarvan moet de wereld proberen meer te weten te komen, onder meer via de UNEA, om het hele scala aan opties te doorzien en de risico's te beoordelen met de beste informatie die verkrijgbaar is.
Hoe we deze ontwrichtende technologieën moeten begrijpen en ze mogelijk in kunnen zetten ten bate van de gehele mensheid is een van de bepalende vragen van ons tijdperk. Toekomstige generaties zullen ons niet vergeven als we deze vraag niet overtuigend genoeg weten te beantwoorden.
Vertaling: Menno Grootveld