Le juste prix pour préserver notre climat
WASHINGTON, DC – Les dirigeants du monde entier se sont donné rendez-vous cette semaine à Paris à l'occasion de la Conférence des Nations Unies sur les changements climatiques avec pour mission de parvenir à un accord d'envergure mondiale capable de maîtriser les émissions de gaz à effet de serre. S'ils accomplissent cette mission, démontrant ainsi que les différents pays peuvent conjuguer leurs efforts dans l'intérêt de la planète, ils transmettront un puissant message d'espoir au monde entier — et à la population parisienne, qui manifeste une irréductible détermination après les récents attentats terroristes.
Les engagements en faveur du climat s'appuieront sur les contributions décidées au plan national (les Intended Nationally Determined Contributions ou INDC) dans le but de réduire les émissions à l'échelle mondiale. La tarification de ces émissions devrait, à mon sens, être au cœur de ces engagements.
Pour parvenir à diminuer les émissions de gaz à effet de serre au moindre coût il faudra engager une révolution de la consommation et de la production d'énergie. Une augmentation graduelle, prévisible et fiable des prix énergétiques devrait inciter les consommateurs à réduire leurs dépenses. Par ailleurs une tarification appropriée du carbone permettrait de s'affranchir de manière ordonnée des combustibles fossiles en encourageant les investissements dans les technologies novatrices.
C'est pourquoi les services du Fonds monétaire international (FMI) recommandent une stratégie à trois volets en matière d'énergies carbonées : tarification appropriée, fiscalité avisée et action immédiate. Chacune de ces composantes est fondamentale.
Premièrement, donner un prix approprié aux combustibles fossiles signifie tenir compte de leurs véritables coûts environnementaux. Les prix doivent répercuter sur les consommateurs ultimes l'intégralité des coûts de production et d'acquisition mais aussi les coûts issus des dommages causés par l'utilisation intensive des combustibles fossiles, dont ceux liés à la pollution atmosphérique et au changement climatique. Un prix du carbone plus juste encouragera les économies d'énergie et dopera la demande de combustibles plus propres et les investissements «plus verts».
Deuxièmement, le changement de tarification devra passer par la fiscalité de l'énergie en mobilisant des outils à la fois pratiques et efficients.La meilleure option consistera à incorporer une taxe carbone dans la fiscalité des combustibles et à appliquer des taxes similaires au charbon, au gaz naturel et aux autres produits pétroliers.
Subscribe to PS Digital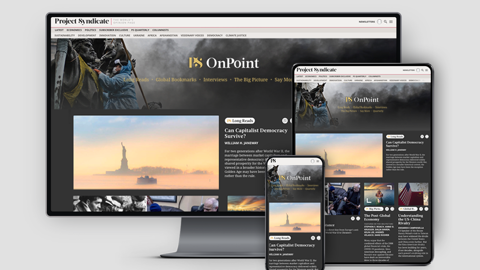 Subscribe to PS Digital
Access every new PS commentary, our entire On Point suite of subscriber-exclusive content – including Longer Reads, Insider Interviews, Big Picture/Big Question, and Say More – and the full PS archive.
Les retombées sur le plan des recettes seraient considérables. Si les gros pays émetteurs imposaient une taxe de 30 dollars la tonne de CO2, ils pourraient générer des rentrées fiscales de l'ordre de 1 % du PIB. Ces recettes pourraient alors servir à gérer le coût budgétaire global de l'action en faveur du climat et à financer l'allégement des taxes sur le travail et le capital qui perturbent l'activité économique et nuisent à la croissance, ou bien encore, le cas échéant, à réduire les déficits.
Pour le dire plus simplement, la tarification du carbone doit s'appuyer sur une fiscalité «avisée» et non sur un relèvement des impôts. Cette fiscalité avisée doit être mise en place de manière progressive pour donner aux ménages et aux entreprises le temps de s'adapter et pour permettre aux nouvelles technologies de se déployer. Un ajustement graduel et spécifique est particulièrement important pour les pays en développement, dont beaucoup ne contribuent que très peu aux émissions mondiales. Dans bien des cas, il faudra sans doute disposer du temps nécessaire pour établir les dispositifs de protection sociale en faveur des ménages à faible revenu et pour offrir des programmes de recyclage aux employés des secteurs à forte intensité d'énergie. Cette démarche permettrait en outre de financer les investissements liés au changement climatique à partir de flux de capitaux privés.
Troisièmement, il n'y a pas de temps à perdre : les gouvernants doivent agir immédiatement. Avec la chute des prix énergétiques, la conjoncture n'a jamais été aussi propice à une tarification du carbone intelligente, crédible et efficace. Il ne faut pas attendre que les autres fassent le premier pas. Les travaux du FMI montrent qu'il est dans l'intérêt de beaucoup de pays d'appliquer une juste tarification du carbone — même en faisant abstraction des retombées climatiques négatives sur les autres pays — car elle contribuerait à résoudre les grands problèmes environnementaux nationaux. Selon l'Organisation mondiale de la santé, la pollution atmosphérique provoque plus de trois millions de décès prématurés chaque année. Il est essentiel d'agir rapidement pour ne pas avoir à prendre des mesures beaucoup plus draconiennes —et coûteuses — par la suite. 
Dans la perspective du Sommet de Paris, 150 pays ont présenté des engagements d'atténuation de leurs émissions. En exécutant ces engagements, ils seront en mesure de réduire sensiblement le réchauffement projeté à l'échelle mondiale.
Le défi à relever consiste maintenant à tenir ces engagements. C'est pourquoi nous devons produire un effort concerté en faveur de la tarification du carbone. Aujourd'hui à Paris, un groupe de dirigeants profondément attachés à cette cause va lancer un appel à l'action. Le Comité pour la tarification du carbone, dirigé par le FMI et la Banque mondiale, entend insuffler une nouvelle vigueur à la dynamique engagée aux niveaux national, régional et municipal.
Outre le secteur public, les établissements et les marchés financiers doivent intervenir de manière résolue. Les produits de couverture comme ce qu'il convient d'appeler les «obligations catastrophe» peuvent contribuer à assurer contre les risques grandissants liés aux désastres naturels. D'autres instruments financiers, tels que les indices boursiers «verts» et les obligations «vertes», peuvent contribuer à réaffecter les investissements aux secteurs propices à une croissance viable sur le plan environnemental. Là aussi, une tarification du carbone prévisible et suffisamment élevée sera essentielle pour éclairer les choix en matière d'investissement.
Cette semaine, la Ville Lumière sera le théâtre d'enjeux considérables. Paris vient de souffrir des pires travers de la nature humaine. Le Sommet du climat donnera l'occasion de voir l'humanité sous son plus beau visage.