Przyszłość Miast a Luka w Danych Klimatycznych
RIO DE JANEIRO – Biorąc pod uwagę, że w nadchodzących latach miasta będą zmagać się z katastrofalnymi stresami i wstrząsami klimatycznymi, można by pomyśleć, że będą się spieszyć z wdrożeniem strategii łagodzenia kryzysu i adaptacji. Jednak większość mieszkańców miast jest w małym stopniu świadoma tych zagrożeń, ponieważ burmistrzowie, zarządcy i rady ich miast nie gromadzą ani nie analizują odpowiednich informacji.
Coraz więcej rządów przyjmuje strategie redukcji emisji gazów cieplarnianych (GHG) i miasta na całym świecie muszą lepiej gromadzić i interpretować dane klimatyczne. Ponad 11 000 miast podpisało już globalne porozumienie w sprawie przeciwdziałania zmianom klimatu i zarządzania przejściem na czystą energię, a wiele z nich dąży do osiągnięcia zerowych emisji netto, zanim zrobią to ich odpowiedniki krajowe. Jednak praktycznie wszystkim nadal brakuje podstawowych narzędzi do pomiaru postępu.
Zamknięcie tej luki stało się pilne, ponieważ zmiany klimatyczne już teraz zakłócają funkcjonowanie miast na całym świecie. Miasta na prawie każdym kontynencie pustoszone są przez fale upałów, pożary, tajfuny i huragany. Miasta przybrzeżne są nękane przez poważne powodzie związane z podnoszeniem się poziomu morza. A niektóre mega-miasta i ich rozległe peryferia są całkowicie pod znakiem zapytania, jak w przypadku wartego 34 miliardy dolarów planu przeniesienia stolicy z Dżakarty do Borneo do 2024 roku.
Co gorsza, podczas gdy wiele samorządów terytorialnych wyznacza ambitne nowe, zielone cele, ponad 40% miast (zamieszkiwanych przez około 400 milionów ludzi) nadal nie ma sensownej strategii na rzecz gotowości na zmianę klimatu. A udział ten jest jeszcze niższy w Afryce i Azji – gdzie szacuje się, że nastąpi 90% całej przyszłej urbanizacji w ciągu najbliższych trzech dekad.
Wiemy, że plany gotowości na zmianę klimatu są ściśle skorelowane z inwestycjami w działania na rzecz klimatu, w tym z rozwiązaniami opartymi na przyrodzie i systematyczną odpornością. Ale same strategie nie wystarczą. Musimy również skalować platformy monitorowania oparte na danych. Zasilane przez satelity i czujniki systemy te mogą śledzić temperaturę wewnątrz i na zewnątrz budynków, ostrzegać mieszkańców miast o problemach z jakością powietrza oraz dostarczać informacje w wysokiej rozdzielczości o stężeniach określonych gazów cieplarnianych (dwutlenku węgla i dwutlenku azotu) oraz cząstek stałych.
Firmy technologiczne są przodownikami na tym rynku. Na przykład narzędzie Google Environmental Insights Explorer agreguje dane dotyczące emisji związanych z budynkami i transportem, jakości powietrza oraz potencjału słonecznego dla urzędników miejskich. Projekty takie jak Climate Watch, Project AirView, Project Sunroof i Surface Particulate Matter Network dostarczają analitykom miejskim historycznych danych, śledząc zanieczyszczenie samochodów i wycieki metanu, a nawet pomagają indywidualnym użytkownikom określić potencjał energii słonecznej w ich domach.
Subscribe to PS Digital Now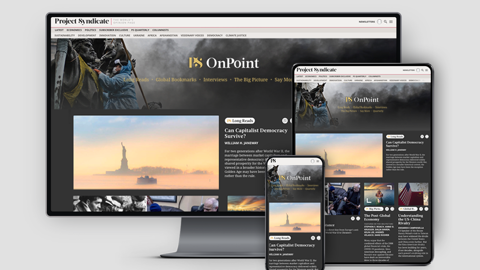 Subscribe to PS Digital Now
Access every new PS commentary, our entire On Point suite of subscriber-exclusive content – including Longer Reads, Insider Interviews, Big Picture/Big Question, and Say More – and the full PS archive.
Warto jednak pamiętać, że wiele inicjatyw dotyczących danych klimatycznych w sektorze prywatnym zostało zbudowanych na podstawie szeroko zakrojonych programów wspieranych ze środków publicznych. Najbardziej znanym źródłem danych klimatycznych jest NASA, które wykorzystuje dane satelitarne oraz modele dyspersji chemicznej i meteorologicznej do śledzenia emisji i przewidywania przemieszczania się zanieczyszczeń. Podobnie amerykańskie Narodowe Stowarzyszenie Oceaniczne i Atmosferyczne śledzi pożary lasów i smog (między innymi) i wydaje prognozy oparte na danych za pośrednictwem Krajowego Centrum Prognozowania Środowiska. W Europie Usługa Monitorowania Atmosfery Copernicus generuje pięciodniowe prognozy na podstawie śledzenia aerozoli, zanieczyszczeń atmosferycznych, gazów cieplarnianych i odczytów wskaźnika UV.
Google Earth stał się podstawowym narzędziem, organizując i dobrze wykorzystując ponad cztery dekady zdjęć historycznych i danych pochodzących głównie ze źródeł publicznych. Biorąc pod uwagę, że sektor prywatny od lat korzysta z tych danych, miasta nie mają żadnej wymówki, by tego nie robić. Jednym z łatwo dostępnych źródeł danych na poziomie miasta jest Globalny System Prognozowania i Informacji o Jakości Powietrza Światowej Organizacji Meteorologicznej, który śledzi wszystko, od burz pyłowych po pożary i zanieczyszczenie dymem. Inną jest Globalna Platforma Środowiskowa Programu Narodów Zjednoczonych ds. Ochrony Środowiska, która zapewnia prognozy o wysokiej rozdzielczości.
Niektóre pionierskie miasta rozpoczęły już współpracę z mniejszymi dostawcami danych, takimi jak PlumeLabs, który pozyskuje dane o jakości powietrza za pomocą lokalnie rozmieszczonych czujników. Choć dostęp do danych jest niezbędny, niezbędne są również metody, dzięki którym są one przydatne. W obecnym stanie rzeczy zbiory danych są zazwyczaj podzielone na różne platformy i nawet jeśli przywódcy w miastach zgadzają się, że kryzys klimatyczny zasługuje na uwagę, znalezienie wglądu w szczegóły pozostaje zniechęcającym wyzwaniem. Miasta generują mnóstwo danych klimatycznych, ale jeszcze nie nauczyły ich właściwie wykorzystywać.
Zbudowanie harmonijnego ekosystemu danych klimatycznych będzie wymagało dostępnej platformy do konsolidacji różnych wskaźników. Należy również usprawnić i ujednolicić dane, aby poprawić monitorowanie nakładów i wyników oraz wyników i wpływu. Lepsze zarządzanie danymi usprawni proces podejmowania decyzji i wzmocni pozycję zwykłych obywateli, potencjalnie sprzyjając współpracy, a nawet rywalizacji o wartości dodatniej między miastami. Partnerstwa publiczne, prywatne oraz filantropijne mogą mieć efekt katalityczny, tak jak miało to miejsce, gdy miasta takie jak Amsterdam, Bristol, Chicago i Los Angeles połączyły siły z SecDev Group, aby stworzyć interaktywny pulpit nawigacyjny śledzący podatność miasta.
Istnieje jednak pewne ryzyko związane z konsolidacją i standaryzacją danych klimatycznych dla miast. Gdy globalni dostawcy technologii zalewają rynek, mogą ograniczyć lokalne innowacje w zakresie gromadzenia i analizy danych. Co więcej, skupiając się zbytnio na małym zestawie wskaźników dla każdego miasta, narażamy się na ryzyko powstania prawa Goodharta: gdy miara staje się celem, ludzie zaczynają ją oszukiwać. Gdy celem są pojazdy o mniejszej emisji, to skutkiem jest produkcja samochodów zaprojektowanych tak, aby pomyślnie przechodziły testy emisji, a nie rzeczywiście samochody o niższych emisjach.
Podobnie, gdy dane klimatyczne są bardziej scentralizowane, mogą istnieć większe bodźce dla interesów politycznych i korporacyjnych do przechylania ich na swoją korzyść poprzez lobbing i inne środki. Decydenci polityczni będą musieli zapewnić, że wszelkie potencjalnie wrażliwe lub zindywidualizowane dane są prywatne i chronione, a zestawy danych i algorytmy, którymi są zasilane, unikają powielania strukturalnych uprzedzeń i dyskryminacji.
Większość z tych zagrożeń można zidentyfikować wcześnie i uniknąć dzięki eksperymentom, jeśli miasta zastosują unikalne strategie i obiecujące nowe wskaźniki. Ale jeśli miasta nie zwiększą skali swoich systemów monitorowania i gromadzenia danych, to będą miały niewielkie szanse na osiągnięcie swoich celów klimatycznych. Lepsza analiza może pomóc zwiększyć świadomość zagrożeń klimatycznych, zoptymalizować reakcje i zapewnić bardziej sprawiedliwe strategie łagodzenia i adaptacji. Nie możemy zarządzać kryzysem klimatycznym, dopóki go nie zmierzymy, i nie możemy go zmierzyć, dopóki nie będziemy w stanie zebrać i przeanalizować właściwych informacji.
Z angielskiego przetłumaczyła Marz McNamer