Las consecuencias de Brexit
MADRID – La perspectiva de un divorcio entre el Reino Unido y la Unión Europea es patente. El próximo Consejo Europeo diseñará un acuerdo sobre las condiciones de su permanencia en la UE. Pero nadie apuesta por un resultado favorable del referéndum,  y aún menos se prevé cómo afrontar la posible salida del Reino Unido.
El pasado muestra que, cuando se llama a referéndum, los votantes rara vez se centran en lo que realmente está en juego. Así sucedió en las consultas sobre la Constitución Europea en 2005: los holandeses votaron contra el euro (que no era objeto del tratado), mientras que a los franceses les movió el miedo al "fontanero polaco". Todo parece indicar que los votantes británicos están, hoy, más enfrascados en ideas reduccionistas, prejuicios y emociones, que en consideraciones pragmáticas, dominados por la retórica más apasionada y más incendiaria del bando euroescéptico.
Sorprende la inconsciencia del debate británico sobre las turbulencias que el Brexit generaría. Más allá incluso del impacto que tendría en Escocia, el acuerdo de Belfast o su "relación especial" con Estados Unidos, los interrogantes son numerosos. Con su tergiversación sobre ciertas políticas y acuerdos existentes –como los tratados de libre comercio de la UE con Canadá y Singapur–, los defensores de la retirada edifican un falaz relato sobre la vida más allá de la Unión que engatusa a muchos británicos. Insisten en hacerles creer que la "City" seguirá siendo el centro financiero europeo por excelencia, que el RU conservará su libre acceso al Mercado Único sin las cargas inherentes a la libre circulación de trabajadores.
Nada más lejos de la realidad. Por sólida que pueda ser la posición internacional del RU en seguridad y defensa, su capacidad negociadora en materia comercial y de inversiones –entre otros con la UE, que representa la mitad del comercio británico– se vería seriamente mermada. Así ha sucedido con otros países extracomunitarios como Suiza o Noruega. Si los líderes europeos ya se muestran descontentos con el acceso de Suiza al Mercado Interior, ¿cómo pensar que, tras un portazo, la Unión acepte un acceso sin restricciones del RU?
Otros aluden a lo fácil que resultó negociar la retirada de Groenlandia de la Comunidad Económica Europea en 1985, único precedente de salida de la organización. Pero las circunstancias no podrían ser más diferentes. La reducida CEE de hace 30 años es incomparable con la Unión de hoy, al igual que entre RU y Groenlandia hay un abismo en envergadura económica o peso político.
Las negociaciones posteriores a una decisión de retirada se anuncian arduas y amargas, y prolongarían durante años una incertidumbre que tendría costes reales tanto para empresas y ciudadanos. ¿Quién se comprometería a invertir en RU en el largo plazo sin saber qué términos legales lo regirán? Para evitar esta deriva, el próximo Consejo Europeo deberá defender la mayor estabilidad que le espera al RU dentro de la UE y recordar la flexibilidad que caracteriza a la UE, como refleja el "opt-out" de RU en Schengen, el euro y las políticas de Justicia y Asuntos de Interior.
Subscribe to PS Digital Now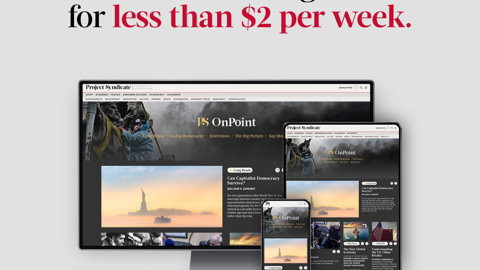 Subscribe to PS Digital Now
Access every new PS commentary, our entire On Point suite of subscriber-exclusive content – including Longer Reads, Insider Interviews, Big Picture/Big Question, and Say More – and the full PS archive.
En determinados asuntos, como el empuje de la competitividad o la racionalización regulatoria, será relativamente fácil alcanzar un consenso. También debería ser posible llegar a un acuerdo para incrementar el papel de los parlamentos nacionales en materia legislativa. En cuanto a la petición de Cameron de excluir para RU la obligación contemplada en los Tratados de trabajar por una "unión cada vez más estrecha", ya hay acuerdo sobre una solución de interpretación y matiz.
El último "cesto" planteado por Cameron –inmigración y beneficios sociales– entraña mayores dificultades. Sin perjuicio de ello, para allanar el camino hacia un entendimiento es preciso dejar clara la diferencia entre esta discusión y el debate sobre la crisis actual de los inmigrantes/refugiados. La cuestión Británica se plantea frente a trabajadores europeos.
En 1953, Winston Churchill dijo: "Estamos con Europa, pero no somos Europa. Estamos vinculados, sin estar atados". La forma más clara de materializar el espíritu de esta célebre frase es evitar el Brexit, en beneficio de todos. Si la fantasía y la manipulación continúan dominando el debate británico, el Reino Unido –y Europa– se exponen a encontrarse dónde nunca quisieron ir.