Les causes et conséquences du Brexit
MADRID – La perspective d'une sortie britannique hors de l'Union européenne est aujourd'hui une épée de Damoclès bien réelle. Il semble de plus en plus probable que la prochaine réunion du Conseil européen aboutira à un accord sur les conditions de l'appartenance du Royaume-Uni à l'UE – accord qui sera soumis aux électeurs britanniques dans le cadre d'un référendum, qui pourrait se tenir dès l'été prochain.
Mais à l'heure où la mécanique s'emballe, il appartient à la Grande-Bretagne et à l'UE de prendre un moment de réflexion consciencieuse. Après tout, et malgré les garanties qui émanent des deux camps, nul ne sait sur quoi débouchera le référendum, et encore moins comment il s'agira de procéder si les électeurs britanniques choisissent effectivement de sortir de l'UE.
Le référendum représente l'incertitude la plus immédiate. L'expérience passée a démontré que lorsqu'il s'agissait pour les électeurs de prendre de telles décisions, ils se focalisaient rarement sur la question posée. Dans le cadre des référendums de 2005 relatifs au projet de Constitution de l'UE, les Hollandais se sont par exemple préoccupés principalement de l'euro, tandis que les Français s'inquiétaient de voir les plombiers polonais leur ravir leurs emplois.
À ce jour, les différents signaux laissent présager que le prochain référendum britannique suivra cette même tendance, voyant les électeurs se focaliser davantage sur des idées simplistes, sur leurs préjugés et émotions, que sur des considérations pragmatiques. En outre, le camp anti-UE se révèle de loin le plus passionné – et le plus incendiaire dans son discours.
Du point de vue de l'Europe, cette situation est extrêmement préoccupante. Chacun sait combien une sortie britannique porterait un coup dévastateur à l'intégration européenne, risquant d'affaiblir encore davantage un processus déjà fragile. Mais les Britanniques doivent également s'inquiéter des conséquences d'un tel départ, d'autant plus que nous savons bien peu de choses sur ce que provoquerait cette sortie.
La difficulté réside en ce que la plupart des Britanniques ont peu conscience des turbulences qu'engendrerait le « Brexit ». Au-delà de ses retombées sur le mouvement pour l'indépendance de l'Écosse, sur l'accord du Vendredi saint en Irlande, et sur la « relation particulière » que partagent le Royaume-Uni et les États-Unis, plusieurs questions importantes interviennent concernant l'avenir des relations entre le Royaume-Uni et l'UE. De nombreux partisans de la sortie trient sur le volet un certain nombre de politiques et réglementations, telles que les dispositions des accords de libre-échange conclues par l'UE avec le Canada et Singapour, afin d'esquisser maladroitement une vision de ce à quoi ressemblerait l'existence du Royaume-Uni en dehors de l'Europe. Ils espèrent ainsi que les Britanniques continuent non seulement de croire que la ville de Londres demeurerait le plus grand centre financier d'Europe, mais également que le Royaume-Uni conserverait son accès au marché unique de l'UE, même à défaut d'une libre circulation des travailleurs.
Subscribe to Project Syndicate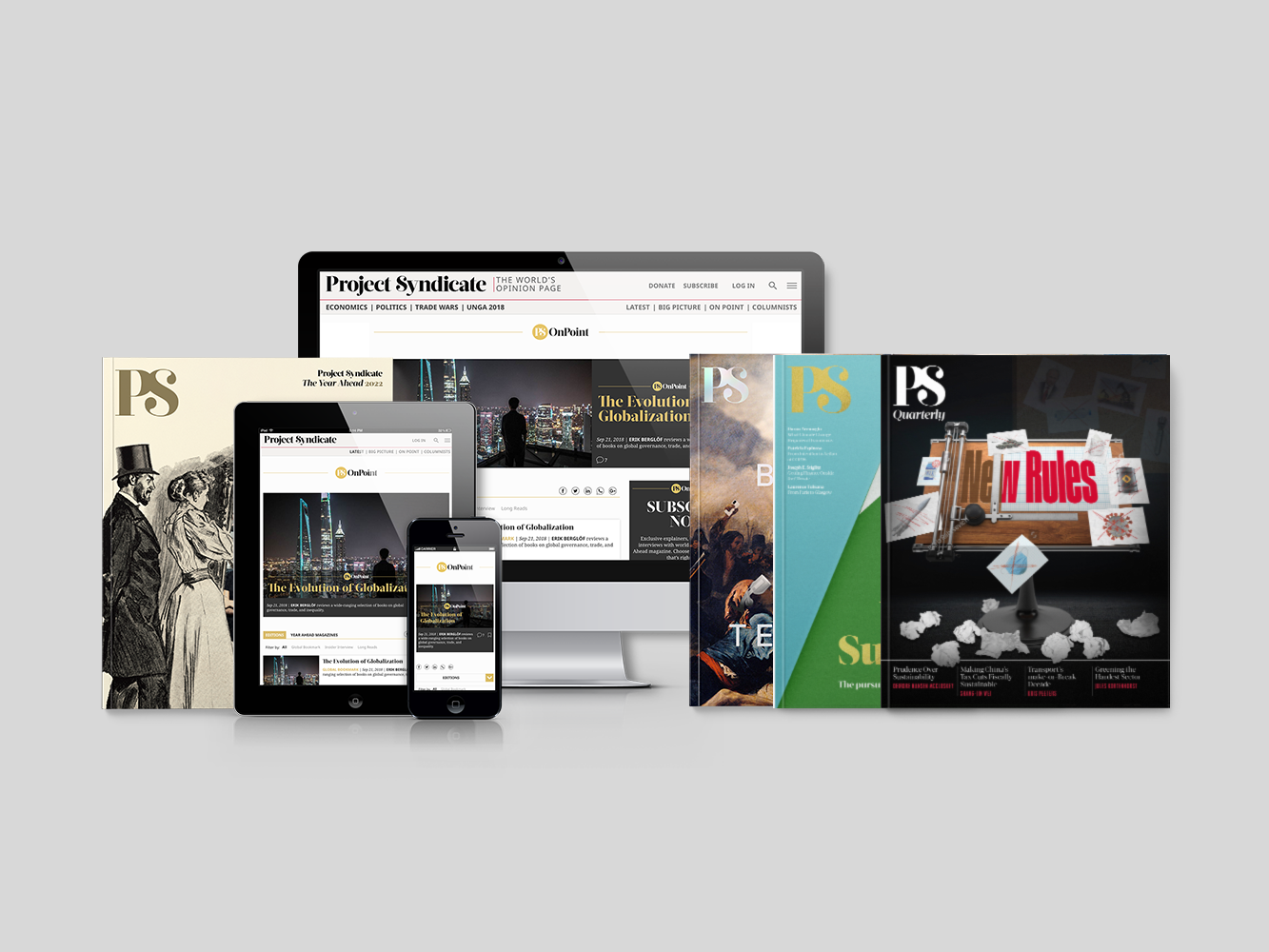 Subscribe to Project Syndicate
Enjoy unlimited access to the ideas and opinions of the world's leading thinkers, including long reads, book reviews, topical collections, short-form analysis and predictions, and exclusive interviews; every new issue of the PS Quarterly magazine (print and digital); the complete PS archive; and more. Subscribe now to PS Premium.
Cette vision relève purement et simplement du fantasme. Car même si le Royaume-Uni conservait sa puissante stature internationale en termes de politique étrangère et de défense, son influence dans la négociation des accords commerciaux et d'investissement – y compris auprès de l'UE elle-même, qui représente la moitié du commerce britannique – s'en trouverait considérablement réduite. C'est ce qu'illustre l'expérience de pays non membres de l'UE tels que la Suisse et la Norvège. En effet, les dirigeants de l'UE sont d'ores et déjà mécontents que la Suisse puisse accéder au marché unique ; l'idée selon laquelle ils accorderaient cet accès au Royaume-Uni n'est pas convaincante, et d'autant plus s'ils venaient à recevoir une telle gifle.
Certains font valoir qu'un Brexit pourrait ressembler à la sortie facilement négociée par le Groenland en 1985 hors de la Communauté économique européenne (CEE), seul et unique départ à avoir jamais eu lieu. Or, les circonstances ne pourraient pas être plus différentes qu'actuellement. La CEE limitée d'il y a 30 ans n'a rien à voir avec l'UE solide d'aujourd'hui, de la même manière que le Groenland fait pâle comparaison avec le Royaume-Uni en termes d'envergure économique et de poids politique.
En outre, la sortie du Groenland a été considérablement facilitée par ses liens constitutionnels auprès du Danemark, membre de la CEE, qui a continué par la suite de représenter ses intérêts au sein des organes européens. À défaut d'une telle configuration équivalente susceptible de favoriser la démarche du Royaume-Uni, les négociations ultérieures à un vote de sortie seraient nécessairement complexes et éprouvantes, et pourraient s'étaler sur de nombreuses années.
Toute cette incertitude viendrait alors peser, à la fois sur les entreprises et sur les citoyens. Qui serait prêt à s'engager dans le cadre d'un investissement à long terme au Royaume-Uni sans même connaître les arrangements juridiques mis en place ?
Afin d'éviter un tel scénario, il appartient au Conseil européen d'insister sur la stabilité bien supérieure des perspectives d'un Royaume-Uni qui demeurerait membre de l'UE, tout en faisant valoir la flexibilité fondamentale de l'Europe. Le Royaume-Uni a d'ores et déjà été autorisé à renoncer à l'espace Schengen, à l'euro, et au pilier Justice et affaires intérieures. Ainsi l'UE a-t-elle désormais prouvé sa capacité à élaborer des compromis raisonnables face aux demandes du Premier ministre David Cameron.
Dans certains domaines, tels que le renforcement de la compétitivité et l'harmonisation des réglementations, le consensus sera relativement facile à atteindre. Une entente est également possible autour d'un plus grand rôle des parlements nationaux dans l'orientation de la législation de l'UE, bien que la proposition de Cameron visant à permettre aux parlements de brandir un « carton rouge » en opposition aux lois de l'UE franchisse la limite.
Quant à la volonté de Cameron de mettre un terme à l'obligation prévue par les traités imposant à la Grande-Bretagne d'œuvrer pour une « union sans cesse plus étroite », la clé d'un compromis pourrait résider dans la nuance. Plutôt que de travailler à l'intégration toujours plus profonde des États membres, peut-être l'UE devrait-elle axer ses efforts sur l'objectif consistant à unir de plus en plus étroitement les peuples d'Europe.
La dernière problématique est sans doute la plus épineuse : immigration et prestations sociales. Cameron a proposé un « temps mort » de quatre ans s'agissant des prestations liées à l'emploi et à l'enfance pour les migrants de l'UE travaillant au Royaume-Uni – une approche que beaucoup sont d'accord pour qualifier de discriminatoire. L'un des changements susceptibles de faciliter le chemin vers un compromis autour de cette question extrêmement tendue consisterait à imposer une division claire entre d'une part cette discussion et d'autre part l'actuelle crise des réfugiés. L'accent doit rester placé sur les Polonais ou les Lettons, et non sur les Syriens.
En 1953, Winston Churchill a eu cette formule célèbre : « Nous sommes avec l'Europe, mais pas dans l'Europe ; nous sommes liés à elle, mais pas engagés auprès d'elle. » Si le prochain Conseil européen parvient à atteindre un compromis reflétant ce sentiment, le Brexit pourrait alors être évité, pour le bien de tous. Mais à l'approche d'un référendum inquiétant, un accord même satisfaisant pourrait ne pas suffire. À l'heure où les fantasmes et la manipulation continuent de dominer le débat britannique, le Royaume-Uni – et l'Europe – pourraient bien connaître une surprise fort dégrisante.
Traduit de l'anglais par Martin Morel