Ursachen und Folgen eines Brexit
MADRID – Ein Austritt Großbritanniens aus der Europäischen Union ist inzwischen eine eindeutige Möglichkeit. Es scheint zunehmend wahrscheinlich, dass die anstehende Sitzung des Europäischen Rates zu einem Deal über die Bedingungen der EU-Mitgliedschaft Großbritanniens führen wird – einem Deal, der dann im Rahmen eines Referendums den britischen Wählern vorgelegt werden wird, und zwar möglicherweise schon in diesem Sommer.
Allerdings sollten Großbritannien und die EU angesichts der zunehmenden Hektik einen Moment innehalten, um gründlich nachzudenken. Schließlich weiß trotz der Zusicherungen von beiden Seiten niemand, wie sich das Referendum entfalten wird, und erst recht nicht, wie man mit den Folgen klar kommen soll, falls sich die britischen Wähler entscheiden, die EU zu verlassen.
Das Referendum ist dabei die unmittelbarste Unbekannte. Die Erfahrung lehrt uns, dass, wenn Wähler derartige Entscheidungen treffen, sie sich selten auf das konkrete Thema konzentrieren. In den Referenden über den EU-Verfassungsentwurf 2005 etwa ging es den Niederländern primär um den Euro, während die Franzosen Angst vor polnischen Klempnern hatten, die ihnen die Arbeitsplätze wegnehmen könnten.
Bisher sieht es aus, als würde das kommende britische Referendum demselben Muster folgen und als würden sich die Wähler mehr auf grob vereinfachende Ideen, Vorurteile und Emotionen und weniger auf pragmatische Überlegungen konzentrieren. Und das EU-feindliche Lager war bisher die deutlich leidenschaftlichere – und von ihrer Rhetorik her aufrührende – Seite.
Aus europäischer Sicht ist dies zutiefst besorgniserregend. Es ist bekannt, dass ein britisches Ausscheiden der europäischen Integration einen verheerenden Schlag versetzen und einen bereits jetzt fragilen Prozess möglicherweise zum Zerfallen bringen würde. Doch auch die Briten sollten sich Sorgen über die Folgen eines EU-Austritts machen, und sei es nur, weil so wenig darüber bekannt ist, was dieser nach sich ziehen würde.
Das Problem ist, dass den meisten Briten die Turbulenzen, die ein "Brexit" hervorrufen würde, kaum bewusst sind. Über die Auswirkungen auf die schottische Unabhängigkeitsbewegung, das Karfreitagsabkommen in Irland und die "besondere Beziehung" Großbritanniens zu den USA hinaus stellen sich wichtige Fragen zu den künftigen Beziehungen zwischen Großbritannien und der EU. Viele Befürworter eines Austritts betreiben Rosinenpickerei in Bezug auf Richtlinien und Verordnungen, wie etwa die Bestimmungen der EU-Freihandelsabkommen mit Kanada und Singapur, um sich eine Vision zurechtzuzimmern, wie das Leben für Großbritannien außerhalb Europas aussehen würde. Sie wollen die Briten glauben machen, dass nicht nur die Londoner City Europas führendes Finanzzentrum bleiben würde, sondern dass Großbritannien zudem seinen Zugang zum europäischen Binnenmarkt behalten würde, aber ohne Freizügigkeit für Arbeitsnehmer.
Subscribe to Project Syndicate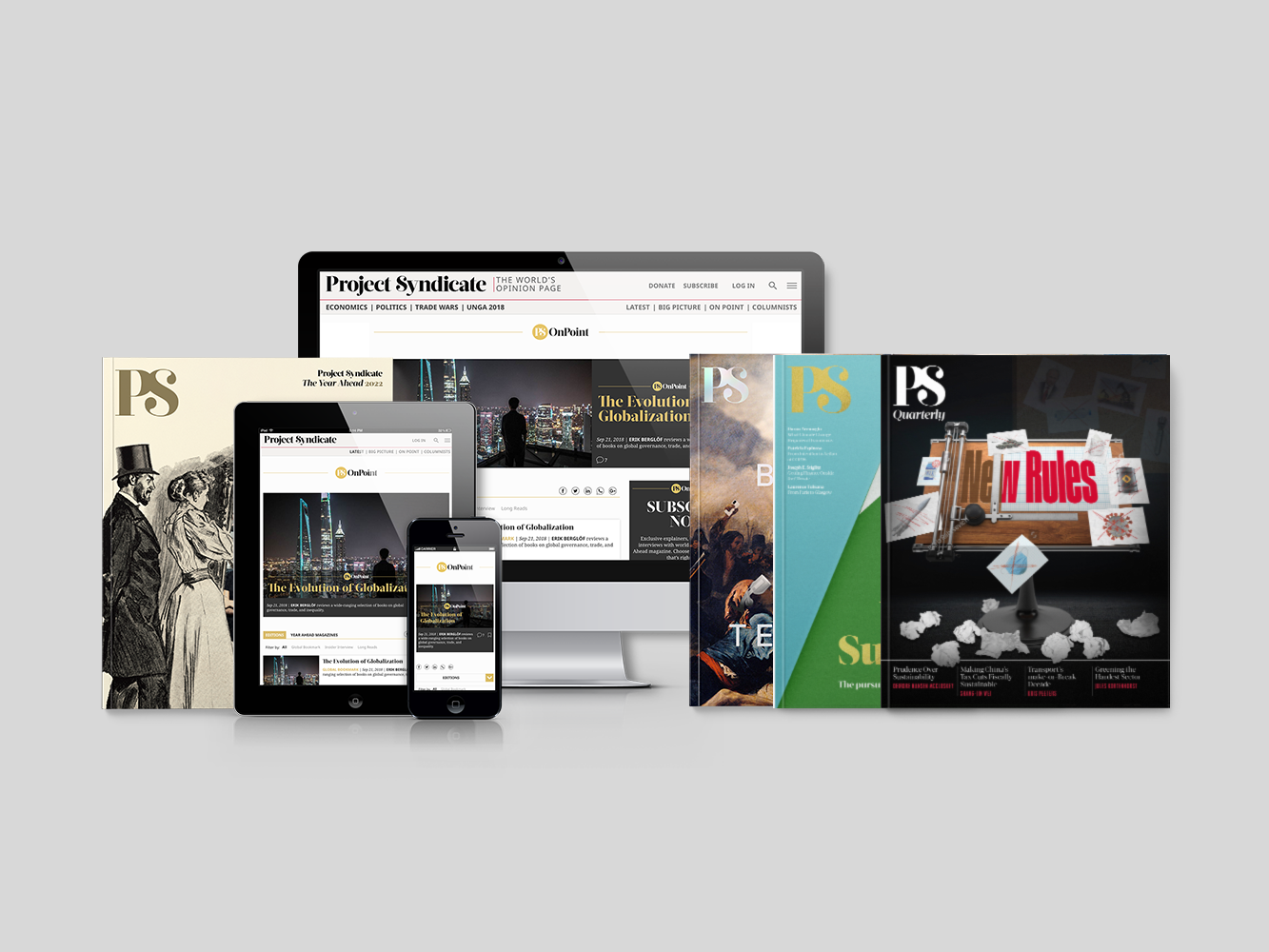 Subscribe to Project Syndicate
Enjoy unlimited access to the ideas and opinions of the world's leading thinkers, including long reads, book reviews, topical collections, short-form analysis and predictions, and exclusive interviews; every new issue of the PS Quarterly magazine (print and digital); the complete PS archive; and more. Subscribe now to PS Premium.
Das ist reine Fantasterei. Auch wenn Großbritannien sich seine starke internationale Stellung im Bereich der Verteidigungs- und Außenpolitik bewahren würde, wäre sein Einfluss bei Verhandlungen über Handels- und Investitionsabkommen – auch mit der EU selbst, auf die etwa die Hälfte des britischen Handels entfällt – erheblich gemindert. Dies ist die Erfahrung, die Nicht-EU-Länder wie die Schweiz und Norwegen machen mussten. Tatsächlich sind viele führende EU-Politiker schon über den Zugang der Schweiz zum Binnenmarkt unglücklich; die Vorstellung, dass sie Großbritannien – insbesondere nach einem solchen Schlag ins Gesicht – einen derartigen Zugang gewähren würden, ist nicht überzeugend.
Manche behaupten, ein Brexit würde ähnlich ablaufen wie Grönlands problemlos ausgehandelter Austritt aus der Europäischen Wirtschaftsgemeinschaft (EWG) im Jahre 1985 – der einzige derartige Ausstieg, der je stattgefunden hat. Doch die Umstände könnten gar nicht unterschiedlicher sein. Die begrenzte EWG von vor 30 Jahren ist nicht vergleichbar mit der robusten EU von heute, genau wie Grönland in Bezug auf wirtschaftliche Größe oder politische Bedeutung Großbritannien nicht das Wasser reichen kann.
Darüber hinaus wurde Grönlands Austritt ganz erheblich durch seine Verfassungsbeziehungen zum EWG-Mitglied Dänemark erleichtert, das in den europäischen Institutionen weiterhin Grönlands Interessen vertrat. Ohne einen entsprechenden Fürsprecher, um Großbritannien den Weg zu glätten, würden auf ein Austrittsvotum komplizierte, erbitterte Verhandlungen folgen, die sich jahrelang hinziehen dürften.
All diese Unsicherheit hätte ihren Preis, und zwar sowohl für die Unternehmen als auch für die Normalbürger. Wer würde wohl noch langfristige Investitionen in Großbritannien tätigen, ohne zu wissen, welche rechtlichen Bedingungen dann gelten würden?
Um ein derartiges Ergebnis zu verhindern, sollte der Europäische Rat die deutlich stabileren Aussichten Großbritanniens als EU-Mitglied betonen und zugleich Europas grundlegende Flexibilität unter Beweis stellen. Großbritannien wurde bereits gestattet, beim Schengen-Raum, beim Euro und im Bereich Justiz und Inneres seinen eigenen Weg zu gehen. Jetzt hat die EU ihre Bereitschaft gezeigt, sich um vernünftige Kompromisse bezüglich der Forderungen des britischen Premierministers David Cameron zu bemühen.
In einigen Bereichen, etwa bei der Stärkung der Wettbewerbsfähigkeit und beim Bürokratieabbau, wird ein Konsens relativ leicht zu erreichen sein. Eine Einigung ist außerdem möglich in Bezug auf die Stärkung der Rolle der nationalen Parlamente innerhalb des EU-Gesetzgebungsverfahrens, auch wenn Camerons Vorschlag, den Parlamenten zu erlauben, dem EU-Recht die "rote Karte" zu zeigen, zu weit geht.
Was Camerons Forderung angeht, Großbritanniens vertragliche Verpflichtung zu beenden, auf einen "immer engeren Zusammenschluss" hinzuarbeiten, könnte der Schlüssel hin zu einem Kompromiss in den Nuancen liegen. Statt auf Maßnahmen, um die Mitgliedstaaten stärker zu integrieren, sollte sich die EU vielleicht darauf konzentrieren, die Völker Europas enger zusammenzuführen.
Die letzte Frage könnte die dornigste sein: Einwanderung und Wohlfahrt. Cameron hat sich für eine vierjährige "Auszeit" für Aufstockungsleistungen und Kindergeld für EU-Einwanderer ausgesprochen, die in Großbritannien arbeiten – ein Ansatz, den viele für diskriminierend halten. Eine Wendung, die den Weg für einen Kompromiss bei diesem hochgradig kontroversen Thema ebnen könnte, wäre, eine klare Trennung zwischen dieser Diskussion und den Debatten über die anhaltende Flüchtlingskrise durchzusetzen. Im Fokus müssen weiterhin Polen und Letten stehen und nicht Syrer.
Im Jahr 1953 äußerte Winston Churchill den berühmt gewordenen Ausspruch: "Wir sind für Europa, aber wir sind kein Teil von ihm. Wir sind verbunden, aber nicht beeinträchtigt." Wenn der anstehende Europäische Rat einen Kompromiss erreichen kann, der diese Gefühlslage widerspiegelt, lässt sich ein Brexit möglicherweise vermeiden, wovon alle profitieren würden. Doch angesichts des kommenden Referendums reicht möglicherweise selbst ein guter Deal nicht aus. Da die britische Debatte weiterhin von Fantasterei und Manipulation beherrscht wird, könnte Großbritannien – und Europa – eine sehr ernüchternde Überraschung ins Haus stehen.
Aus dem Englischen von Jan Doolan