Von der Schocktherapie bis zu Putins Krieg
NEW YORK – Während sich russische Panzer auf Befehl eines autoritären Präsidenten durch die Ukraine kämpfen, gilt es zu erwähnen, dass die Ukrainer nicht die einzigen sind, die sich nach Demokratie sehnen. Auch in Russland gehen die Menschen auf die Straße – unter großem persönlichem Risiko –, um gegen Wladimir Putins ungeheuerlichen Akt der Aggression zu protestieren. In einem Land, das nie eine Chance bekommen hat, demokratisch zu werden, kämpfen sie allerdings gegen widrige Umstände.
Als eine solche Gelegenheit da war, wurde sie nicht von Putin und seinem kleptokratischen Umfeld unterlaufen, sondern vom Westen. Nach dem Zusammenbruch der Sowjetunion vor 30 Jahren überzeugten amerikanische Wirtschaftsberater die russische Führung, sich auf Wirtschaftsreformen zu konzentrieren und die Demokratie auf später zu verschieben – wo Putin sie ohne weiteres ersticken konnte, als seine Zeit gekommen war.
Dabei handelt es sich nicht um eine belanglose historische Bedingtheit. Wäre Russland eine Demokratie geworden, bräuchte man nicht über die NATO und ihre Osterweiterung zu reden, nicht in die Ukraine einzumarschieren und nicht darüber zu debattieren, ob der Westen Russlands Kultur größeren Respekt schuldet. (Als Deutsche schrecke ich vor der letzten Forderung zurück, die deutlich an Hitler und seine selbsterklärte Führerschaft über eine "Kultur" erinnert).
Vergegenwärtigen wir uns die Ereignisse der Reihe nach. Im November 1991 erteilte der Oberste Sowjet der UdSSR (das Parlament) dem damaligen russischen Präsidenten Boris Jelzin außerordentliche Vollmachten und ein 13 Monate währendes Mandat zur Einleitung von Reformen. Im Dezember 1991 wurde die Sowjetunion durch das Belowescher Abkommen offiziell aufgelöst, wodurch die Gemeinschaft Unabhängiger Staaten entstand. Russland, Belarus und die Ukraine erklärten, dass sie die Unabhängigkeit des jeweils anderen Landes respektieren.
Umgeben von einem kleinen Kreis russischer Reformer und westlicher Berater nutzte Jelzin diesen einzigartigen historischen Moment, um eine beispiellose wirtschaftliche "Schocktherapie" einzuleiten. Die Preise wurden liberalisiert, die Grenzen geöffnet und eine rasche Privatisierung setzte ein – alles per Präsidialdekret. Niemand in Jelzins Umfeld machte sich die Mühe zu fragen, ob dies dem Willen der Bürgerinnen und Bürger Russlands entspricht. Und niemand hielt inne, um in Erwägung zu ziehen, dass die russische Bevölkerung vielleicht erst einmal eine Chance haben will, eine solide verfassungsrechtliche Grundlage für ihr Land zu entwickeln oder ihrer Präferenz für eine zukünftige Regierung in einer Wahl Ausdruck zu verleihen.
Die Reformer und ihre westlichen Berater haben einfach beschlossen – und dann darauf bestanden –, dass die Reformen des Marktes Verfassungsreformen vorausgehen sollten. Demokratische Feinheiten würden die wirtschaftspolitische Entscheidungsfindung verzögern oder sogar unterminieren. Nur wenn man schnell handelte – den Schwanz des Hundes mit einem Axthieb abtrennte – würde Russland auf den Weg zu wirtschaftlichem Wohlstand gebracht und die Kommunisten endgültig von der Macht ferngehalten. Mit radikalen Marktreformen würde das russische Volk greifbare Ergebnisse sehen und sich von selbst für Demokratie begeistern.
Subscribe to PS Digital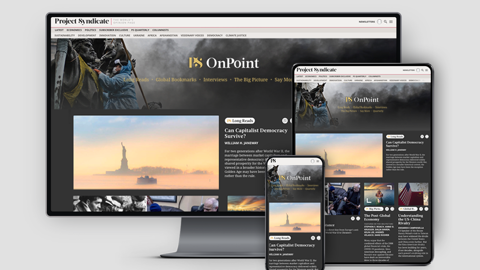 Subscribe to PS Digital
Access every new PS commentary, our entire On Point suite of subscriber-exclusive content – including Longer Reads, Insider Interviews, Big Picture/Big Question, and Say More – and the full PS archive.
Es hat nicht sollen sein. Die Präsidentschaft Jelzins entpuppte sich als komplettes Desaster – wirtschaftlich, sozial, rechtlich und politisch. Es erwies sich als unmöglich, eine Planwirtschaft sowjetischer Art innerhalb von nur 13 Monaten grundlegend umzugestalten. Preis- und Handelsliberalisierung allein schufen noch keine Märkte. Dazu hätte es Rechtsinstitutionen bedurft, für deren Aufbau jedoch keine Zeit war. Ja, der extreme Mangel verschwand und überall schossen Straßenmärkte aus dem Boden. Aber das ist weit davon entfernt, die Art von Märkten entstehen zu lassen, die notwendig sind, um die Verteilung von Ressourcen zu ermöglichen, auf die Unternehmen und Haushalte angewiesen sind.
Darüber hinaus löste die Schocktherapie so schwere und plötzliche soziale und wirtschaftliche Verwerfungen aus, dass sich die Öffentlichkeit gegen die Reformen und die Reformer wandte. Der Oberste Sowjet weigerte sich, Jelzins außerordentliche Vollmachten zu verlängern, und was dann geschah, sollte den Weg für den Aufstieg des autoritären Präsidentialismus in Russland ebnen.
Jelzin und seine Verbündeten weigerten sich, aufzugeben. Sie erklärten die bestehende russische Verfassung von 1977 für unrechtmäßig, und Jelzin übernahm eigenmächtig die Macht, während er ein Referendum zur Legitimierung dieses Schrittes forderte. Doch das Verfassungsgericht und das Parlament weigerten sich, nachzugeben, und es kam zu einer tiefen politischen Krise. Das Patt wurde schließlich durch Panzer aufgelöst, die Jelzin im Oktober 1993 zur Auflösung des russischen Parlaments anforderte, wobei 147 Menschen starben.
Viele Abgeordnete waren zwar Gegner von Jelzin und seinem Stab und wollten die Uhr möglicherweise zurückdrehen. Aber es gelang Jelzin einen gefährlichen neuen Präzedenzfall dafür zu schaffen, wie Streitigkeiten über die Zukunft des Landes gelöst werden würden. Panzer und nicht Abstimmungen würden entscheiden. Und Jelzin und sein Stab ließen es nicht dabei bewenden. Sie setzten außerdem eine Verfassung durch, die einen mächtigen Präsidenten mit starken Dekret- und Vetobefugnissen und ohne ein ernsthaftes System der gegenseitigen Kontrolle vorsah.
Ich erinnere mich noch an ein aufschlussreiches Gespräch, das ich, die ich damals die russischen Reformen studierte, mit Dmitri Wassiljew führte, einem hochrangigen Mitglied von Jelzins Privatisierungsteam. Als ich ihn auf die Unzulänglichkeiten des Verfassungsentwurfs hinwies, sagte er, sie würden ihn einfach ändern, wenn die falsche Person an die Macht käme. Das haben sie natürlich nie getan – und sie hätten es auch nicht tun können. Wassiljews Aussage brachte auf den Punkt, wie die Wirtschaftsreformer über konstitutionelle Demokratie dachten.
Im Dezember 1993 wurde die neue Verfassung in einem Referendum angenommen, das gleichzeitig mit den Wahlen zum neuen Parlament abgehalten wurde. Jelzins Kandidaten erlitten eine überwältigende Niederlage, doch mit den neuen verfassungsmäßigen Rechten des Präsidenten ausgestattet wurden die Wirtschaftsreformen fortgesetzt. Jelzin wurde dann 1996 in einem manipulierten Verfahren "wiedergewählt", das in Davos geplant und von den frischgebackenen russischen Oligarchen orchestriert worden war. Drei Jahre später machte Jelzin Putin zum Ministerpräsidenten und ernannte ihn zu seinem Nachfolger.
Die Demokratisierung Russlands mag angesichts der Geschichte des Landes mit seiner zentralisierten Macht von jeher wenig Aussicht auf Erfolg gehabt haben. Aber es wäre einen Versuch wert gewesen. Der schlechte Ratschlag, wirtschaftlichen Zielen höhere Priorität beizumessen als demokratischen Prozessen hält Lehren bereit, die weit über Russland hinausweisen. Indem der Westen dem Kapitalismus den Vorzug vor Demokratie als Grundlage für die Welt nach dem Kalten Krieg gab, setzte er Stabilität, Wohlstand und, wie wir jetzt wieder in der Ukraine sehen, Frieden und Demokratie aufs Spiel – und das nicht nur in Osteuropa.
Aus dem Englischen von Sandra Pontow