Demonetizace: co dělat a co ne
CAMBRIDGE – Osmého listopadu ve 20.15 oznámila vláda indického premiéra Nárendry Módího, že s úderem půlnoci přestanou být všechny bankovky v nominální hodnotě 500 a 1000 rupií pokládány za právoplatné oběživo a bude třeba je vyměnit za nové pětisetrupiové a dvoutisícirupiové bankovky. Módího "demonetizační" intervence se tak dotkla 85% veškerých peněz v oběhu v Indii. Byl to bezprecedentní krok, ať už v Indii nebo téměř kdekoliv jinde na světě, a zároveň šlo o zatím zdaleka nejsmělejší Módího zásah do hospodářské politiky.
Módího vláda si bere na mušku "černé peníze" spojované s daňovými úniky, korupcí a padělatelstvím, a tudíž i s drogovými překupníky, pašeráky a teroristy, kteří tyto činnosti provozují. Indičtí daňoví poplatníci pracující za mzdu, a dokonce i chudí lidé tento krok zpočátku nadšeně vítali, protože ho pokládali za sladkou pomstu těm, kdo se dopouštějí daňových úniků a "křečkují" své pokoutně nabyté zisky; radovali se z historek o tom, jak zkorumpovaní úředníci pálili pytle peněz nebo házeli bankovky do indických řek.
S každým dalším dnem však jejich původní nadšení uvadalo a dnes převládá veřejná frustrace, jelikož vláda nedokáže uspokojit poptávku po nově natištěných bankovkách. Obchod v Indii – kde poměr hotovosti k HDP dosahuje 10% – se silně opírá o hotovostní transakce, takže se neformální ekonomika i drobné podnikání zcela zasekly kvůli dlouhým frontám a přísným limitům na hotovostní výběry v bankách a kvůli nedostatku hotovosti v bankomatech.
Krátkodobý dopad se bude rovnat "antistimulační" politické intervenci a výsledné zbrzdění poptávky bude značné. S poklesem cen nemovitostí se navíc sníží i bohatství domácností. Nižší ceny bydlení sice zlepší dostupnost nových domů, avšak počet již obydlených domů bude v krátkodobém měřítku dalece přesahovat nové nákupy, takže negativní dopad na bohatství překryje případné zisky.
Vzhledem k těmto vysokým dopředným nákladům je vhodné klást si otázku, nakolik je demonetizace v boji proti daňovým únikům a korupci účinná a zda neexistuje méně nákladný přístup k demonetizaci.
Otázkou efektivity se již v roce 1976 zabýval americký ekonom James S. Henry v článku s názvem "Jak zubožit dav", v němž předepisoval demonetizaci jako opatření vedoucí k podkopání aktivit mafie. Politici však jeho návrh nebrali vážně. Podle jeho vlastních slov ho "odmítli buď jako administrativně nepraktický krok nebo jako jednorázovou akci, která by na zločinné chování neměla dlouhodobý dopad".
Subscribe to PS Digital Now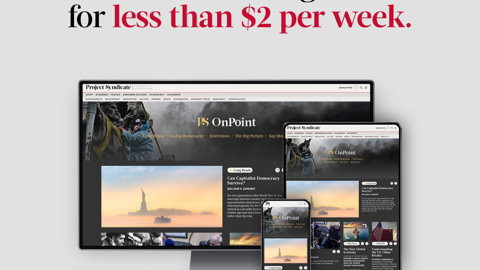 Subscribe to PS Digital Now
Access every new PS commentary, our entire On Point suite of subscriber-exclusive content – including Longer Reads, Insider Interviews, Big Picture/Big Question, and Say More – and the full PS archive.
Kenneth Rogoff se ve své nové knize Prokletí hotovostivyslovuje pro eliminaci bankovek vysoké nominální hodnoty v rámci boje proti daňovým únikům a trestné činnosti. Přitom uvádí rozsáhlé důkazy, že pokud se hromadění hotovosti prodraží, odrazuje to od nezákonného jednání. Pachatelé daňových úniků pak sice ukládají bohatství do nepeněžních aktiv, jako jsou pozemky, umělecká díla a šperky, avšak hotovostní peníze díky své likviditě stále představují hlavní formu držení nezákonně nabytých zisků. Jinými slovy nejsou pochyby Módího kritiků o roli hotovosti při hromadění černých peněz namístě.
Rogoff nicméně navrhuje odlišnou strategii řešení hrozby černých peněz – strategii, která by vyvolala minimální otřesy a přinejmenším v dlouhodobém měřítku by byla účinnější. Od intervence použité Módího vládou by se lišila ve dvou zásadních věcech: za prvé by byla postupná – zaváděla by se po dobu několika let. A za druhé by bankovky vysoké nominální hodnoty eliminovala natrvalo.
Tato pozvolná strategie by sice netrestala již existující hrabivce, kteří by jistě našli nápadité způsoby, jak svou hotovost v mezidobí recyklovat, ale s vyšší pravděpodobností by postupem času zlepšila daňovou kázeň a omezila korupci, neboť bankovky vyšších nominálních hodnot by byly natrvalo staženy z oběhu. Současná indická politika nahrazování tisícirupiových bankovek dvoutisícovými podkopává dlouhodobou účinnost zvolené metody.
Postupný přístup je navíc administrativně praktický, minimalizuje vedlejší škody na reálné ekonomice a poskytuje dostatek času na zajištění finančních služeb a finanční gramotnosti velké části Indů. V posledních dvou letech klade Módího vláda chvályhodný důraz na finanční inkluzi prostřednictvím svého programu Lidové peníze, který usnadnil založení 220 milionů nových bankovních účtů. Mnozí lidé, kteří si založí účet, ho však nemusí nutně používat. Loňská studie Světové banky, která sledovala využívání bankovních účtů a procento spících účtů v různých regionech, zjistila, že jen 15% dospělých Indů používá účet k odesílání či přijímání plateb. V takovém prostředí je nedostatek hotovosti ekonomicky ochromující.
Módího politický zásah je smělý a k ekonomickým principům, které ho k němu vedly, nelze mít námitek. Postupný přístup zahrnující trvalé stahování velkých bankovek z oběhu by však stejnému cíli posloužil lépe, i kdyby nevyvolal takový "šok a hrůzu" jako současná politika. Až začnou v příštích několika měsících vycházet najevo vysoké náklady pro ekonomiku, bude to ještě patrnější.
Z angličtiny přeložil Jiří Kobělka.