Comienza la determinación de precios del carbono
,
BONN – Los huracanes que asolaron el Caribe, Texas y Florida este año dejaron carreteras sumergidas, casas y empresas en estado de demolición y la pérdida de muchas vidas. Desde entonces las inundaciones han retrocedido, pero las imágenes del desastre siguen en nuestra memoria colectiva. Para la recuperación serán necesarios años, tal vez décadas, a un coste de miles de millones de dólares.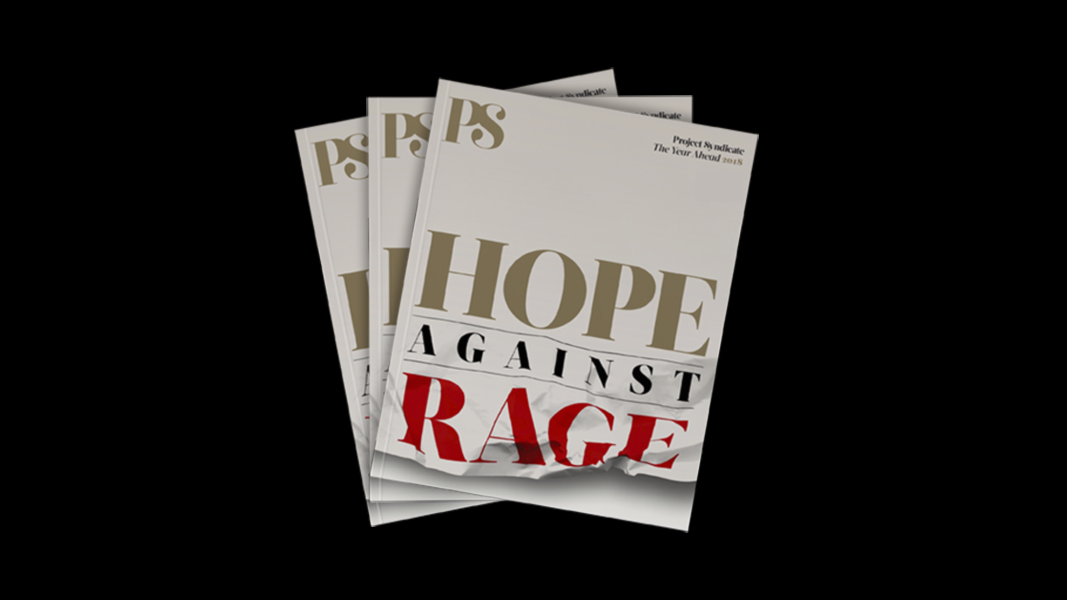 The Year Ahead 2018
The world's leading thinkers and policymakers examine what's come apart in the past year, and anticipate what will define the year ahead.
Los expertos afirman que el calentamiento de los océanos hace que los huracanes se vuelvan más intensos, y otras consecuencias del cambio climático antropogénico (desde graves sequías en el Cuerno de África a inundaciones extremas en Asia) están dejando a millones sin acceso a comida ni un techo básico. Sin embargo, los encargados de definir políticas no siempre han escuchado las advertencias sobre el vínculo entre los combustibles fósiles y las condiciones climáticas letales, a pesar de que se ha ido confirmando con los años.
Esto está cambiando con rapidez. Hoy en día, países, ciudadanos y una creciente cantidad de empresas de todo el mundo están finalmente comenzando a adoptar medidas. Este mes, miles de personas asistieron a la conferencia sobre el cambio climático de la ONU en Bonn, Alemania, para acentuar la ambición global en la lucha contra el cambio climático. Tras el éxito del acuerdo climático de París hace dos años, son altas las expectativas de que haya avances y prosigan las iniciativas de colaboración.
Una de las iniciativas recientes más promisorias es la Coalición para el Liderazgo de los Precios del Carbono (CPLC, por sus siglas en inglés) que reúne a más de 30 gobiernos y más de 180 empresas y socios estratégicos para determinar un valor para las emisiones de dióxido de carbono. La idea es simple: si hemos de cumplir la meta del acuerdo de París de limitar el aumento de la temperatura promedio global a menos de 2º Celsius por encima de los niveles preindustriales (idealmente, a 1,5º), debemos reducir radicalmente las emisiones. Como copresidentes de la CPLC, creemos que una de las mejores maneras de hacerlo es haciendo que el contaminador, en lugar del público, asuma los costes sociales y económicos de los gases que atrapan calor.
En tiempos que aumenta la sensación de urgencia sobre el cambio climático, ya no es aceptable contaminar gratis para que paguen la cuenta las generaciones futuras. Poner precio al carbono es la manera más eficiente de reducir las emisiones globales, mientras se estimula un crecimiento económico sólido y sostenible. Más aún, al fijar un precio a la contaminación los gobiernos pueden generar ingresos adicionales para inversiones en energías limpias, escuelas y centros de atención sanitaria, con lo que ganarían por cuenta doble.
Por supuesto, el objetivo último es hacer que las empresas enmienden sus acciones, y hoy una creciente proporción de empresarios comprenden que poner precio al carbono es una de las mejores maneras de combatir el cambio climático. Además, reconocen que sus empresas pueden prosperar incluso si se esfuerzan por reducir las emisiones.
De hecho, entre los partidarios más entusiastas de poner precios de manera eficaz al carbono se encuentran muchos líderes de negocios. El mes pasado, el Proyecto para la Divulgación del Carbono reveló que la cantidad de compañías con planes de implementar planes internos de fijación de precios a las emisiones de carbono se ha elevado hasta 1400 a nivel mundial, desde cerca de 150 en 2014, abarcando más de 100 de las mayores compañías del mundo, con ingresos anuales totales de cerca de $7 billones.  Royal DSM (presidida por uno de los autores de este artículo), lo ha fijado en €50 ($59) por tonelada, sumándose a otras compañías globales como Michelin, Danone y General Motors en la aplicación de precios significativos al carbono para "blindar el futuro" de sus empresas.
Cerca de 40 países (entre ellos, Canadá) también están fijando un precio a la polución por emisiones de carbono y algunos gobiernos prevén implementar planes similares pronto. En 2015, China anunció planes de crear el mayor sistema de fijación de precios al carbono del planeta, y este año Ontario, Quebec y California firmaron un acuerdo para crear el segundo mayor mercado de emisiones de carbono mundial.
Esta tendencia debe continuar por razones tanto ambientales como económicas. Un estudio realizado en mayo de 2017 por la Comisión de Alto Nivel sobre Precios del Carbono, encabezado por dos de los más reputados economistas del mundo, Joseph E. Stiglitz y Nicholas Stern, concluyó que fijar un "precio sólido al carbono" es esencial no solo para reducir las emisiones globales, sino también para sostener la innovación y el crecimiento.
No hay duda de que fijar un precio a la polución por carbono debe ser parte de un conjunto de acciones más amplio para blindar el futuro de nuestras economías y sociedades. Para reducir más aún las emisiones de gases de invernadero y fomentar la vitalidad de la economía debemos mejorar el transporte público, construir edificaciones con uso eficiente de la energía y apoyar las iniciativas de empresas, innovadores e inversionistas para desarrollar soluciones de energías limpias. Es lo que Canadá ya está haciendo, porque sabemos que estas políticas pueden reducir las emisiones y ayudar a crear nuevos empleos bien pagados.
Como digo a menudo, el cambio climático representa tanto un cambio como una oportunidad. Al fijar un precio a la polución por emisiones de carbono y hacer uso de nuestras habilidades colectivas, podemos enfrentar lo primero y aprovechar estas últimas. Si compartimos el espíritu emprendedor e innovador que existe en los países y empresas, podremos combatir el cambio climático, fortalecer nuestras economías y sociedades, y dejar un planeta más saludable a nuestros hijos y nietos.
Traducido del inglés por David Meléndez Tormen