Het belasten van koolstof komt op gang
,
BONN – De orkanen die het Caraïbisch gebied, Texas, en Florida dit jaar teisterden hebben snelwegen overstroomd, huizen en bedrijven verwoest, en vele levens gekost. Het wassende water heeft zich inmiddels teruggetrokken, maar de beelden van chaos zijn in ons collectieve geheugen gegrift. Het herstel zal jaren en wellicht decennia duren en miljarden dollars kosten.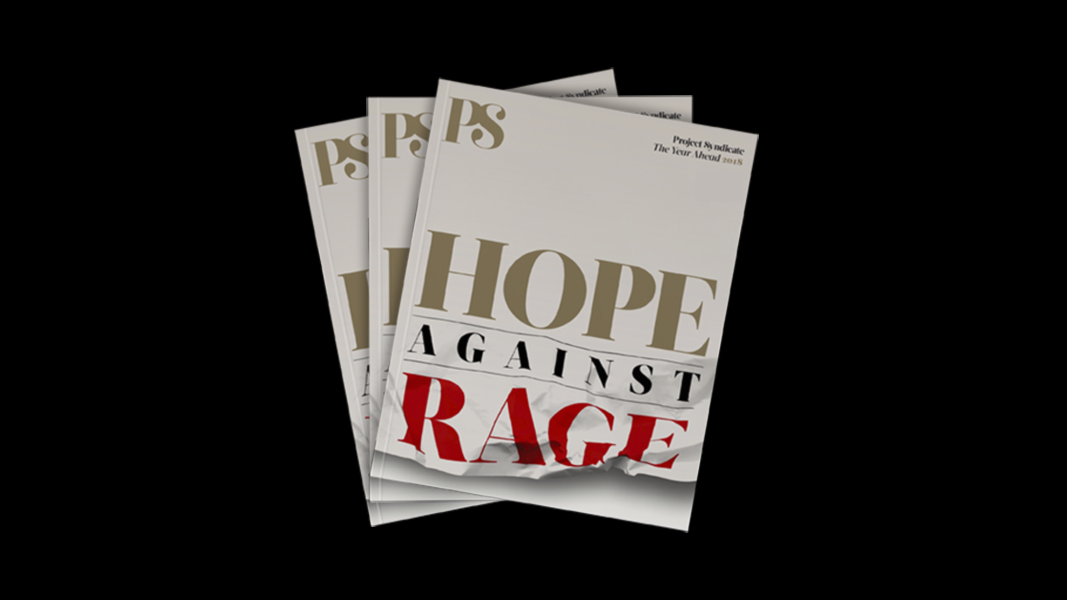 The Year Ahead 2018
The world's leading thinkers and policymakers examine what's come apart in the past year, and anticipate what will define the year ahead.
Deskundigen zeggen dat opwarmende oceanen er voor zorgen dat orkanen krachtiger worden, en verdere gevolgen van antropogene klimaatverandering – van ernstige droogte in de Hoorn van Afrika tot extreme overstromingen in Azië – laten miljoenen zonder voedsel en onderdak. Maar alhoewel het verband tussen het verbranden van fossiele brandstoffen en dodelijk weer al jaren onweerlegbaarder wordt hebben beleidsmakers waarschuwingen vaak voor lief genomen.
Dit is snel aan het veranderen. Op dit moment ondernemen landen, burgers, en een groeiend aantal bedrijven over de hele wereld eindelijk actie. Deze maand zijn duizenden mensen bijeengekomen voor de klimaatconferentie in Bonn om de wereldwijde ambitie in het gevecht tegen klimaatverandering op te krikken. Als gevolg van het succesvolle klimaatakkoord van Parijs twee jaar geleden zijn de verwachtingen voor verdere vooruitgang en een vruchtbare samenwerking hooggespannen.
Eén van de meest veelbelovende nieuwe initiatieven is de Carbon Pricing Leadership Coalition (CPLC) die 30 regeringen en meer dan 180 bedrijven en strategische partners samenbrengt om een prijs op de uitstoot van koolstofdioxide te plakken. Het idee is simpel: als we willen voldoen aan de doelstelling van het verdrag van Parijs om de gemiddelde temperatuur van de planeet te beperken tot minder dan 2 graden Celsius boven pre-industriële niveaus – en idealiter tot 1,5 graad boven pre-industriële niveaus – moeten we onze uitstoot drastisch terugbrengen. Als medevoorzitters van de CPLC geloven wij dat één van de beste manieren om dat te doen is om de sociale en economische kosten van hitte absorberende gassen van het publiek naar de vervuiler te verleggen.
Nu het gevoel van urgentie rond het klimaat groter wordt is het niet langer acceptabel om gratis te vervuilen en de rekening hiervan naar toekomstige generaties door te schuiven. Een prijs op koolstof plakken is de meest efficiënte manier om de wereldwijde emissies terug te brengen, terwijl ondertussen een duurzame en robuuste economische groei wordt aangemoedigd. Bovendien kunnen regeringen door een prijs op vervuiling te plakken inkomsten genereren voor investeringen in schone energie, scholen, en gezondheidszorg, en dit zo tot een win-winsituatie maken.
Het ultieme doel is natuurlijk om bedrijven aan te moedigen schoon schip te maken, en een groeiend aantal leiders uit het bedrijfsleven ziet nu in dat het belasten van koolstof één van de beste manieren is om klimaatverandering tegen te gaan. Ook erkennen ze dat hun bedrijven ondanks de strijd tegen uitstoot kunnen blijven bloeien.
Het is zelfs zo dat er veel captains of industry onder de meest enthousiaste supporters van een effectieve koolstofbelasting zijn. Afgelopen maand rapporteerde het Carbon Disclosure Project dat het aantal bedrijven met plannen voor interne koolstofbelasting-mechanismes wereldwijd tot bijna 1400 gestegen is – van 150 in 2014. Het gaat om meer dan 100 van de grootste bedrijven ter wereld, met totale jaarlijkse inkomsten van ongeveer 7 biljoen dollar. De Koninklijke DSM (die wordt bestuurd door één van de auteurs) heeft een koolstofbelasting van 50 euro per ton ingesteld en voegt zich hiermee bij andere multinationals als Michelin, Danone, en General Motors in het toepassen van zinnige koolstofbelastingen om hun bedrijven 'toekomstbestendig' te maken.
Plusminus 40 landen – waaronder Canada – hangen nu ook een prijskaartje aan vervuiling door koolstoffen, en nog meer regeringen willen eerdaags overeenkomstige programma's implementeren. In 2015 kondigde China plannen aan om 's werelds grootste systeem voor koolstofbelasting te introduceren. En eerder dit jaar ondertekenden Ontario, Quebec, en Californië een overeenkomst om 's werelds één na grootste koolstofmarkt te creëren.
Deze trend moet doorzetten; om milieu- én economische redenen. Een studie uit mei 2017 uitgevoerd door de High-Level Commission on Carbon Prices – geleid door twee van de meest eminente economen ter wereld, Joseph E. Stiglitz en Nicholas Stern – vond dat het instellen van een 'krachtdadige koolstofbelasting' essentieel is, niet alleen voor het terugbrengen van de wereldwijde uitstoot maar ook voor het ondersteunen van innovatie en groei.
Het lijdt geen twijfel dat het belasten van koolstofvervuiling onderdeel moet worden van bredere actie om onze economieën en maatschappijen toekomstbestendig te maken. Om de uitstoot van broeikasgassen verder te reduceren en economische vitaliteit te voeden moeten we ons openbaar vervoer verbeteren, energie-efficiënt gaan bouwen, en inspanningen door bedrijven, innovators, en investeerders bij het ontwikkelen van oplossingen door middel van schone energie ondersteunen. Canada doet dit reeds, omdat we weten dat dit beleid de uitstoot terug kan brengen en nieuwe goedbetaalde banen kan scheppen.
.
Het is al vaak gezegd dat klimaatverandering zowel uitdagingen als kansen biedt. Door koolstofvervuiling te belasten en onze gezamenlijke krachten te bundelen kunnen we deze respectievelijk het hoofd bieden en pakken. Het samenbrengen van de innovatieve en ondernemende geest van landen en bedrijven zal ons in staat stellen om te strijden tegen klimaatverandering, om onze economieën en maatschappijen te versterken, en een gezondere planeet voor onze kinderen en kleinkinderen achter te laten.
Vertaling Melle Trap