Schone energie is ook veerkrachtige energie
NASSAU – Het Caraïbisch gebied en omgeving staan in de frontlinie van de klimaatverandering. De Bahama's, de archipel die zich uitstrekt over de kristalheldere wateren tussen Florida en Cuba, zijn de afgelopen jaren gegeseld door verwoestende orkanen die in zwaarte en frequentie zijn toegenomen als resultaat van de opwarming van de aarde. Zoals wereldwijd het geval is schuilt hierin een element van onrechtvaardigheid. Gegeven het feit dat de Bahama's en andere Caraïbische landen relatief minuscule hoeveelheden CO₂ uitstoten dragen hun inwoners maar weinig schuld aan de klimaatcrisis.
Maar de bevolking van de regio draait nu de rollen om en transformeert zich van slachtoffer van klimaattragedies tot wereldleider in schone en veilige energie. De Caraïbische landen hebben overtuigende economische redenen om de groene energietransitie te omhelzen. Ze zijn generaties lang afhankelijk geweest van geïmporteerde fossiele brandstoffen om hun economieën te voeden, wat betekent ze veel van doen hebben gehad met de onzekerheden van de mondiale oliemarkten en daarmee met aanzienlijke kostenschommelingen voor elektriciteit.
Dankzij de vooruitgang in hernieuwbare energie heeft deze economische uitdaging kansen gecreëerd. In tegenstelling tot fossiele brandstoffen die steeds duurder worden blijven de kosten van zonne-energie en andere schone energiebronnen, samen met die van de benodigde batterijopslagsystemen, dalen. Nu deze technologieën betaalbaarder zijn geworden en concurrerender met oudere en viezere brandstoffen hebben ze een krachtige stimulus voor eilandstaten gecreëerd om zich af te wenden van conventionele met fossiele brandstoffen gestookte energiecentrales. Bovendien zal deze trend van af nu alleen nog maar uitgesprokener worden omdat de kostenvoordelen van nieuwere schonere energieën ze steeds aantrekkelijker zullen maken in vergelijking tot fossiele brandstoffen.
Voor regio's zoals de Caraïben doen systemen voor zonne-energie en batterijopslag meer dan simpelweg de kosten van energie verlagen; wanneer op de juiste manier ingezet kunnen ze ook de klimaatweerbaarheid verbeteren. Zoals de Bahama's en andere landen in de regio de afgelopen paar jaar hebben laten zien kunnen door zonne-energie en batterijen aangedreven microgrids cruciale diensten aan eilandgemeenschappen aanbieden tijdens en na ernstige weersomstandigheden die traditionele energiebronnen anders zouden uitschakelen.
Maar om deze nieuwe oplossingen voor energie echte veerkracht te laten bieden moeten ze zelf ook in staat zijn om de stormen te weerstaan die neigen elektriciteitskabels te vernietigen en gemeenschappen van gecentraliseerde bronnen van energieopwekking af te sluiten. Daarom hangt in het geval van zonne-energie veel af van de methoden die worden gebruikt om zonnepanelen aan daken en de grond te bevestigen.
We weten al dat het mogelijk is om fotovoltaïsche systemen te construeren die in staat zijn om zelfs de allerzwaarste categorie orkaan te doorstaan. Door een samenwerking tussen het Rocky Mountain Institute, de regering van de Bahama's, en de nationale energiemaatschappij van het land de Bahamas Power and Light Company (BPL) hebben we een zonnepaneeldak op de parkeerplaats van het National Stadium in Nassau ontwikkeld en geïnstalleerd dat de wind van een categorie 5 orkaan aankan. Verder hebben we op Ragged Island het eerste zonne-energie en batterijopslag microgrid gebouwd dat tegen categorie 5 bestand is en we richten ons na de vernietiging door orkaan Dorian in september 2019 momenteel op het ontwerpen en leveren van duurzame en veerkrachtige microgrids voor cruciale faciliteiten op Abaco.
Back to Health: Making Up for Lost Time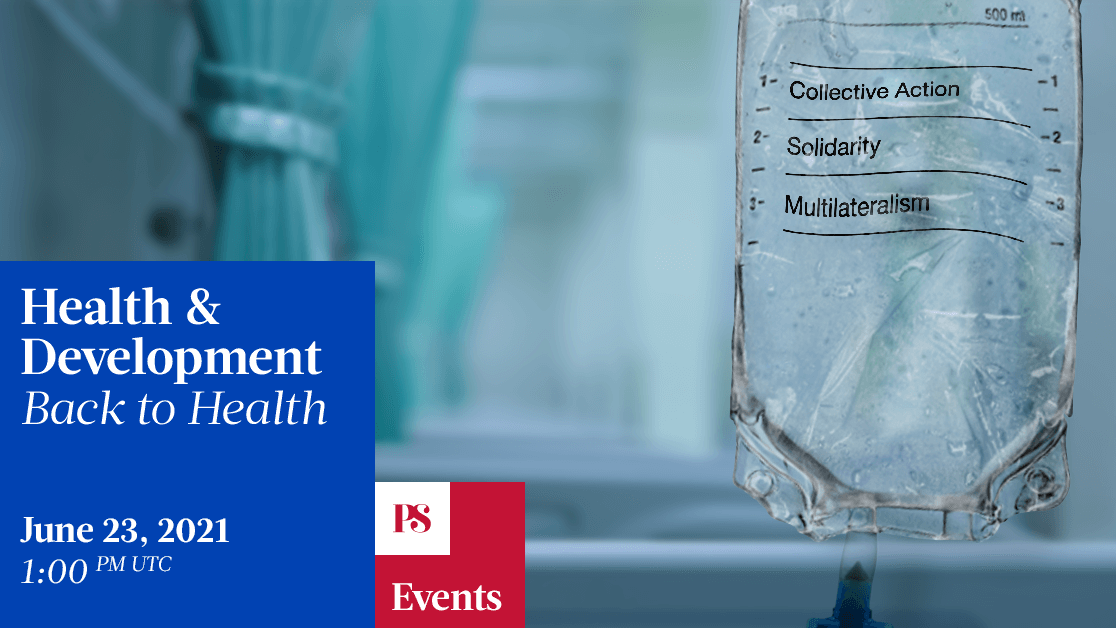 Back to Health: Making Up for Lost Time
The COVID-19 crisis has laid bare systemic inequities that will have to be addressed if we are ever going to build more sustainable, resilient, and inclusive societies. Join us on June 23, 2021, for our latest live virtual event, Back to Health: Making Up for Lost Time, where leading experts will examine the immediate legacy of the pandemic and explore solutions for bringing all communities and societies back to health.
Terwijl de planeet blijft opwarmen zal meer vocht in de atmosfeer zich vertalen in zelfs nog zwaardere en meer frequente tropische stromen en orkanen; wat we hebben ervaren met Dorian en orkaan Maria in Puerto Rico in 2017 zal waarschijnlijk normaler worden. Gelukkig zijn, zoals het partnerschap op de Bahama's aantoont, veel van dezelfde maatregels die nodig zijn om veerkracht op te bouwen dezelfde die nodig zijn om de uitstoot van broeikasgassen te beperken en het tempo van de opwarming van de aarde te vertragen. In plaats van slechts te compenseren slaan veerkrachtige fotovoltaïsche systemen beide spijkers op de kop.
Het Caraïbische en Atlantische gebied zijn bepaald niet de enige regio's die een veerkrachtiger infrastructuur moeten opbouwen om stroomonderbrekingen te voorkomen. Gemeenschappen over de hele wereld krijgen steeds meer te maken met de uitdagingen van zwaar en extreem weer, waaronder verwoestende bosbranden in Australië, Indonesië, en de westelijke Verenigde Staten.
In al deze gevallen bieden lokale oplossingen voor schone energie unieke voordelen in het reduceren van de uitstoot en het licht aan kunnen doen na een ramp. Ze wijzen de weg naar een betere toekomst voor onze elektriciteitsvoorziening. Door de schone energietransitie te omarmen stellen de Bahama's een voorbeeld voor de rest van de wereld en vooral voor die landen die verantwoordelijk zijn voor het overgrote deel van de mondiale uitstoot van broeikasgassen.
Vertaling: Melle Trap