Életünk nagy válsága
GREGOR PETER SCHMIDTZ: Sok válságot látott már. A koronavírus-járvány összehasonlítható ezek közül bármelyikkel is?
SOROS GYÖRGY: Nem. Ez életem nagy válsága. Még azelőtt, hogy a járvány kitört volna, úgy véltem, forradalmi időket élünk: ami normál időszakokban lehetetlennek vagy akár felfoghatatlannak tűnt, az nemcsak lehetségessé, hanem valószínűleg abszolút szükségessé vált. Aztán kitört a koronavírus-járvány, ami teljesen szétzilálta az emberek életét, és nagyon más viselkedési módokat követelt meg. Ez egy olyan példa nélküli jelenség, amely feltehetően sosem fordult elő ebben a kombinációban, és ez valóban veszélyezteti a civilizációnk túlélését.
Meg lehetett volna előzni ezt a válságot, ha a kormányok jobban felkészültebbek lettek volna?
Máskor is fordultak már elő járványok a bubópestis óta. Igen gyakoriak voltak a XIX. században, aztán az I. világháború végén kitört a spanyolnátha, amelynek valójában három hulláma volt, közülük a második volt a legpusztítóbb. Emberek milliói haltak meg. Emellett voltak más súlyos járványok is, mint például az egy évtizeddel ezelőtti sertésinfluenza. Így elképesztő, hogy az országok mennyire nem voltak felkészülve a mostani eseményekre.
Ez a jelenlegi helyzet legnagyobb problémája, hogy nem tudni, miként kell kezelni ezt a vírust, és miként kell az életünket megszervezni a következő hónapokban vagy években?
Ez egyértelműen egy igen nagy probléma. Nagyon gyorsan tanulunk, így most már jóval többet tudunk a vírusról, mint amikor megjelent, azonban egy mozgó célpontra lövünk, mivel a vírus maga gyorsan változik. Még sok időbe telik, mire a vakcinát kifejlesztik. És még azután is, hogy kifejlesztettük az oltóanyagot, meg kell tanulnunk, hogy miként változtassuk azt meg minden évben, mivel a vírus nagy valószínűséggel módosulni fog. Ezt tesszük minden évben az influenzaoltásokkal is.
Subscribe to PS Digital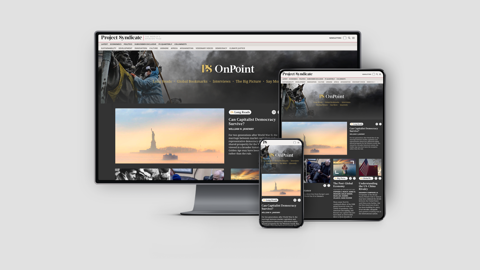 Subscribe to PS Digital
Access every new PS commentary, our entire On Point suite of subscriber-exclusive content – including Longer Reads, Insider Interviews, Big Picture/Big Question, and Say More – and the full PS archive.

Ez a válság meg fogja változtatni a kapitalizmus természetét? Már azelőtt, hogy a koronavírus-járvány kiváltotta volna a mostani katasztrofális recessziót, nagyobb figyelmet kapott az, hogy a globalizáció és a szabadkereskedelem terén visszalépések történtek.
Nem fogunk már oda visszatérni, ahol akkor voltunk, amikor kitört a járvány. Ez eléggé biztos, azonban ez az egyetlen dolog, amit biztosan tudhatunk. Minden más bizonytalan. Nem hiszem, hogy bárki is tudja, miként alakul a kapitalizmus jövője.
A válság közelebb hozhatja egymáshoz az embereket és a nemzetállamokat?
Hosszú távon igen. Jelenleg azonban az embereket a félelem uralja. A félelem pedig gyakran azt váltja ki, hogy az emberek ártanak maguknak. Igaz ez az egyénekre, az intézményekre, a nemzetekre és magára az emberiségre is.
Ennek vagyunk a tanúi az Egyesült Államok és Kína közötti mostani, a vírus eredetéről szóló egymásra mutogatásban?
Az USA és Kína közötti folyamatos konfliktus tovább nehezíti a dolgokat, mivel együtt kellene dolgoznunk a klímaváltozás elleni küzdelemben, illetve a koronavírus elleni vakcina kifejlesztésének ügyében. De az látszik, hogy nem tudunk együttműködni, mivel már azon versengünk, hogy ki fogja kifejleszteni – és használni – a vakcinát. Az a tény, hogy két nagyon különböző kormányzati rendszerrel van dolgunk, egy demokratikussal és …
Egy autokratikussal?
Igen. Ez mindent nagyon megnehezít. Sokan azt mondják, hogy szorosan együtt kell működnünk Kínával, azonban én ezt nem pártolom. Meg kell védenünk a demokratikus nyílt társadalmunkat. Ugyanakkor meg kell találnunk a módját annak, hogy miként tudunk együttműködni a klímaváltozás és az új típusú koronavírus elleni küzdelemben. Ez nem lesz könnyű. Együttérzek a kínai emberekkel, mivel egy diktátor, Hszi Csin-ping uralma alatt kell élniük. Úgy gondolom, sok tanult kínai ember nagyon elégedetlen emiatt, és az általános közvélemény is még mindig neheztel Hszi Csin-pingre, amiért a kínai újévig titkolózott a koronavírusról.
Gyengülhet Hszi Csin-ping hatalma, ahogy a kínaiak felismerik, hogy a válság kezelése nem volt megfelelő?
Igen, nagyban. Amikor Hszi Csin-ping megszüntette az államfői tisztségre vonatkozó időbeli korlátozást, és saját magát kinevezte – lényegében – örök időkre elnöknek, a legfontosabb és legambiciózusabb személyek politikai jövőjét rombolta le egy igen szűk és versengő eliten belül. Ez nagy hiba volt a részéről. Bizonyos tekintetben valóban nagyon erős a hatalma, azonban ugyanakkor igen gyenge is, és most talán sérülékeny is.
A kínai vezetésen belüli harcokat igen szorosan követem, mivel azok mellett állok, akik hisznek a nyílt társadalomban. Sokan vannak Kínában is, akik nagyon támogatják a nyílt társadalmat.
Másfelől viszont a jelenlegi amerikai elnök nem igazán képviseli a nyílt és szabad társadalom értékeit …
Nos, ez valóban egy gyengeség, ami remélem, nem fog nagyon sokáig tartani. Donald Trump diktátor szeretne lenni, de nem lehet az, mert az amerikai alkotmányt az emberek még mindig tisztelik. Ez pedig megakadályozza Trumpot abban, hogy bizonyos dolgokat megtehessen. Ez nem azt jelenti, hogy nem fogja megpróbálni, mivel szó szerint az életéért küzd. Abban bíztam, hogy Trump saját magát fogja lerombolni, és a legvadabb várakozásaimat is túlszárnyalta.
Milyen szerepet játszik az Európai Unió – az otthona, amelyet annyira a szívén visel – ebben a hatalmi játszmában?
Különösen aggódom az EU túlélésével kapcsolatban, mivel nem tekinthető egy teljes körű uniónak. Az volt már a létrehozásának folyamatában is, de ez a folyamat sosem fejeződött be, ami rendkívül sebezhetővé teszi Európát. Sérülékenyebbé az USA-hoz képest, nem csak azért, mert az EU egy befejezetlen unió, hanem azért is, mert a jog uralmán alapul. Az igazság malmai lassan őrölnek, miközben a koronavírus-járványhoz hasonló fenyegetéseket nagyon gyors folyamatok jellemzik. Ez különösen problémát jelent az Európai Unió számára.
A német alkotmánybíróság múlt heti, az Európai Központi Bankra (EKB) vonatkozó ítéletével mondhatni ledobta a bombát az unióban. Mennyire aggódik emiatt?
Nagyon komolyan aggaszt ez a kérdés. Az ítélet ugyanis olyan fenyegetést jelent, amely elpusztíthatja az Európai Uniót, mint a jog uralmán alapuló intézményt, pontosan azért, mert az ítéletet a német alkotmánybíróság hozta, amely a legnagyobb tiszteletnek örvendő intézmény Németországban. Az ítélethozatal előtt a német alkotmánybíróság egyeztetett az Európai Bírósággal, majd ezután úgy döntött, hogy kihívást intéz ellene. Vagyis, most létrejött egy konfliktus a német alkotmánybíróság és az Európai Bíróság között. Melyik bíróságnak van elsőbbsége?
Technikai értelemben az Európai Unióról szóló szerződések az Európai Bíróságnak adnak elsőbbséget e téren. Ez elég egyértelmű.
Így van. Amikor Németország csatlakozott az EU-hoz, kötelezettséget vállalt arra, hogy aláveti magát az európai jognak. A mostani ítélet azonban egy még fontosabb kérdést vet fel: ha a német bíróság megkérdőjelezheti az Európai Bíróság döntéseit, akkor a tagországok is megtehetik majd ezt? Magyarország és Lengyelország dönthet arról, hogy az európai jogot, vagy – az EU által már megkérdőjelezett legitimációjú – bíróságainak döntéseit követi? Ez a kérdés a jog uralmán alapuló EU lényegét érinti.
Lengyelország azonnal reagált a fejleményre, megerősítette a kormányzati ellenőrzésű bíróságok európai jog feletti felsőbbségét. Magyarországon pedig Orbán Viktor arra használta a koronavírus-járvány miatt kihirdetett veszélyhelyzetet és az elfoglalt parlamentet, hogy magát diktátornak neveztesse ki. A parlament továbbra is ülésezik, csak hogy jóváhagyja Orbán Viktor rendeleteit, amelyek egyértelműen megsértik az európai jogot. Ha a német bíróság ítélete megakadályozza az EU-t abban, hogy felléphessen az ilyen fejleményekkel szemben, akkor az az EU végét fogja jelenteni.
Az EKB-nak meg kell majd változtatnia a politikáját a német alkotmánybíróság döntése után?
Ez nem szükséges. Az ítélet csak azt írja elő az EKB számára, hogy igazolja a jelenlegi monetáris intézkedéseit. Három hónapot kapott erre. Ez az EKB figyelmét majd nagyrészt le fogja kötni egy olyan időszakban, amikor ez az egyetlen valóban funkcionáló európai intézmény, amely biztosítani tudja a járvány leküzdéséhez szükséges pénzügyi forrásokat. Emiatt arra kellene majd összpontosítania a figyelmét, hogy segítse Európát az újjáépítési alap létrehozásában.
Van valamilyen elképzelése arra, hogy ezek a források honnan jöhetnének?
Már javaslatot tettem arra, hogy az EU-nak örök (soha le nem járó) kötvényeket kellene kibocsátania, bár most úgy gondolom, hogy ezeket consoloknak kellene hívni, mivel ezen név alatt sikeresen alkalmaztak örökkötvényeket Nagy-Britanniában 1751 óta, illetve az Egyesült Államokban az 1870-es évek óta.
Az örökkötvények fogalma összekeveredett a koronakötvényekkel, amelyeket az Európai Tanács elutasított – jó okkal, ugyanis azok a felhalmozódott adósságok közösségiesítését vonnák maguk után, amit a tagállamok nem fogadnak el. Ez megmérgezte az örökkötvényekről szóló vitákat.
Úgy vélem, a jelenlegi helyzet erősíti a consolok melletti érveimet. A német bíróság azt mondta ki, hogy az EKB intézkedései jogszerűek voltak, mivel betartotta azt az előírást, hogy a kötvényvásárlásai a tagállamok EKB-ban meglévő részesedéseivel arányosak legyenek. Egyértelmű utalás volt azonban arra, hogy az EKB bármely olyan kötvényvásárlása, amely nem arányos az EKB tőkejegyzési mutatóival, megtámadható, és a bíróság azt hatásköri túllépésnek (ultra vires) ítélheti.
Az a típusú kötvény, amit én javaslok, kikerüli ezt a problémát, mivel azt az EU egésze bocsátaná ki, automatikusan arányosak lennének, és örökké ilyenek is maradnának. A tagállamoknak csak az éves kamatot kellene megfizetniük, ami olyan minimális – mondjuk 0,5 százalék – lenne, hogy a kötvényeket könnyen jegyezhetnék a tagállamok vagy egyhangúlag, vagy a megoldást támogató tagországok koalíciója révén.
Az Európai Bizottság elnöke, Ursula von der Leyen szerint Európának mintegy ezer milliárd euróra van szüksége a járvány elleni küzdelemben. Emellett további ezer milliárdot kellene a klímaváltozás elleni küzdelemre elkülönítenie. A consolok biztosíthatnák ezt az összeget, ha a tagállamok engedélyezik ezeket a kötvényeket.
Sajnos, Németország, valamint a Hollandia által vezetett "Hansa Liga" országai hajthatatlanul ellenzik a megoldást. Újra kellene gondolniuk ezt. Az EU most azt fontolgatja, hogy megduplázza a költségvetését, ami csupán 100 milliárd eurót biztosítana, és csak egytizednyi forrást tudna hozni ahhoz képest, mint amit az örökkötvények tudnának előteremteni. Azoknak az országoknak támogatniuk kellene a consolokat, amelyek minimális szinten akarják tartani az EU költségvetésébe fizetett hozzájárulásaikat. Bizonyos adókat, mint például a pénzügyi tranzakciós adót, kellene bevezetniük, amelyek saját forrást biztosítanának az EU számára, és így garantálnák az AAA minősítést, azonban az adókat nem kellene kivetni, bevételszerzési szerepüket a consolok tölthetnék be. Így mind ezek a tagországok, mind az EU többi része sokkal jobban járna ezzel a megoldással. Ötmilliárd eurónyi éves befizetés, amelynek jelenlegi értéke folyamatosan csökkenne, biztosítaná azt az ezer milliárd eurót, amire az EU-nak nagy szüksége van. Ez egy elképesztően kedvező költség-haszon rátának tekinthető.
Amikor az EU lazította az állami támogatásokkal kapcsolatos szabályait, Németország a kérelmek több mint felét nyújtotta be. Néhányan úgy vélik, ez aláássa az egységes piac elveit, mivel tisztességtelen előnyt biztosít Németország számára. Mit gondol erről?
Egyetértek ezzel. Ez különösen tisztességtelen Olaszországgal szemben, amely már eleve Európa beteg emberének számított, majd aztán ezt az országot sújtotta leginkább a koronavírus-járvány. A Liga vezére, Matteo Salvini amellett agitál, hogy Olaszország lépjen ki az eurózónából és az Európai Unióból is. Szerencsére, személyes népszerűsége csökkent a kormányból való távozása óta, azonban nézeteinek egyre több követője van.
Ez az EU létét fenyegető másik veszélynek tekinthető. Mi maradna Európából Olaszország nélkül, ami egykor a leginkább Európa-párti ország volt. Az olaszok jobban bíztak Európában, mint a saját kormányaikban. A 2015-ös menekültválság idején azonban nem kapott megfelelő támogatást az ország. Ekkor fordultak az olaszok Salvini szélsőjobboldali Ligája és a populista Ötcsillag Mozgalom felé.
Elég pesszimistának tűnik a szavai alapján.
Távolról sem. Felismertem, hogy Európa több, a létét fenyegető veszéllyel néz szembe. Ezek nem csak puszta szavak, ez a realitás. A német alkotmánybíróság ítélete csak a legújabb kihívás ezek közül. Amint ezt felismerjük, akkor felülkerekedhetünk a nehézségeken. Rendkívüli intézkedéseket hozhatunk, amelyek megfelelnek a mostani rendkívüli eseményeknek. Ez egyértelműen vonatkozik a consolokra, amelyeket normál időszakokban sosem bocsátanának ki, de a mostani helyzetben ideálisnak tekinthetők. Amíg a consolok kibocsátásához hasonló intézkedéseket javasolhatok, addig nem adom fel a reményt.