Největší krize za mého života
GREGOR PETER SCHMITZ: Prožil jste mnoho krizí. Je pandemie COVID-19 srovnatelná s některou dřívější?
GEORGE SOROS: Ne. Nastala největší krize za mého života. Už před tím, než udeřila pandemie, jsem si uvědomoval, že jsme v revolučním momentě, v němž se to, co by bylo za normálních časů nemožné, nebo dokonce nepředstavitelné, stává nejen možným, ale pravděpodobně naprosto nezbytným. Pak přišel COVID-19, který totálně naboural životy lidí a vyžádal si velice odlišné chování. Jedná se o bezprecedentní dění, které v této kombinaci patrně ještě nikdy nenastalo. A skutečně ohrožuje přežití naší civilizace.
GPS: Dalo se této krizi předejít, kdyby byly vlády lépe připravené?
SOROS: Pandemie infekčních nemocí jsou tu už od dýmějového moru. V devatenáctém století byly celkem časté a pak tu byla španělská chřipka na konci první světové války, která se projevila ve třech vlnách, přičemž nejvíc životů si vyžádala ta druhá. Zemřely miliony lidí. Zažili jsme i další vážná infekční vzplanutí, například prasečí chřipku před pouhými deseti lety. Je tedy ohromující, jak nepřipravené byly země na něco takového.
GPS: Je tohle největší problém současné situace – tato nejistota ohledně toho, jak se s virem vypořádat a jak postupovat v nadcházejících měsících a letech?
SOROS: Rozhodně je to hodně velký problém. Učíme se velice rychle a víme dnes už o viru mnohem víc, než když se objevil, ale míříme na pohyblivý cíl, protože se rychle mění samotný virus. Vyvinout vakcínu bude trvat velmi dlouho. Navíc i poté, co ji vyvineme, budeme muset zkoumat, jak ji rok co rok upravit, protože virus se s největší pravděpodobností bude měnit. Právě to každoročně děláme s očkováním proti chřipce.
Subscribe to PS Digital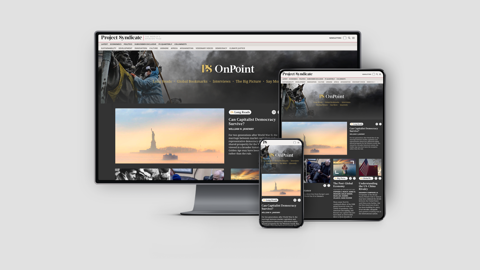 Subscribe to PS Digital
Access every new PS commentary, our entire On Point suite of subscriber-exclusive content – including Longer Reads, Insider Interviews, Big Picture/Big Question, and Say More – and the full PS archive.

GPS: Změní nynější krize povahu kapitalismu? Už před tím, než COVID-19 vyústil v současnou katastrofální recesi, poutala větší pozornost negativa globalizace a volného obchodu.
SOROS: Nevrátíme se tam, kde jsme byli, když začala pandemie. To je naprosto jasné. Jenže je jasné právě jen tohle. Všechno ostatní je v osudí. Myslím, že to, jak se vyvine kapitalismus, neví nikdo.
GPS: Mohla by tato krize přivést lidi – a národní státy – ke sblížení?
SOROS: V dlouhodobém výhledu ano. V současné době v lidech převládá strach. A strach často vede lidi k tomu, že si sami ubližují. To platí pro jednotlivce, ale i pro instituce, národy a samotné lidstvo.
GPS: Jsme toho svědky na současném vzájemném obviňování Spojených států a Číny ohledně původu viru?
SOROS: Pokračující konflikt mezi USA a Čínou situaci komplikuje, protože v oblasti změny klimatu a vývoje vakcíny proti COVID-19 bychom měli spolupracovat. Jenže nejspíš spolupracovat nedokážeme, protože o to, kdo vyvine – a bude využívat – očkování, už teď soupeříme. Skutečnost, že máme dva velice odlišné systémy vládnutí, demokratický a…
GPS: Autokratický?
SOROS: Správně. To všechno výrazně ztěžuje. Mnoho lidí říká, že bychom s Čínou měli spolupracovat velice úzce, ale já tomu nefandím. Musíme si chránit demokratickou otevřenou společnost. Zároveň musíme najít způsob jak spolupracovat v boji proti změně klimatu a novému koronaviru. Nebude to snadné. Soucítím s čínským lidem, protože je pod nadvládou diktátora, prezidenta Si Ťin-pchinga. Myslím, že mnoho vzdělaných Číňanů to ohromně dopaluje a široká veřejnost se na něj stále hodně zlobí za to, že COVID-19 tajil až do doby po čínském Novém roce.
GPS: Mohl by Siův mocenský stisk slábnout, jak budou Číňané poznávat, že zvládání krize nebylo optimální?
SOROS: Velmi výrazně. Když Si zrušil omezení funkčních období a v zásadě se prohlásil doživotním prezidentem, nejvýznamnějším a nejctižádostivějším mužům ve velice úzké a soupeřivé elitě zničil politickou budoucnost. To byla z jeho strany velká chyba. Takže v jistém ohledu je sice velice silný, ale zároveň je mimořádně slabý a teď možná zranitelný.
Zápolení uvnitř čínského vedení je věc, kterou bedlivě sleduji, protože jsem na straně těch, kdo věří v otevřenou společnost. V Číně je přitom mnoho lidí, kteří se také jasně kloní k otevřené společnosti.
GPS: Naproti tomu současný americký prezident není zrovna vzorem hodnot otevřené a svobodné společnosti…
SOROS: To je slabina, která, doufám, nebude dlouho trvat. Donald Trump by byl rád diktátorem. Nemůže se jím ale stát, protože Spojené státy mají ústavu, kterou lidé stále ctí. A ta mu uskutečnění některých věcí znemožní. Neznamená to, že je nezkusí, protože doslova bojuje o život. Řeknu ještě, že jsem vložil důvěru v to, že Trump zničí sám sebe, a on překračuje moje nejdivočejší očekávání.
GPS: Jakou úlohu v této mocenské přetahované hraje Evropská unie – váš domov, na němž vám tolik záleží?
SOROS: O přežití EU mám obzvláštní starost, protože je to nedokončená unie. Byla v procesu vytváření. Ten proces ale nebyl nikdy dokončen, a proto je Evropa výjimečně zranitelná – víc než USA nejen proto, že je nedokončenou unií, ale také proto, že je založena na vládě práva. A kola justice se pohybují velice pomalu, zatímco hrozby jako virus COVID-19 se pohybují velice rychle. To Evropské unii přináší obzvláštní problém.
GPS: Německý Spolkový ústavní soud minulý týden šokoval svým nejnovějším nálezem o Evropské centrální bance. Jak vážně to berete?
SOROS: Beru to nesmírně vážně. Ten nález představuje hrozbu, která by mohla zničit Evropskou unii jako instituci založenou na vládě práva, a to právě proto, že vzešel od německého ústavního soudu, nejrespektovanější instituce v Německu. Než svůj verdikt vynesl, konzultoval Evropský soudní dvůr a pak se rozhodl postavit se mu. Máme tedy před sebou spor mezi německým ústavním soudem a Evropským soudním dvorem. Který soud má přednost?
GPS: Formálně dávají primární evropské smlouvy vyšší moc v této oblasti ESD. To je zcela jasné.
SOROS: Správně. Když Německo vstoupilo do EU, zavázalo se k dodržování evropského práva. Nález ale vyvolává ještě větší otázku: jestliže rozhodnutí Evropského soudního dvora může zpochybnit německý soud, mohou si jej vzít jiné země za vzor? Mohou si Maďarsko a Polsko zvolit, zda uposlechnou evropské právo, nebo své vlastní soudy – jejichž legitimitu EU zpochybnila? Otázka míří do samého srdce EU, postaveného na vládě práva.
Polsko příležitost okamžitě využilo a prohlašuje nadřazenost svých vládou ovládaných soudů nad evropským právem. V Maďarsku už Viktor Orbán využil nouzového stavu kvůli COVID-19 a podmaněného parlamentu, aby se prohlásil diktátorem. Parlament zasedá, aby stvrzoval jeho dekrety, které zjevně porušují evropské právo. Pokud verdikt německého soudu znemožní EU takovému vývoji vzdorovat, bude to konec EU, jak ji známe.
GPS: Bude ECB nucena po tomto nálezu změnit své politiky?
SOROS: Ne nutně. Tento nález pouze vyžaduje, aby ECB své současné měnové politiky obhájila. Na odůvodnění kroků, které podniká, dostala tři měsíce. To pohltí mnoho pozornosti ECB za situace, kdy je jedinou skutečně fungující institucí v Evropě, která dokáže zajistit finanční zdroje nezbytné pro zápas s pandemií. Měla by tudíž soustředit pozornost na pomoc Evropě při vytváření Fondu pro zotavení.
GPS: Máte nějaké návrhy, odkud by tyto zdroje měly pocházet?
SOROS: Navrhl jsem, že by EU měla vydat věčné dluhopisy, přestože si teď myslím, že by se jim mělo říkat "konsolidované dluhopisy", protože právě jako "consols" je úspěšně používá Británie už od roku 1751 a Spojené státy od 70. let 19. století.
Věčné dluhopisy by se neměly plést s "koronabondy", které odmítla Evropská rada – a z dobrého důvodu, protože z nich plyne mutualizace kumulovaných dluhů, již nejsou členské státy ochotné přijmout. Do debaty o věčných dluhopisech to vlilo jed.
Jsem přesvědčen, že současná šlamastyka posiluje mou argumentaci ve prospěch konsolidovaných dluhopisů. Německý soud řekl, že postup ECB byl v souladu s právem, protože se držela požadavku, aby nákupy dluhopisů byly úměrné k podílu členských států v ECB. Z toho však zřetelně vyplynulo, že nákupy ECB, které by nebyly úměrné ke "kapitálovému klíči" ECB, by bylo možné napadnout a shledat soudem ultra vires.
Typ dluhopisů, který jsem navrhl, by se tomuto problému vyhnul, protože by byly vydány EU jako celkem, automaticky by byly úměrné a navždy by takové zůstaly. Členské státy by musely platit pouze roční úrok, který je tak nízký, řekněme 0,5 %, že by dluhopisy mohly snadno upsat členské státy, buď jednomyslně, anebo v koalici ochotných.
Předsedkyně Evropské komise Ursula von der Leyen říká, že Evropa potřebuje asi bilion eur na boj proti současné pandemii, a měla přidat ještě další bilion na změnu klimatu. Konsolidované dluhopisy by tyto částky zajistily, kdyby je členské státy EU schválily.
Německo a hanzovní státy vedené Nizozemskem jsou bohužel neústupně proti. Měly by si věc důkladně rozmyslet. EU teď zvažuje zdvojnásobení svého rozpočtu, což by zajistilo jen asi sto miliard eur a přineslo jen desetinu prospěchu, jejž by dokázaly poskytnout věčné dluhopisy. Ti, kdo chtějí udržet svůj příspěvek do rozpočtu EU na minimu, by měli podpořit konsolidované dluhopisy. Byli by nuceni schválit určité daně, například daň z finančních transakcí, které by EU zajistily její vlastní zdroje a zabezpečily rating AAA, ale daně by nemuselo být nutné zavádět – jejich místo by mohly zaujmout konsolidované dluhopisy. To by výrazně prospělo jak zúčastněným státům, tak zbytku Evropy. Roční platba pěti miliard eur, jejichž současná hodnota by setrvale klesala, by EU vynesla bilion eur, jež kontinent naléhavě potřebuje – což je úžasný poměr nákladů a přínosů.
GPS: Když EU uvolnila pravidla omezující veřejnou podporu, více než polovinu žádostí předložilo Německo. Někteří lidé tvrdí, že to podrývá principy jednotného trhu, protože to Německu dává nespravedlivou výhodu. Co si o tom myslíte?
SOROS: S jejich argumentací souhlasím. Obzvlášť nespravedlivé je to vůči Itálii, která byla už dříve nemocným mužem Evropy a pak ji nejsilněji zasáhl COVID-19. Stranický lídr Ligy Matteo Salvini agituje za odchod Itálie od eura i z Evropské unie. Jeho osobní popularita od doby, kdy odešel z vlády, naštěstí klesá, ale jeho argumentace si získává stoupence.
To je další existenční hrozba pro EU. Co by z EU zbylo bez Itálie, která bývala nejvíc proevropskou zemí? Italové věřili Evropě víc než vlastním vládám. Během uprchlické krize roku 2015 se jim však dostalo zlého zacházení. Právě tehdy se obrátili k Salviniho krajně pravicové Lize a populistickému Hnutí pěti hvězd.
GPS: Zníte velice pesimisticky.
SOROS: Vůbec ne. Uvědomuji si, že Evropa čelí několika existenčním nebezpečím. To není řečnický obrat, to je realita. Verdikt německého Spolkového ústavního soudu je jen nejčerstvější z výzev. Jakmile si to uvědomíme, mohli bychom sebrat síly k výkonu. Můžeme zavést mimořádná opatření, která budou odpovídat mimořádným okolnostem, v nichž se nacházíme. Rozhodně to platí pro konsolidované dluhopisy, které by se nikdy neměly vydávat za normálních časů, ale teď jsou ideální. Dokud jsem schopen navrhovat opatření, jako je emise "consols", naděje se nevzdám.
Z angličtiny přeložil David Daduč