Všudybylův učeň
BERLÍN – Nejlepší vynálezy nejsou nikdy dokončené. Když německý konstruktér Karl Benz vynalezl první automobil na benzinový pohon, nestvořil pouze motor s koly; uvedl do pohybu průmyslové odvětví, které revolučně proměnilo uspořádání společnosti. Rovněž anglický počítačový expert Tim Berners­Lee nevytvořil jen první webovou stránku na světě. Zároveň položil základy World Wide Webu, celosvětové internetové sítě. Ani jeden z obou mužů nemohl tušit dopad svého počínání.
Existuje-li jedno ponaučení, jímž by se měli tvůrci ekonomické politiky v roce 2015 i později řídit, pak zní takto: Dynamické jsou nejen vynálezy, ale i průmyslová odvětví, jimž tyto vynálezy dávají vzniknout. Jak jsme se v roce 2014 přesvědčili, toto ponaučení ještě musí plně zapustit kořeny.
Když byl spuštěn Google, lidé žasli, že stačí napsat do počítače několik málo slov a mohou zjistit téměř cokoliv. Konstrukční řešení v pozadí této technologie bylo technicky složité, ale výsledek docela neumělý: stránka textu přerušeného deseti modrými odkazy. Bylo to lepší než cokoliv jiného, ale na dnešní poměry nic světoborného.
A tak naši spoluzakladatelé Larry Page a Sergey Brin – podobně jako jiní úspěšní vynálezci – zkoušeli dál. Začali u obrázků. Lidé koneckonců nechtěli jen obyčejný text. Poprvé to vyšlo jasně najevo po udílení cen Grammy v roce 2000, kde měla Jennifer Lopezová na sobě zelené šaty, které – jak to říci – upoutaly svět. Tehdy to bylo nejčastěji vyhledávané heslo, jaké jsme do té doby zažili. Neměli jsme však žádný spolehlivý způsob, jak poskytnout uživatelům přesně to, co chtějí: Jennifer Lopezovou ve zmíněných šatech. A tak se zrodilo vyhledávání obrázků, služba Google Image Search.
Dalším skvělým příkladem jsou mapy. Když lidé hledají na Googlu adresu, nezajímají je odkazy na webové stránky, na nichž je daná ulice zmíněna. Obvykle chtějí vědět, jak se tam dostat. A tak jsme vytvořili mapu, na kterou lze klikat, posouvat ji a snadno ji prozkoumávat. Mapy se staly natolik nedílnou součástí Googlu, že si ho bez nich většina uživatelů pravděpodobně ani nedokáže představit.
A stejné je to s mnoha našimi změnami. Naše vyhledávání se postupem času zdokonaluje. Zadáte-li do Googlu počasí v místě svého bydliště, vypadne vám na prvním místě předpověď na příštích několik dní, což vám ušetří čas a námahu.
Subscribe to PS Digital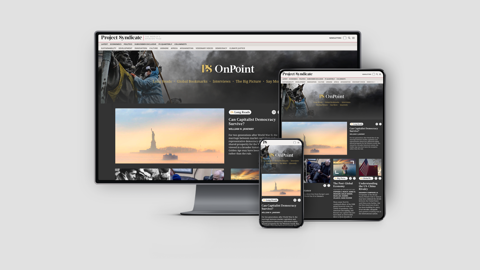 Subscribe to PS Digital
Access every new PS commentary, our entire On Point suite of subscriber-exclusive content – including Longer Reads, Insider Interviews, Big Picture/Big Question, and Say More – and the full PS archive.
Snaha Googlu poskytnout přímé odpovědi na otázky však vyvolala stížnosti k Evropské komisi. Firmy jako Expedia, Yelp nebo TripAdvisor tvrdí, že vyhledávání Googlu připravuje jejich webové stránky o drahocennou návštěvnost, což jejich firmy dostává do nevýhodné pozice. Místo aby vám i tyto firmy poskytly obrázky, mapy, počasí, zprávy nebo přeložené verze stránek psaných v cizím jazyce, raději by se vrátily k deseti modrým odkazům.
Před několika lety nakreslil právník jednoho z našich konkurentů obrázek pobřeží s malým ostrůvkem v moři. Spojil pobřeží s ostrůvkem tečkovanou čarou a vysvětlil, že toto je jediný trajekt spojující ostrov s pevninou. Chtěl tím říct, že Google je stejný jako ten trajekt: jediný způsob, jak se plavit po internetu.
Ve skutečnosti existuje mnoho způsobů, jak se na webu pohybovat. Chcete-li si přečíst zprávy, můžete přímo navštívit svůj oblíbený zpravodajský server. Chcete-li si něco koupit, můžete si přímo otevřít Zalando nebo Amazon, kde můžete zkoumat modely a ceny, získat recenze a současně za svůj nákup zaplatit.
Ve skutečnosti jde o to, že ekonomická krajina, ve které působíme, není jen konkurenční, ale zároveň se neustále mění. Letos dosáhl náš obor důležitého milníku. Vůbec poprvé tráví lidé víc času na mobilních zařízeních než na stolních počítačích. Čas strávený u stolních počítačů klesl na pouhých 40%. A lidé používají mobilní zařízení velmi odlišně než desktopy. Sedm z každých osmi minut strávených s mobilním telefonem tráví lidé v nějaké aplikaci, přičemž nejpopulárnější aplikací na světě je Facebook.
Mnozí pohlížejí na Facebook, Google, Apple, Amazon a další jako na firmy, které žádný konkurent nikdy nedokáže porazit. Nejsem si tím tak jistý. Dějiny jsou plné příkladů, že velikost a předchozí úspěch nezaručují vůbec nic. I obrovské společnosti lze rychle předběhnout. Ještě před pár lety se zdálo, že firmy jako Yahoo, Nokia, Microsoft a Blackberry nemají konkurenci. Jejich pozice však od té doby rozvrátila nová vlna technologických firem – mezi nimi i Google.
Google funguje diametrálně jinak než další firmy, které jsou označovány za "strážce brány" a podle toho jsou také regulovány. Nejsme trajektem, železniční, telekomunikační ani elektrickou sítí, kde vám slouží jen jedna linka a žádní konkurenti nejsou vpuštěni do hry. Nikdo není nucen používat Google. Lidé mají možnost volby a neustále ji uplatňují. Víme, že pokud přestaneme být užiteční, naši uživatelé odejdou. Bariéry vstupu jsou zanedbatelné, poněvadž ke konkurenci lze přejít jediným kliknutím myši.
Někdo kdesi v garáži už má na nás políčeno a rok 2015 by mohl být rokem, kdy se svým nápadem vyrukuje. Vím to, protože ještě nedávno jsme byli v takové garáži my. A vím, že příští Google nebude dělat, co dělá Google, stejně jako Google nedělal, co dělalo AOL.
Pohyby způsobené významnou technologickou změnou jsou málokdy očekávané. Telegraf rozvrátil poštovní službu. Rozhlas a televize otřásly sektorem tištěných médií. Letadla ukončila éru zaoceánských parníků. Vynálezy jsou vždy dynamické; proto bude budoucnost vždy stejně vzrušující jako minulost.
Z angličtiny přeložil Jiří Kobělka.