Putin není spojencem proti IS
MNICHOV – Lídři Spojených států a Evropské unie se dopouštějí hrubé chyby, když si myslí, že Rusko prezidenta Vladimira Putina je potenciálním spojencem v boji proti Islámskému státu. Důkazy jdou proti nim. Současným Putinovým cílem je napomáhat rozkladu EU a nejlepším způsobem jak toho docílit je zaplavit EU syrskými uprchlíky.
Ruská letadla bombardují civilní obyvatelstvo v jižní Sýrii, čímž jej nutí prchat do Jordánska a Libanonu. V poušti teď táboří 20 tisíc syrských uprchlíků čekajících na přijetí do Jordánska. Méně jich čeká na vpuštění do Libanonu. Obě skupiny se ale rozrůstají.
Rusko rovněž zahájilo rozsáhlý letecký úder proti civilistům v severní Sýrii. Na něj navázal pozemní útok armády syrského prezidenta Bašára al-Asada proti městu Aleppu, které mívalo dva miliony obyvatel. Barelové bomby přiměly 70 tisíc civilistů k útěku do Turecka; pozemní ofenziva by jich mohla vyhnat mnohem víc.
Prchající rodiny se nemusí zastavit v Turecku. Německá kancléřka Angela Merkelová letěla 9. února do Ankary, aby na poslední chvíli s tureckou vládou dohodla opatření, jež uprchlíky, kteří už v Turecku pobývají, přimějí k prodloužení pobytu v zemi. Nabídla, že každoročně přímo do Evropy letecky dopraví 200 až 300 tisíc syrských uprchlíků, za podmínky, že jim Turecko bude bránit v přechodu do Řecka a bude je přijímat zpět, pokud tak učiní.
Putin je talentovaný taktik, ale neuvažuje strategicky. Není důvod si myslet, že v Sýrii intervenoval proto, aby zhoršil evropskou uprchlickou krizi. Ostatně jeho intervence byla hrubou strategickou chybou, protože jej zatáhla do konfliktu s tureckým prezidentem Recepem Tayyipem Erdoğanem, který poškozuje zájmy obou.
Jakmile však Putin uviděl příležitost uspíšit rozklad EU, chopil se jí. Své činy zastírá slovy o spolupráci proti společnému nepříteli, IS. Podobný přístup uplatňuje na Ukrajině, neboť sice podepsal Minskou dohodu, ale její ustanovení neplní.
BLACK FRIDAY SALE: Save $35 on all new PS subscriptions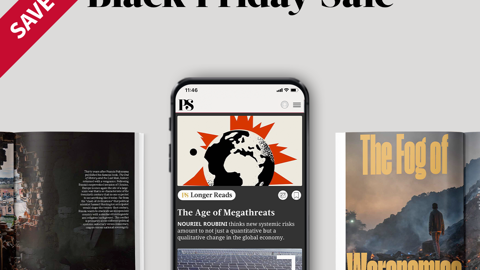 BLACK FRIDAY SALE: Save $35 on all new PS subscriptions
For a limited time, you can subscribe to PS for as little as $49.99. Click the button below to find the subscription tier that is right for you.

Je těžké pochopit, proč lídři USA i EU berou Putina za slovo, místo aby jej soudili podle skutků. Jediné vysvětlení, které nacházím, tkví v tom, že se demokratičtí politici snaží uklidnit veřejnost vykreslováním příznivějšího obrázku, než odpovídá realitě. Skutečnost je taková, že Putinovo Rusko a EU soupeří v dostizích s časem: otázka je, kdo se zhroutí dřív.
Putinův režim čelí bankrotu v roce 2017, kdy bude splatná velká část jeho zahraničního dluhu, a ještě dříve může propuknout politická vřava. Putinova stále vysoká obliba se opírá o společenskou dohodu, která vyžaduje, aby vláda zajišťovala finanční stabilitu a pomalu, ale jistě rostoucí životní úroveň. V důsledku západních sankcí, doprovázených strmým propadem cen ropy, režim v obou ohledech nutně selže.
Ruský rozpočtový schodek dosahuje 7 % HDP a vláda jej bude muset osekat na 3 %, aby předešla stavu, kdy se šplhající inflace vymkne kontrole. Ruskému fondu sociálního zabezpečení docházejí peníze a je nutné jej fúzovat s vládním infrastrukturním fondem, aby se doplnil. Tyto a další události budou mít negativní vliv na životní úrovně a názory voličů před podzimními parlamentními volbami.
Nejúčinnějším způsobem, jak Putinův režim může kolapsu předejít, je postarat se, aby se EU zhroutila dřív. EU párající se ve švech nedokáže zachovat sankce, které na Rusko uvalila po jeho vpádu na Ukrajinu. Právě naopak, Putin dokáže vytěžit značné ekonomické přínosy ze štěpení Evropy a zneužívání konexí s komerčními zájmovými skupinami a protievropskými stranami, jež si pečlivě kultivuje.
Tak, jak dnes věci stojí, EU směřuje k rozpadu. Už od finanční krize roku 2008 přes následné záchranné balíčky pro Řecko se EU naučila prokousávat se krizemi. Dnes se však střetá s pěti či šesti krizemi najednou, což už se může ukázat jako příliš. Jak správně předvídala Merkelová, migrační krize má potenciál EU zničit.
Když je stát nebo svazek států ve smrtelném nebezpečí, je lepší, aby jej jeho vůdci konfrontovali s krutou realitou, než aby ji přehlíželi. Dostihy o přežití postavily EU proti Putinovu Rusku. IS představuje hrozbu pro oba, ale neměla by se přeceňovat. Útoky páchané džihádistickými teroristy jsou sice děsivé, ale s hrozbou vycházející z Ruska nesrovnatelné.
IS (a před ním al-Káida) rozpoznal Achillovu patu západní civilizace – strach ze smrti – a naučil se jí zneužívat. Probouzejí na Západě latentní islamofobii a nutí veřejnost a vlády přistupovat k muslimům s podezřívavostí a doufají, že tím mladé muslimy přesvědčí, že není jiná cesta než terorismus. Jakmile tuto strategii pochopíme, nabízí se snadný protilék: odmítnout chovat se tak, jak chce váš nepřítel.
Vypořádat se s hrozbou přicházející z Putinova Ruska bude těžké. Pokud si to nepřiznáme, bude úkol o to těžší.
Z angličtiny přeložil David Daduč