Putin ist kein Verbündeter gegen den IS
MÜNCHEN – Wenn die Politiker der Vereinigten Staaten und der Europäischen Union denken, Präsident Wladimir Putins Russland könnte beim Kampf gegen den Islamischen Staat ein möglicher Verbündeter sein, machen sie einen schweren Fehler. Sie werden von den Fakten widerlegt. Putins aktuelles Ziel ist es, die Auflösung der EU zu beschleunigen, und der beste Weg dorthin ist, sie mit syrischen Flüchtlingen zu überfluten.
Russische Flugzeuge haben die Zivilbevölkerung im Süden von Syrien bombardiert und sie gezwungen, nach Jordanien und in den Libanon zu fliehen. Momentan zelten 20.000 Syrer in der Wüste und warten darauf, von Jordanien aufgenommen zu werden. Eine kleinere Anzahl wartet auf ihre Aufnahme in den Libanon. Beide Gruppen werden stetig größer.
Auch in Nordsyrien hat Russland einen großen Luftangriff gegen Zivilisten geflogen. Daraufhin führte die die Armee des syrischen Präsidenten Bashar al-Assad einen Bodenangriff gegen Aleppo durch, eine Stadt mit ehemals zwei Millionen Einwohnern. Die Fassbomben trieben 70.000 Zivilisten zur Flucht in die Türkei, und viele weitere könnten durch die Bodenoffensive entwurzelt werden.
Die flüchtenden Familien könnten ihre Reise über die Türkei hinaus fortsetzen. Die deutsche Kanzlerin Angela Merkel flog am 9. Februar nach Ankara, um die türkische Regierung in letzter Minute dazu zu bewegen, den Aufenthalt der Flüchtlinge in der Türkei zu verlängern. Sie bot an, jährlich 200.000 bis 300.000 syrische Flüchtlinge direkt nach Europa zu fliegen, unter der Bedingung, dass die Türkei sie an einer Weiterreise nach Griechenland hindert oder sie gegebenenfalls von dort erneut aufnimmt.
Putin ist ein begnadeter Taktiker, aber kein strategischer Denker. Für die Annahme, er habe in Syrien interveniert, um die europäische Flüchtlingskrise zu verschärfen, gibt es keinen Grund. In der Tat war sein Einmarsch ein strategischer Fehler, da er dadurch in einen Konflikt mit dem türkischen Präsidenten Recep Tayyip Erdoğan geriet, was den Interessen beider Seiten geschadet hat.
Aber sobald Putin die Gelegenheit sah, die Auflösung der EU zu beschleunigen, nutzte er sie. Er hat seine Handlungen dadurch verschleiert, dass er von einer Zusammenarbeit gegen den gemeinsamen Feind IS sprach. In der Ukraine verfolgte er einen ähnlichen Ansatz, indem er das Abkommen von Minsk unterzeichnete, sich aber nicht an die entsprechenden Bestimmungen hielt.
Secure your copy of PS Quarterly: The Year Ahead 2023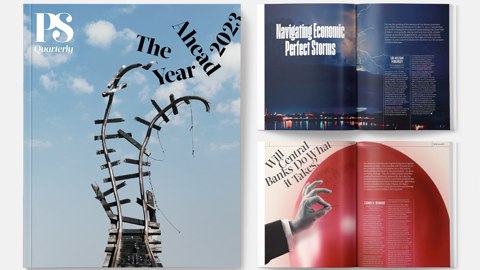 Secure your copy of PS Quarterly: The Year Ahead 2023
PS Quarterly: The Year Ahead 2023 is almost here, and available only to Digital Plus or Premium subscribers.
Subscribe now to secure a print copy of the magazine, as well as digital access to all its content, including exclusive insights from German Minister of Foreign Affairs Annalena Baerbock, US Treasury Secretary Janet Yellen, Nobel laureate economist Joseph E. Stiglitz, and more.

Warum die Führungen der USA und der EU Putin beim Wort nehmen, anstatt ihn nach seinem Verhalten zu beurteilen, ist schwer zu verstehen. Meine einzige Erklärung dafür ist, dass demokratische Politiker ihre Gesellschaften gern dadurch beruhigen, dass sie ein beschönigendes Bild der Wirklichkeit malen. Tatsache ist, dass Putins Russland und die EU an einem Rennen gegen die Zeit teilnehmen: Die Frage ist, wer von beiden schneller zusammenbricht.
2017 wird das Putin-Regime vor der Pleite stehen, wenn ein großer Teil seiner Auslandsschulden fällig wird, und bereits vorher könnte es politische Aufstände geben. Putins weiterhin hohe Beliebtheit beruht auf einem Sozialvertrag, im Rahmen dessen sich die Regierung auf die Beibehaltung finanzieller Stabilität und eines langsam aber sicher steigenden Lebensstandards verpflichtet hat. Die Sanktionen des Westens werden gemeinsam mit dem starken Rückgang der Ölpreise dafür sorgen, dass das Regime in beiden Punkten scheitert.
Das russische Haushaltsdefizit beträgt 7% des BIP, und um eine unkontrollierte Inflation zu verhindern, muss die Regierung es auf 3% begrenzen. Dem russischen Sozialversicherungsfonds geht das Geld aus, und um wieder aufgefüllt zu werden, muss er mit dem Infrastrukturfonds der Regierung zusammengelegt werden. Diese und andere Entwicklungen werden vor der Parlamentswahl im Herbst einen negativen Einfluss auf den Lebensstandard und die Stimmung der Wähler haben.
Die effektivste Möglichkeit für Putins, den Kollaps zu vermeiden, besteht darin, die EU noch vorher kollabieren zu lassen. Eine EU, die sich an den Rändern auflöst, kann die Sanktionen, die sie nach dem russischen Einmarsch in die Ukraine gegen das Land verhängt hat, nicht aufrecht erhalten. Im Gegenteil: Eine Teilung Europas hätte für Putin einen erheblichen wirtschaftlichen Nutzen, indem er seine sorgfältig kultivierten Verbindungen zu kommerziellen Interessengruppen und europafeindlichen Parteien nutzt.
So wie es aussieht, fällt die EU auseinander. Seit der Finanzkrise von 2008 und den nachfolgenden Rettungspaketen für Griechenland hat die EU gelernt, sich von eine Krise zur anderen durchzuwursteln. Aber heute steht sie vor fünf oder sechs Krisen gleichzeitig, was sich als zu viel herausstellen könnte. Wie Merkel bereits richtig vorhersah, hat die Flüchtlingskrise das Potenzial, die EU zu zerstören.
Ist ein Staat oder eine Staatengemeinschaft in tödlicher Gefahr, sollten die führenden Politiker die harte Realität nicht leugnen, sondern sich ihr stellen. Beim Rennen ums Überleben tritt die EU gegen Putins Russland an. Der IS ist zwar für beide eine Bedrohung, sollte aber nicht überschätzt werden. Anschläge durch dschihadistische Terroristen mögen zwar erschreckend sein, lassen sich aber nicht mit der Bedrohung aus Russland vergleichen.
Der IS (wie vorher bereits Al Kaida) hat die Achillesferse der westlichen Zivilisation – die Angst vor dem Tod – erkannt und Wege gefunden, sie auszubeuten. Dadurch, dass er die latente Islamophobie im Westen anstachelt sowie die Öffentlichkeit und die Regierung dazu bringt, Muslime mit Misstrauen zu begegnen, hofft er, junge Muslime davon zu überzeugen, dass es keine Alternative zum Terrorismus gibt. Sobald man diese Strategie durchschaut hat, gibt es ein einfaches Gegenmittel: die Weigerung, sich so zu verhalten, wie der Feind es will.
Der Bedrohung aus Putins Russland wird schwer zu begegnen sein. Sie nicht zu erkennen, wird die Aufgabe noch schwieriger machen.
Aus dem Englischen von Harald Eckhoff