Poetin is geen bondgenoot tegen ISIS
MÜNCHEN – De leiders van de Verenigde Staten en de Europese Unie maken een ernstige fout als ze denken dat het Rusland van president Vladimir Poetin een potentiële bondgenoot is in de strijd tegen de Islamitische Staat. Al het bewijsmateriaal wijst op het tegendeel. Het huidige doel van Poetin is het bevorderen van het uiteenvallen van de EU, en de beste manier om dit doel te verwezenlijken is het overspoelen van de EU met Syrische vluchtelingen.
Russische gevechtsvliegtuigen hebben de burgerbevolking in Zuid-Syrië gebombardeerd om de mensen te dwingen naar Jordanië en Libanon te vluchten. Er zijn nu twintigduizend Syrische vluchtelingen die in de woestijn kamperen, in afwachting van toelating tot Jordanië. Een kleiner aantal wacht op toelating tot Libanon. Beide groepen nemen in omvang toe.
Rusland heeft ook een grootschalige luchtaanval op burgers in Noord-Syrië gelanceerd. Dit werd gevolgd door een grondaanval van het leger van de Syrische president Bashar al-Assad op Aleppo, een stad die ooit twee miljoen inwoners had. De vatbommen hebben zeventigduizend burgers ertoe gebracht naar Turkije te vluchten; het grondoffensief zou tot nog veel meer ontheemden kunnen leiden.
De gezinnen die op de vlucht zijn geslagen zullen misschien niet in Turkije blijven. De Duitse bondskanselier Angela Merkel is op 9 februari naar Ankara gevolgen om last minute-afspraken met de Turkse regering te maken teneinde de vluchtelingen ertoe aan te zetten hun verblijf in Turkije te verlengen. Zij bood aan ieder jaar 200.000 tot 300.000 Syrische vluchtelingen rechtstreeks naar Europa te laten vliegen, op voorwaarde dat Turkije ze ervan zal weerhouden naar Griekenland te gaan en hen weer zal opnemen als ze dat toch doen.
Poetin een begaafd tacticus, maar geen groot strategisch denker. Er is geen reden om aan te nemen dat hij in Syrië tussenbeide is gekomen om de Europese vluchtelingencrisis te verergeren. Zijn interventie was eerder een strategische blunder, want hij kwam erdoor in aanvaring met de Turkse president Recep Tayyip Erdoğan, wat de belangen van beide staatsmannen heeft geschaad.
Maar toen Poetin eenmaal zijn kans schoon zag om de desintergratie van de EU te bespoedigen, heeft hij onmiddellijk toegeslagen. Hij heeft getracht zijn daden goed te praten door te zinspelen op samenwerking tegen een gemeenschappelijke vijand, ISIS. Hij heeft in Oekraïne een soortgelijke aanpak gevolgd door het Akkoord van Minsk te ondertekenen, maar de bepalingen daarvan niet uit te voeren.
BLACK FRIDAY SALE: Save $35 on all new PS subscriptions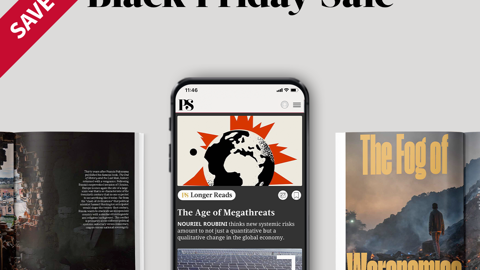 BLACK FRIDAY SALE: Save $35 on all new PS subscriptions
For a limited time, you can subscribe to PS for as little as $49.99. Click the button below to find the subscription tier that is right for you.

Het is moeilijk te begrijpen waarom de Amerikaanse en Europese leiders Poetin op zijn woord geloven, en niet op zijn gedrag beoordelen. De enige verklaring die ik kan bedenken is dat democratische politici hun achterban proberen gerust te stellen door een gunstiger beeld te schetsen dan door de werkelijkheid wordt gerechtvaardigd. Feit is dat Poetins Rusland en de EU in een race tegen de klok zijn verwikkeld: de vraag is alleen wie het eerst zal omvallen.
Het Poetin-regime staat in 2017 een bankroet te wachten, als een fors deel van zijn buitenlandse schulden moet worden afbetaald, en er zou al eerder politieke onrust kunnen uitbreken. De populariteit van Poetin, die hoog blijft, berust op een sociaal akkoord dat van de overheid financiële stabiliteit en een langzaam maar gestaag stijgende levensstandaard eist. Westerse sancties, gekoppeld aan een scherpe daling van de olieprijs, zullen ervoor zorgen dat het regime in beide gevallen tekort schiet.
Het Russische begrotingstekort bedraagt 7% van het bbp, en de overheid zal dit moeten terugbrengen naar 3% om te voorkomen dat de inflatie uit de hand loopt. Het Russische sociale zekerheidsfonds zit bijna met een lege kas en zal moeten fuseren met het infrastructuurfonds van de regering om die kas weer enigszins te kunnen vullen. Deze en andere ontwikkelingen zullen een negatief effect hebben op de levensstandaard en de opinie van het electoraat vóór de parlementsverkiezingen van dit najaar.
De meest effectieve manier waarop Poetins regime een ineenstorting kan voorkomen is door ervoor te zorgen dat de EU nog sneller ineenstort. Een desintegrerende EU zal niet in staat zijn vast te houden aan de sancties die aan Rusland zijn opgelegd na de Russische invasie van Oekraïne. Integendeel, Poetin zal aanzienlijk economisch voordeel ontlenen aan een verdeeld Europa, en aan het uitbuiten van de connecties met commerciële belangen en anti-Europese partijen die hij zorgvuldig heeft gecultiveerd.
Zoals de zaken er nu voorstaan, staat de EU op het punt uiteen te vallen. Sinds de financiële crisis van 2008 en de daaropvolgende reddingspakketten voor Griekenland is de EU er telkens in geslaagd de ene na de andere crisis te bezweren. Maar vandaag wordt zij door vijf of zes crises tegelijk belaagd, wat een beetje teveel zou kunnen blijken. Zoals Merkel heeft voorzien, kan de migratiecrisis de EU verwoesten.
Als een staat of een verbond van staten in dodelijk gevaar verkeert, is het beter als de leiders de harde werkelijkheid onder ogen zien dan dat zij die negeren. In de race om te overleven staat de EU recht tegenover Poetins Rusland. ISIS is voor allebei een dreiging, maar die mag niet worden overdreven. Aanslagen van jihadistische terroristen, hoe angstwekkend ook, vallen in het niet bij de dreiging die van Rusland uitgaat.
ISIS (en Al Qaeda daarvóór) heeft de achilleshiel van de westerse beschaving – de doodsangst – ontdekt, en geleerd hoe die moet worden geëxploiteerd. Door de latente islamofobie in het westen tot leven te wekken, en het publiek en regeringen ertoe te bewegen moslims wantrouwend te behandelen, hopen ze jonge moslims ervan te overtuigen dat er geen alternatief voor terrorisme is. Als deze strategie eenmaal is doorgrond, is er ook een simpel tegengif: weiger je zo te gedragen als je vijanden willen dat je doet.
De dreiging die van Poetins Rusland uitgaat zal moeilijk te bestrijden zijn. Het onvermogen om dit te onderkennen zal deze taak er zelfs nóg lastiger op maken.
Vertaling: Menno Grootveld