Zarządzanie Kryzysami Energetycznymi w Dobie Zakłóceń Klimatycznych
BERLIN – Niedawny raport przygotowany przez Goldman Sachs miał zaskakujący wniosek: w ciągu ostatnich ośmiu lat rynki finansowe zwiększały koszt kapitału dla dużych, długoterminowych i wysokoemisyjnych inwestycji w takich sektorach jak wydobycie ropy naftowej czy skroplonego gazu ziemnego. Ale jeśli chodzi o projekty odnawialne, "stopa progowa" – minimalna stopa zwrotu wymagana przez inwestorów – spada. Różnica jest znacząca, co przekłada się na sugerowaną cenę węgla wynoszącą około 80 USD za tonę dwutlenku węgla w przypadku nowych inwestycji naftowych i 40 USD za tonę CO2 w przypadku projektów LNG.
Wydaje się, że rynki kapitałowe w końcu biorą sobie do serca przesłanie, że wysokoemisyjne inwestycje powinny wiązać się ze znaczną premią za ryzyko. Nie stało się to spontanicznie. Jest to wynikiem wieloletnich dogłębnych badań i ukierunkowanych analiz takich przeprowadzonych przez grupy jak Carbon Tracker i Institute for Energy Economics and Financial Analysis  oraz presji ze strony sojuszy inwestorów, mocno uderzających kampanii organizacji pozarządowych i decyzji o zbyciu dokonanych przez fundacje, kościoły, uniwersytety oraz fundusze emerytalne.
Zmiana nastrojów na rynku kapitałowym została wzmocniona przez działania polityczne. Na konferencji ONZ w sprawie zmian klimatu (COP26) w Glasgow, która odbyła się w zeszłym miesiącu, prawie 40 krajów i instytucji zobowiązało się do zakończenia finansowania publicznego projektów związanych z ropą, gazem i węglem za granicą. Ponadto Dania i Kostaryka stanęły na czele grupy 12 krajów i regionów, które zainicjowały sojusz Beyond Oil and Gas.
Wysiłki te - choć częściowe i wciąż niewystarczające - należy przyjąć z zadowoleniem jako znak, że przepływy finansowe zaczynają się teraz dostosowywać do celów porozumienia klimatycznego z Paryża z 2015 r., zgodnie z art. 2.1(c) tego traktatu. Jednak cena emisji dwutlenku węgla, której do tej pory żądały rynki kapitałowe, obejmuje tylko stronę podażową: pola naftowe, gazowe i węglowe, rafinerie i infrastrukturę transportową, która zasila globalną gospodarkę paliwami kopalnymi.
Niestety brakuje podobnego postępu w kwestii popytu na węgiel, ropę i gaz. Pomimo wielu rozmów o zielonym ożywieniu po szoku COVID-19, ogromne rządowe programy stymulacyjne w dużej mierze nie rozróżniały między zieloną a brudną działalnością gospodarczą, a tym samym ustabilizowały światową gospodarkę na starej ścieżce wzrostu.
Co więcej, te interwencje stworzyły znaczny popyt konsumpcyjny, podczas gdy gospodarka się ożywia. Profile ruchu wskazują na ponowne wykorzystanie samochodów i podróży lotniczych, podczas gdy energochłonne branże, takie jak cement, stal, tworzywa sztuczne i chemikalia, ponownie napędzają popyt na energię elektryczną, gaz i węgiel. Co istotne, bodźce gospodarcze Chin zbytnio skoncentrowały się na wysoce emisyjnym sektorze budowlanym, zamiast podejmować reorientację modelu wzrostu kraju zgodnie z celami klimatycznymi.
Subscribe to PS Digital Now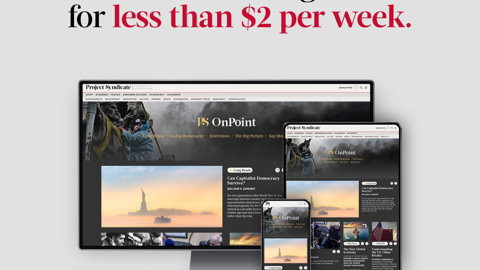 Subscribe to PS Digital Now
Access every new PS commentary, our entire On Point suite of subscriber-exclusive content – including Longer Reads, Insider Interviews, Big Picture/Big Question, and Say More – and the full PS archive.
Obecny wzrost cen energii z paliw kopalnych odzwierciedla wiele wysoce idiosynkratycznych czynników. Jednak dzisiejsza sytuacja może równie dobrze zapowiadać przyszłość, w której niedopasowana polityka klimatyczna po stronie podaży i popytu spowoduje znaczne wahania cen.
Lobbyści węglowodorów szybko wykorzystali niedawny wzrost cen energii z paliw kopalnych, aby opowiedzieć się za odnowieniem rządowego finansowania i dotacji, a także za korzystnym traktowaniem regulacyjnym inwestycji swoich klientów. Zasadniczo wzywają sektor publiczny do wkroczenia na rzecz producentów paliw kopalnych w czasie, gdy prywatny kapitał całkiem słusznie unika ryzyka klimatycznego i powoli wycofuje się z sektora.
Wysiłki na rzecz złagodzenia kryzysu energetycznego mogą i muszą być dostosowane do rozwiązania kryzysu klimatycznego. Każdy dobrze izolowany dom, park wiatrowy i panel słoneczny zmniejsza obciążenie dostaw gazu. Uczynienie miast atrakcyjnymi dla ruchu rowerowego i pieszego oraz modernizacja transportu publicznego jest korzystne nie tylko dla zdrowia i bezpieczeństwa publicznego; jest to również inwestycja w odzwyczajanie się od ropy, która nadwyręża nasze portfele i zabija naszą planetę.
Zmniejszenie popytu na jednorazowe opakowania z tworzyw sztucznych jeszcze bardziej zmniejszy popyt na surowce paliw kopalnych dla produktów petrochemicznych. A innowacje, takie jak latające taksówki, naddźwiękowe podróże lotnicze i podróże kosmiczne, które przynoszą korzyści tylko bardzo zamożnym i generują nowe, marnotrawne zapotrzebowanie na energię, można łatwo ograniczyć lub nawet zakazać, zanim zostaną powszechnie przyjęte.
Zamiast rozluźniać politykę węglową po stronie podaży, za czym opowiadają się niektóre krótkowzroczne głosy, musimy – nawet w okresach wysokich cen energii – skupiać się na głównym celu. Oznacza to skupienie się na nieuniknionym, dobrze zarządzanym spadku węgla, ropy i gazu oraz zastąpieniu ich zrównoważoną czystą energią. Na krótką metę najlepszym lekarstwem na wysokie ceny energii są środki zmniejszające popyt, takie jak niższe ograniczenia prędkości na autostradach, ustanowione przez niektóre zachodnie rządy po szoku cen ropy w latach 70-tych XX wieku.
Krótko mówiąc, sprawiedliwe odejście od paliw kopalnych wymaga od nas "cięcia obydwoma ramionami nożyc." Jak podkreślił Program Ochrony Środowiska ONZ-tu w dwóch raportach wydanych przed konferencją COP26 oznacza to jednoczesne wypełnienie ogromnych luk w działaniach na rzecz klimatu zarówno po stronie popytu, jak i podaży.
Pomimo tak bardzo potrzebnego postępu w zakresie odpowiedniej wyceny inwestycji wysokoemisyjnych, luki te są nadal zbyt duże. Tylko zamykając je szybko i równolegle, możemy powstrzymać katastrofalne zakłócenia klimatyczne i uniknąć katastrofy gospodarczej, która może wynikać z ogromnych wahań cen energii i rozległych, osieroconych aktywów z paliw kopalnych.
Z angielskiego przetłumaczyła Marz McNamer