Adiós a Occidente
BERLÍN – Ahora que Donald Trump es el presidente electo de los Estados Unidos, el fin de aquello que venimos llamando "Occidente" es casi seguro. Ese término describe el mundo transatlántico que, surgido después de las dos guerras mundiales del siglo XX, redefinió el orden internacional durante las cuatro décadas de la Guerra Fría y dominó el planeta (hasta ahora).
El Occidente geopolítico del que hablamos (en inglés, West) no debe confundirse con el Occidente histórico (Occident). Si bien la cultura, la normatividad y la religión predominante del primero se originan mayormente en el segundo, con el tiempo el West evolucionó para convertirse en otra cosa. El carácter básico del Occident se formó en el transcurso de los siglos sobre la base de la cultura mediterránea (aunque partes de Europa al norte de los Alpes hicieron importantes aportes a su desarrollo). El West, en cambio, es transatlántico, y es hijo del siglo XX.
La Primera Guerra Mundial comenzó siendo un conflicto europeo entre las Potencias Centrales y la Entente de Gran Bretaña, Francia y Rusia; apenas en 1917 se convirtió en una auténtica guerra mundial, con el ingreso de Estados Unidos a la contienda. Es entonces que comienza a tomar forma lo que hoy llamamos Occidente.
Puede decirse que su certificado de nacimiento se extendió durante la Segunda Guerra Mundial. En agosto de 1941, después de que la Alemania nazi invadió la Unión Soviética, el primer ministro británico, Winston Churchill, y el presidente de los Estados Unidos, Franklin D. Roosevelt, se encontraron en un buque de guerra frente a la costa de Newfoundland y firmaron la Carta del Atlántico. Acuerdo que más tarde se convirtió en la OTAN, el organismo que durante cuatro décadas permitió a una alianza de democracias independientes con valores compartidos y economías de mercado hacer frente a la amenaza soviética, y que protegió a Europa hasta el día de hoy.
En un sentido más fundamental, el Occidente geopolítico se basó en el compromiso de Estados Unidos de salir en defensa de sus aliados. El orden occidental no puede existir sin que Estados Unidos desempeñe este papel crucial (al que quizá ahora renuncie con Trump). Por eso el futuro de Occidente mismo está en juego.
Nadie sabe a ciencia cierta lo que significará la elección de Trump para la democracia estadounidense, ni lo que hará cuando asuma el cargo. Pero podemos ir haciendo dos supuestos razonables. En primer lugar, que su gobierno alterará seriamente la política exterior e interna de los Estados Unidos. Trump obtuvo la presidencia burlándose de casi todas las reglas no escritas de la política estadounidense. No sólo le ganó a Hillary Clinton, también derrotó al aparato republicano. Nada indica que el 20 de enero renunciará a esta estrategia victoriosa de un día para el otro.
Subscribe to PS Digital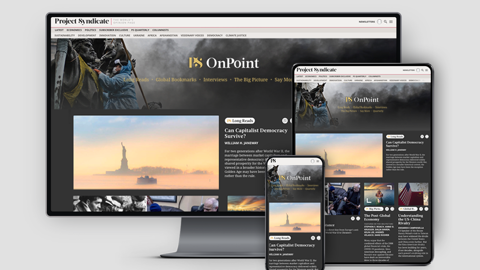 Subscribe to PS Digital
Access every new PS commentary, our entire On Point suite of subscriber-exclusive content – including Longer Reads, Insider Interviews, Big Picture/Big Question, and Say More – and the full PS archive.
También es razonable suponer que Trump mantendrá firmemente su promesa de "hacer a Estados Unidos grande otra vez"; será la base de su presidencia, pase lo que pase. El ex presidente Ronald Reagan hizo la misma promesa, pero fue cuando Estados Unidos, todavía trabado en la Guerra Fría, podía adoptar una postura imperial. Así pues, Reagan inició un proceso de rearme de tal escala que a la larga provocó el derrumbe de la Unión Soviética; y sentó las bases para un auge económico estadounidense mediante un aumento masivo de la deuda nacional.
Trump no puede permitirse la estrategia imperial. Por el contrario, durante la campaña se prodigó en críticas a las guerras sin sentido de su país en Medio Oriente; y sus partidarios no quieren otra cosa para Estados Unidos que la renuncia al liderazgo global y la retirada del mundo. En su transición hacia el nacionalismo aislacionista, Estados Unidos seguirá siendo el país más poderoso del mundo por amplio margen; pero ya no garantizará la seguridad de los países de Occidente ni defenderá un orden internacional basado en el libre comercio y la globalización.
La única duda ahora es cuán veloces serán los cambios en la política estadounidense, y cuán radicales. Trump ya prometió descartar el Acuerdo Transpacífico, que Estados Unidos iba a firmar con otros once países, decisión que (tal vez no lo sepa) equivale a un regalo a China. Y puede que le haga también otro regalo: reducir la presencia estadounidense en el mar de China meridional. Pronto Beijing puede verse convertido en el nuevo garante del libre comercio internacional (y probablemente, nuevo líder mundial en la lucha contra el cambio climático).
En relación con la guerra en Siria, tal vez Trump se limite a entregar ese país devastado al presidente ruso Vladimir Putin y a Irán. En sentido práctico, esto desbarataría el equilibrio de poder en Medio Oriente, con serias consecuencias para todo el mundo; en sentido moral, sería una cruel traición a la oposición siria y una bendición para el presidente sirio Bashar al-Assad.
Y si Trump se inclina ante Putin en Medio Oriente, ¿qué hará en relación con Ucrania, Europa del este y el Cáucaso? ¿Se avecina acaso una Conferencia de Yalta 2.0 para reconocer la nueva esfera de influencia de facto de Putin?
El nuevo rumbo que trazará Trump para Estados Unidos ya es discernible; sólo ignoramos a qué velocidad irá el barco. Mucho dependerá de la oposición (demócrata y republicana por igual) que Trump encuentre en el Congreso de los Estados Unidos, y de la resistencia de la mayoría de estadounidenses que no votaron por él.
Pero no abriguemos ilusiones: Europa está demasiado débil y dividida para ocupar el lugar estratégico de Estados Unidos, y sin el liderazgo de este país, Occidente no puede sobrevivir. Lo más probable es que el mundo occidental tal como lo conocieron las generaciones actuales perecerá ante nuestros ojos.
¿Y después, qué? Es indudable que China se prepara para ocupar el lugar de Estados Unidos. Y en Europa, las criptas del nacionalismo se han abierto, y llegará el día en que los fantasmas que encerraban corran otra vez libres por el continente y por el mundo.
Traducción: Esteban Flamini