La fin probable de l'ordre mondial occidental
BERLIN – Donald Trump s'apprêtant désormais à investir la Maison Blanche, la fin de ce que l'on appelait jusqu'à présent l'« ordre occidental » devient quasi-inéluctable. Cette expression qualifie précisément l'ensemble transatlantique né des deux conflits mondiaux du XXe siècle, qui a redéfini l'ordre international au cours d'une quarantaine d'années de guerre froide, et qui a par la suite dominé la planète – du moins jusqu'à présent.
Il convient ici d'opérer une distinction entre l'ordre mondial occidental et l'« Occident ». Car bien que la culture, les normes et la religion prédominante de l'Ouest soient principalement d'origine occidentale, cet univers a évolué au cours du temps jusqu'à devenir quelque chose de différent. Les caractéristiques fondamentales de l'Occident ont en effet été façonnées au cours des siècles par la région méditerranéenne (plusieurs régions d'Europe du Nord ainsi que des Alpes ayant également apporté nombre de contributions majeures à son développement). Par opposition, l'ordre occidental est de nature transatlantique, et il est l'enfant du XXe siècle.
À ses débuts, la Première Guerre mondiale se limitait à un conflit européen opposant les Puissances Centrales aux forces de l'Entente constituée par la Grande-Bretagne, la France et la Russie. Ce n'est qu'en 1917, lorsque les États-Unis ont pénétré dans l'arène, que cette guerre est véritablement devenue mondiale. C'est à cette période que ce que nous appelons aujourd'hui l'ordre occidental a commencé à prendre forme.
Mais c'est seulement au cours de la Seconde Guerre mondiale que l'ordre occidental a définitivement obtenu son certificat de naissance. En août 1941, après l'invasion de l'Union soviétique par l'Allemagne nazie, le Premier ministre britannique Winston Churchill et le président américain Franklin D. Roosevelt organisent une rencontre sur un navire de guerre situé au large de Terre-Neuve, et signent ensemble la Charte de l'Atlantique. Cet accord évoluera par la suite jusqu'à devenir l'OTAN, qui permettra pendant quarante ans à une alliance constituée de démocraties indépendantes aux valeurs communes, et à l'économe de marché, de faire face à la menace soviétique – alliance qui a également permis de préserver l'Europe jusqu'à ce jour.
Plus fondamentalement, l'ordre occidental repose sur l'engagement des Américains consistant à œuvrer pour la défense de leurs alliés. Cet ordre occidental n'aurait pu en effet exister sans le rôle crucial joué par les États-Unis, mission à laquelle pourrait bien renoncer l'Amérique de Donald Trump. C'est pourquoi l'avenir même de l'ordre mondial occidental est aujourd'hui en jeu.
Nul ne peut prévoir avec certitude ce que l'élection de Trump signifiera pour la démocratie américaine, ni ce qu'accomplira le président élu lorsqu'il prendra ses fonctions. Il est en revanche d'ores et déjà possible de formuler deux hypothèses raisonnables. Premièrement, la présidence Trump devrait profondément perturber la politique nationale et étrangère des États-Unis. Trump a en effet remporté l'élection en bravant quasiment toutes les règles non écrites de la politique américaine. Il est parvenu à battre non seulement Hillary Clinton, mais également l'establishment du parti républicain. Pourquoi abandonnerait-il soudainement cette stratégie gagnante d'ici au 20 janvier ?
Subscribe to PS Digital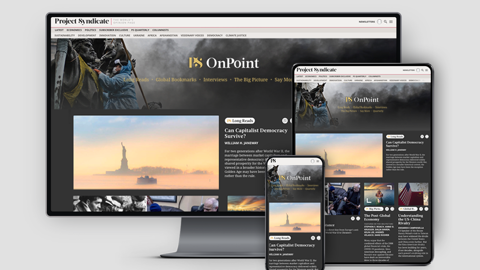 Subscribe to PS Digital
Access every new PS commentary, our entire On Point suite of subscriber-exclusive content – including Longer Reads, Insider Interviews, Big Picture/Big Question, and Say More – and the full PS archive.
De même, on peut raisonnablement supposer que Trump ne renoncera pas à sa promesse consistant à « rendre à l'Amérique sa grandeur », ce qui, quelles qu'en soient les formes concrètes, demeurera le fondement de sa présidence. L'ancien président Ronald Reagan avait lui aussi formulé une promesse de cette nature, mais il l'avait fait à une période où l'Amérique, encore engagée dans la guerre froide, pouvait se permettre d'adopter une approche impérialiste. Reagan a poursuivi le réarmement du pays dans une telle mesure que cette approche a finalement conduit à l'effondrement de l'union soviétique. Il a également posé les bases d'un boom économique américain, via un alourdissement massif de la dette nationale.
Trump ne peut s'offrir le luxe d'une approche impérialiste. Bien au contraire, il n'a cessé au cours de sa campagne de critiquer les guerres absurdes menées par l'Amérique au Moyen-Orient, et ses partisans souhaitent vivement que les États-Unis renoncent à leur rôle de leadership mondial, et qu'ils se retirent du monde. Une Amérique au penchant nationaliste et isolationniste demeurera de loin le plus puissant pays de la planète, mais ne garantira plus la sécurité des pays occidentaux, ni la défense d'un ordre international fondé sur le libre-échange et la mondialisation.
Les seules questions qui demeurent concernent désormais la rapidité avec laquelle la politique américaine se redessinera, ainsi que la radicalité de ces changements. Trump a d'ores et déjà promis d'abandonner l'idée d'un Partenariat transpacifique à 12 États – décision qui, que Trump en ait conscience ou non, revient à offrir un formidable cadeau à la Chine. Il se pourrait également que Trump livre une offrande supplémentaire aux Chinois, en réduisant l'engagement américain en mer de Chine méridionale. La Chine pourrait rapidement se retrouver à occuper la place de nouveau garant du libre-échange international – et probablement de nouveau leader mondial de la lutte contre le changement climatique.
S'agissant de la guerre en Syrie, il se pourrait que Trump délègue tout simplement la question de ce pays dévasté au président russe Vladimir Poutine et à l'Iran. Concrètement, ceci réorienterait l'équilibre des puissances en direction du Moyen-Orient, avec de graves conséquences potentielles au-delà de la région ; sur le plan moral, il s'agirait d'une cruelle trahison vis-à-vis de l'opposition syrienne, et d'une aubaine pour le président syrien Bachar el-Assad.
Par ailleurs, si Trump s'en remet à Poutine au Moyen-Orient, on peut s'interroger sur les futurs choix du président américain concernant l'Ukraine, l'Europe de l'Est et le Caucase. Doit-on s'attendre à une Conférence de Yalta 2.0, qui reconnaîtrait de facto la nouvelle sphère d'influence du président Poutine ?
Le nouveau cap que fixera Trump pour les États-Unis est d'ores et déjà perceptible ; nous ignorons seulement à quelle vitesse naviguera le vaisseau américain. Beaucoup de choses dépendront de l'opposition (aussi bien démocrate que républicaine) que rencontrera Trump au Congrès américain, ainsi que de la poussée inverse qu'exercera cette majorité d'Américains qui n'a pas voté pour lui.
Mais ne nous faisons pas d'illusions : l'Europe est à ce jour beaucoup trop affaiblie et divisée pour être en mesure de remplacer les États-Unis sur le plan stratégique ; et en l'absence de leadership américain, l'ordre occidental ne peut survivre. Ainsi faut-il s'attendre quasi-certainement à ce que disparaisse sous nos yeux l'ordre mondial occidental tel que nous l'avons connu.
Quelle sera alors la suite des événements ? Nous pouvons considérer avec certitude que la Chine se prépare à chausser les bottes de l'Amérique. Quant à l'Europe, plane d'ores et déjà au-dessus d'elle la tempête d'un nationalisme qui, tôt ou tard, abattra à nouveau sa foudre sur le continent – et sur le reste du monde.
Traduit de l'anglais par Martin Morel