Прощание с Западом
БЕРЛИН – Теперь, когда Дональд Трамп  избран президентом Соединенных Штатов, конец того, что до сих пор называлось «Запад», стал практически неизбежен. Этот термин обозначал трансатлантический мир, который появился на пепелище двух мировых войн двадцатого века, пересмотрел международный порядок во время сорокалетней холодной войны и доминировал на всем земном шаре – до нынешнего момента.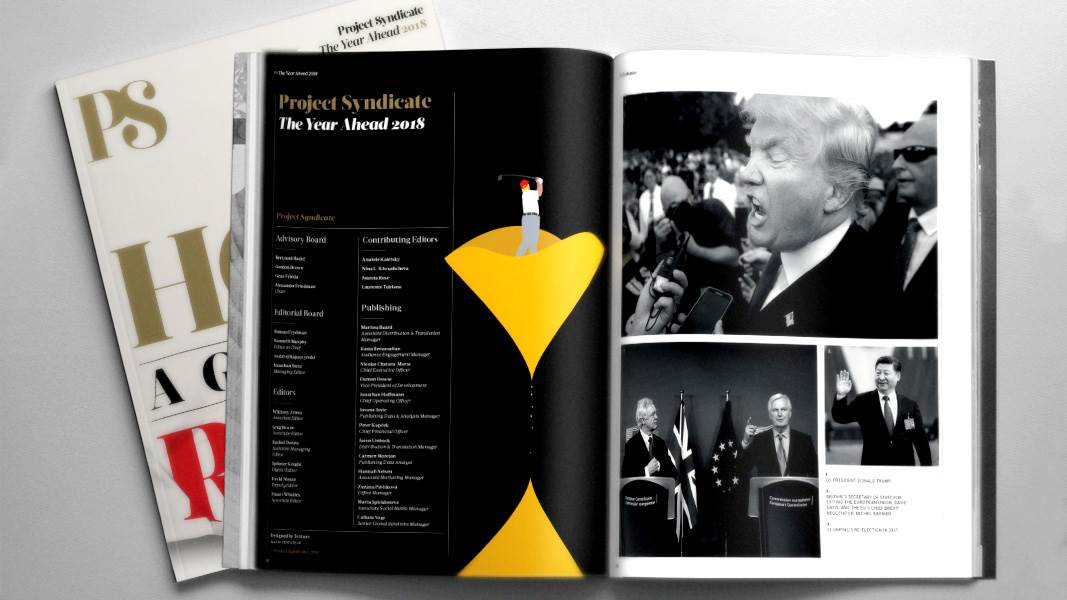 The Year Ahead 2018
The world's leading thinkers and policymakers examine what's come apart in the past year, and anticipate what will define the year ahead.
Запад не следует путать с «западной цивилизацией». Хотя культура, нормы и преобладающая религия Запада в широком смысле происходят из западной цивилизации, со временем он превратился в нечто отличное от нее. Характер западной цивилизации в течение многих столетий формировался средиземноморским регионом (хотя и части Европы к северу от Альп не раз вносили важный вклад в его развитие). Запад, напротив, имеет трансатлантический характер, и он – дитя двадцатого века.
Первая мировая война изначально была европейским конфликтом между Центральными державами и Антантой, в которую входили Великобритания, Франция и Россия. Она стала по-настоящему мировой войной только в 1917 году, когда в бой вступили США. Именно в этот момент начало оформляться то, что мы теперь называем Западом.
Можно сказать, что Запад получил «свидетельство о рождении» во время Второй мировой войны. В августе 1941 года, после того как нацистская Германия напала на Советский Союз, премьер-министр Великобритании Уинстон Черчилль и президент США Франклин Д. Рузвельт встретились на военном корабле у берегов Ньюфаундленда и подписали Атлантическую хартию, соглашение, впоследствии положившее начало НАТО. Этот договор в течение четырех десятилетий давал возможность союзу независимых демократий с общими ценностями и рыночной экономикой противостоять советской угрозе – и он обеспечивает безопасность Европы и по сей день.
В более фундаментальном смысле, Запад основывался на обязательстве Америки встать на защиту своих союзников. Западный порядок не может существовать, если США не будут выполнять эту важную роль, от чего они теперь, при Трампе, могут отказаться. В результате будущее самого Запада сейчас поставлено на карту.
Никто не может быть уверен, что избрание Трампа будет означать для американской демократии, или что он будет делать, когда вступит в должность. Но два обоснованных предположения мы уже можем сделать. Во-первых, его президентство будет иметь весьма разрушительные последствия для американской внутренней и внешней политики. Трамп победил на президентских выборах, поправ практически все неписаные правила американской политики. Он победил не только Хиллари Клинтон, но и истеблишмент Республиканской партии. Мало оснований полагать, что 20 января он внезапно откажется от этой выигрышной стратегии.
Мы также можем с уверенностью предположить, что Трамп будет твердо придерживаться своего обещания «сделать Америку снова великой»; оно будет основой его правления, несмотря ни на что. Бывший президент США Рональд Рейган тоже давал такое обещание, но он сделал это, когда США, еще ведущие холодную войну, могли позволить себе имперскую позицию. Так, Рейган провел столь крупномасштабное перевооружение, что это в конечном счете привело к краху Советского Союза; он также подготовил почву для американского экономического бума с помощью значительного увеличения государственного долга.
Трамп же не может позволить себе имперского подхода. Напротив, во время избирательной кампании он постоянно критиковал бессмысленные войны Америки на Ближнем Востоке; и его сторонники ничего не желают так сильно, как отказа США от своей роли глобального лидера и ухода страны с мировой арены. Америка, движущаяся в сторону изоляционистского национализма, конечно, останется самой сильной страной в мире; но она больше не будет гарантировать безопасность западных стран или защищать международный порядок, основанный на свободной торговле и глобализации.
Единственные вопросы, которые остаются сейчас – насколько быстро изменится политика США и насколько радикальными будут эти изменения. Трамп уже пообещал отказаться от Транс-Тихоокеанского партнерства 12 стран – решение, которое равносильно подарку Китаю, понимает ли это Трамп или нет. Он может сделать Китаю и еще один подарок: уменьшение присутствия США в Южно-Китайском море. Китай вскоре может оказаться в роли нового гаранта глобальной свободной торговли – и, вероятно, также нового мирового лидера в борьбе с изменением климата.
Что касается войны в Сирии, Трамп может просто поднести на блюдечке эту опустошенную страну президенту России Владимиру Путину и Ирану. С практической точки зрения это означало бы нарушение баланса сил на Ближнем Востоке, с серьезными последствиями далеко за пределами региона; с моральной – это было бы жестоким предательством сирийской оппозиции и благом для президента Сирии Башара Асада.
И если Трамп уступит Путину на Ближнем Востоке, то возникает вопрос, что он будет делать в отношении Украины, Восточной Европы и Кавказа. Должны ли мы ожидать признания новой де-факто сферы влияния Путина на какой-нибудь «Ялтинской конференции 2.0»?
Новый курс, который Трамп намечает для США, уже можно предугадать; мы просто не знаем, как быстро будет плыть корабль. Многое будет зависеть от оппозиции (как демократов, так и республиканцев), с которой Трамп столкнется в Конгрессе США, а также от сдерживающего влияния большинства американцев, не голосовавших за него.
Но мы не должны питать никаких иллюзий: Европа слишком слаба и разобщена, чтобы заменить США в стратегическом смысле, и без руководства США Запад не может выжить. Таким образом, западный мир в том виде, как его знают практически все живущие ныне, почти наверняка погибнет на наших глазах.
Так что же дальше? Китай, можно не сомневаться, готовится занять место Америки. А в Европе распечатаны склепы национализма; со временем обитающие в них демоны вновь набросятся на континент – и на весь мир.