W Obliczu Rosnącego Zagrożenia Suszą
BONN - Susza może być starożytną plagą, ale z każdym dniem staje się coraz gorsza. Żaden region czy kraj nie jest dziś odporny na jej skutki. Południową Europę ogarnęła dotkliwa susza - dla Włoch najgorsza od 70 lat. W zachodnich Stanach Zjednoczonych ostatnie dwie dekady były najsuchsze od 1200 lat. W Chile susza trwa już trzynasty rok z rzędu, a Monterrey - trzecie co do wielkości miasto w Meksyku - jest obecnie zmuszone do racjonowania wody.
W Rogu Afryki, Etiopia, Kenia i Somalia odnotowują czwarty rok z rzędu bez deszczu, a sytuacja staje się coraz bardziej tragiczna dla ludzi, zwierząt gospodarskich i ekosystemów, które je wspierają. Z powodu braku odpowiedniego odżywiania dzieci umierają na choroby, które normalnie by przeżyły. Nawet wielbłądy - które zazwyczaj przeżywają dłużej niż ludzie i inne gatunki zwierząt - padają masowo w tym regionie.
To cierpienie przywołuje traumatyczne wspomnienia mojego pierwszego zetknięcia się z suszą w Mauretanii. Miałam zaledwie 12 lat, kiedy każde gospodarstwo domowe w naszej społeczności straciło wszystko - żywność, zwierzęta gospodarskie i środki do życia. Nie mogąc zapewnić bytu swoim rodzinom, wielu dorosłych odebrało sobie życie. To doświadczenie pozostało we mnie, motywując mnie do starań, aby żadne inne dziecko nie musiało przeżyć tego, co ja. Niestety, wielu nadal doświadcza traumy z powodu suszy, a wkrótce będzie ich znacznie więcej: Naukowcy przewidują, że zmiany klimatyczne zwiększą częstotliwość, czas trwania oraz zasięg geograficzny susz, a do 2050 roku dotkną trzy na cztery osoby.
Obszary we wszystkich regionach stają się bardziej suche i chociaż nie ma jeszcze zgody co do tego, gdzie dokładnie pojawią się najbardziej dotkliwe warunki suszy, naukowcy zgadzają się, że degradacja gruntów zaostrza ten problem. Co gorsza, szósty raport oceniający Międzyrządowego Zespołu ds. Zmian Klimatu ostrzega, że nie czynimy wystarczających postępów w celu zmniejszenia emisji gazów cieplarnianych i zapobiegania poważniejszym warunkom w nadchodzących dekadach.
Ostatnie traumatyczne doświadczenia i najnowsze prognozy naukowe powinny dać poczucie pilności, zmuszając wszystkich do budowania odporności na przyszłe ryzyko suszy. Susza jest zjawiskiem naturalnym, ale nie musi stać się klęską żywiołową. Degradacja gruntów może być przynajmniej częściowo złagodzona dzięki lepszym decyzjom dotyczącym użytkowania gruntów i wody oraz inicjatywom w zakresie rekultywacji gruntów.
W najnowszym raporcie Organizacja Narodów Zjednoczonych ds. Wyżywienia i Rolnictwa oraz Konwencja Narodów Zjednoczonych w sprawie zwalczania pustynnienia (UNCCD) podają udane przykłady systemów, które zmniejszyły ryzyko wystąpienia suszy wśród zagrożonych populacji. W Brazylii, Etiopii, Indiach i Tunezji, połączenie zbierania wody i zrównoważonych praktyk zarządzania gruntami jest stosowane w celu zmniejszenia skutków suszy. Choć może to potrwać, wszystkie kraje mogą przyjąć podobne strategie, aby pomóc swoim obywatelom przejść od niedoboru wody do bezpieczeństwa wodnego.
Subscribe to Project Syndicate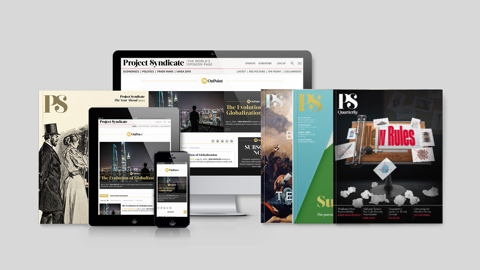 Subscribe to Project Syndicate
Enjoy unlimited access to the ideas and opinions of the world's leading thinkers, including long reads, book reviews, topical collections, short-form analysis and predictions, and exclusive interviews; every new issue of the PS Quarterly magazine (print and digital); the complete PS archive; and more. Subscribe now to PS Premium.
Główną wadą obecnego podejścia jest jednak to, że opiera się ono na systemach krajowych, mimo że susze nie znają granic politycznych. Proaktywne planowanie między sektorami w poszczególnych krajach jest niezbędne, ale bez współpracy międzynarodowej skutki suszy w końcu dotrą do innych krajów. Powszechny efekt domina obejmuje konflikty o zmniejszone zasoby wodne, gwałtowny wzrost cen żywności lub jej niedobór, pożary, masowe straty wśród dzikich zwierząt i zwierząt gospodarskich, burze piaskowe i pyłowe, przesiedlenia ludzi i przymusową migrację oraz niepokoje społeczne.
Wspólne ustalenia dotyczące przewidywania i szybkiego reagowania na susze mogą zapobiec tym skutkom lub zmniejszyć ich skalę. Na przykład Australia i USA od dawna stosują politykę i protokoły planowania, aby zapewnić dotkniętym suszą społecznościom godne przetrwanie.
Budowanie takiej odporności w skali globalnej będzie wymagało czasu i woli politycznej. Na szczęście nawet w najbardziej narażonych regionach świata decydenci mają już podstawy, na których mogą się oprzeć. Na przykład afrykański Sahel posiada regionalny system ryzyka wystąpienia suszy, utworzony 50 lat temu w celu zgromadzenia szerokiego grona zainteresowanych stron, od stowarzyszeń producentów po decydentów politycznych, i korzysta z połączenia możliwości naukowych i technologicznych na poziomie regionalnym.
Indie przyjęły jeszcze bardziej kompleksowe podejście, które obejmuje zarządzanie suszą jako część krajowego planu zarządzania klęskami żywiołowymi. Wdrożono skomplikowaną strategię mającą na celu włączenie wszystkich właściwych ministerstw rządowych i ścisłą koordynację reakcji krajowych, stanowych i lokalnych. Po procesie, który rozpoczął się 15 lat temu, Indie mają obecnie zintegrowany system zarządzania wodą, który służy również jako system ostrzegania przed suszą.
W czerwcu Stany Zjednoczone ogłosiły, że susza będzie odtąd uznawana za strategiczny priorytet polityki krajowej i zagranicznej. Stany Zjednoczone - jako kraj posiadający jeden z najbardziej wyrafinowanych i zaawansowanych mechanizmów monitorowania i reagowania na suszę na świecie - mogłyby pomóc w przyspieszeniu rozwoju lepszych systemów zarządzania ryzykiem na świecie.
Na całym świecie rządy mają duży apetyt na szybkie działanie, zanim skutki coraz częstszych i dotkliwych susz staną się nie do opanowania. Po utworzeniu międzyrządowej grupy roboczej ds. suszy podczas majowego szczytu UNCCD, mamy teraz platformę do mobilizacji działań zbiorowych zgodnie z tym, co według nauki jest konieczne.
Możemy wspólnie ograniczyć skutki suszy. Ale wszyscy liderzy, aż do poziomu społeczności, będą musieli zobowiązać się do zrobienia tego, co konieczne, aby zbudować skuteczną odporność - zaczynając w dniu dzisiejszym.
Z angielskiego przetłumaczyła Marz McNamer