De aanpak van het toenemende droogterisico
BONN – Droogte mag dan een eeuwenoude plaag zijn, het wordt steeds erger. Geen regio of land is vandaag immuun voor de gevolgen ervan. Zuid-Europa is in de greep van een ernstige droogte – de ergste in zeventig jaar in Italië. In het westen van de Verenigde Staten waren de voorbije twee decennia de droogste in twaalfhonderd jaar. Chili beleeft zijn dertiende opeenvolgende jaar van droogte en Monterrey, de op twee na grootste stad van Mexico, wordt nu gedwongen water te rantsoeneren.
In de Hoorn van Afrika regent het in Ethiopië, Kenia en Somalië voor het vierde achtereenvolgende jaar niet, en de situatie wordt steeds nijpender voor mensen, vee en de ecosystemen die hen ondersteunen. Door een gebrek aan adequate voeding sterven kinderen aan ziekten die ze normaal gesproken zouden overleven. Zelfs kamelen – die gewoonlijk langer overleven dan mensen of andere diersoorten – vallen in deze regio in grote aantallen dood neer.
Dit lijden roept traumatische herinneringen op aan mijn eigen eerste kennismaking met droogte in Mauritanië. Ik was amper twaalf jaar oud toen elk huishouden in onze gemeenschap alles verloor – voedsel, vee en de middelen van bestaan. Omdat ze niet voor hun gezin konden zorgen, pleegden veel volwassenen zelfmoord. Die ervaring is me bijgebleven en heeft me gemotiveerd om ervoor te zorgen dat andere kinderen niet hoeven mee te maken wat ik heb meegemaakt. Helaas worden nog steeds veel kinderen getraumatiseerd door droogte, en met nog veel meer zal dat binnenkort gebeuren: wetenschappers voorspellen dat door de klimaatverandering de frequentie, duur en geografische verspreiding van droogtes zullen toenemen, waardoor tegen 2050 drie op de vier mensen zullen worden getroffen.
In alle regio's worden gebieden droger, en hoewel er nog geen consensus bestaat over waar precies de meest acute droogte zal optreden, zijn wetenschappers het erover eens dat bodemdegradatie het probleem verergert. Erger nog, het zesde evaluatierapport van het Intergovernmental Panel on Climate Change waarschuwt dat we niet voldoende vooruitgang boeken bij het verminderen van de uitstoot van broeikasgassen en bij het afwenden van nog ernstiger omstandigheden in de komende decennia.
Recente traumatische ervaringen en de meest recente wetenschappelijke prognoses moeten samen een gevoel van urgentie teweegbrengen en iedereen ertoe aanzetten weerstand op te bouwen tegen toekomstige droogterisico's. Droogte is een natuurlijk fenomeen, maar het hoeft geen natuurramp te worden. Bodemdegradatie kan ten minste gedeeltelijk worden tegengegaan door betere beslissingen inzake land- en watergebruik en initiatieven voor landherstel.
In een recent rapport noemen de Voedsel- en Landbouworganisatie van de Verenigde Naties en het VN-Verdrag ter bestrijding van woestijnvorming (UNCCD) succesvolle voorbeelden van systemen die het droogterisico onder kwetsbare bevolkingsgroepen hebben verminderd. In Brazilië, Ethiopië, India en Tunesië wordt een combinatie van wateropvang en duurzaam landbeheer gebruikt om de gevolgen van droogte te verminderen. Hoewel het tijd kan kosten, kunnen alle landen soortgelijke strategieën aanwenden om hun bevolking te helpen van waterschaarste naar waterzekerheid te gaan.
Subscribe to Project Syndicate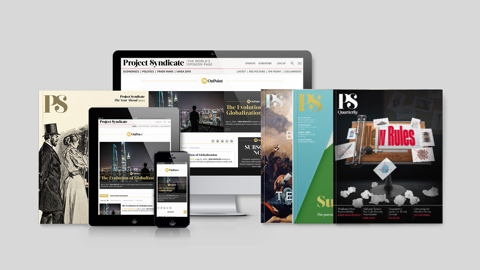 Subscribe to Project Syndicate
Enjoy unlimited access to the ideas and opinions of the world's leading thinkers, including long reads, book reviews, topical collections, short-form analysis and predictions, and exclusive interviews; every new issue of the PS Quarterly magazine (print and digital); the complete PS archive; and more. Subscribe now to PS Premium.
Een belangrijke tekortkoming van de huidige aanpak is echter dat deze gebaseerd is op nationale systemen, ook al houden droogtes zich niet aan politieke grenzen. Proactieve planning tussen sectoren binnen landen is essentieel; maar zonder internationale samenwerking zullen de effecten van droogte uiteindelijk andere landen bereiken. Veel voorkomende domino-effecten zijn conflicten over verminderde watervoorraden, stijgende voedselprijzen of voedseltekorten, bosbranden, massaal verlies van wilde dieren en vee, zand- en stofstormen, menselijke ontheemding en gedwongen migratie, en maatschappelijke onrust.
Samenwerkingsverbanden om snel op droogtes te anticiperen en te reageren kunnen de omvang van deze gevolgen voorkomen of beperken. Australië en de VS beschikken bijvoorbeeld al geruime tijd over beleidslijnen en planningsprotocollen om ervoor te zorgen dat de getroffen gemeenschappen droogten op een waardige manier kunnen doorstaan.
Het opbouwen van een dergelijke veerkracht op wereldschaal zal tijd en politieke wil vergen. Gelukkig beschikken beleidsmakers zelfs in de meest kwetsbare regio's van de wereld al over fundamenten waarop zij kunnen voortbouwen. De Sahel in Afrika kent bijvoorbeeld een regionaal systeem voor droogterisico's, dat vijftig jaar geleden is opgezet om een breed scala van belanghebbenden, van producentenverenigingen tot politieke besluitvormers, bijeen te brengen. Het systeem profiteert van de bundeling van wetenschappelijke en technologische capaciteiten op regionaal niveau.
India heeft gekozen voor een nóg meer samenhangende aanpak, waarbij droogtebeheer deel uitmaakt van het nationale rampenbeheersplan. Er is een ingewikkelde strategie ontwikkeld om alle betrokken ministeries bij de aanpak te betrekken en de nationale, regionale en plaatselijke maatregelen nauw op elkaar af te stemmen. Na een proces dat vijftien jaar geleden is begonnen, beschikt India nu over een geïntegreerd waterbeheersysteem dat ook dienst doet als waarschuwingssysteem voor droogte.
In juni maakten de VS bekend dat droogte voortaan zal worden beschouwd als een strategische binnenlandse en buitenlandse beleidsprioriteit. De VS beschikken over een van de meest geavanceerde droogtemonitoring- en reactiemechanismen ter wereld, en kunnen helpen de ontwikkeling van betere risicobeheersystemen wereldwijd te versnellen.
Overal ter wereld zijn overheden erop gebrand snel op te treden voordat de gevolgen van de steeds frequentere en ernstiger wordende droogten onbeheersbaar worden. En na de oprichting van een intergouvernementele werkgroep inzake droogte op de UNCCD-top in mei beschikken we nu over een platform om collectieve actie te mobiliseren op basis van wat volgens de wetenschap noodzakelijk is.
We kunnen de gevolgen van droogte samen beperken. Maar alle leiders, tot op gemeenschapsniveau, zullen zich ertoe moeten verbinden te doen wat nodig is om doeltreffende veerkracht op te bouwen – en wel onmiddellijk.
Vertaling: Menno Grootveld