Een Marshallplan voor de planeet
LONDEN – In een jaar dat gedomineerd werd door COVID-19 is het misschien begrijpelijk dat we de meest diepgaande, existentiële crisis waar we mee worden geconfronteerd hebben verwaarloosd: de op hol geslagen klimaatverandering. Maar we moeten de verloren tijd snel inhalen, voordat het te laat is.
Gelukkig zien de vooruitzichten voor effectieve internationale klimaatactie in 2021 er al veel beter uit dan een paar maanden geleden. Om te beginnen zullen de Verenigde Staten, zodra de nieuwe president Joe Biden in januari aantreedt, zich weer aansluiten bij het klimaatverdrag van Parijs uit 2015 – het historische protocol dat de opwarming van de aarde wil beperken tot ruim onder de 2°C, en bij voorkeur tot niet meer dan 1,5°C, ten opzichte van het pre-industriële niveau.
Dit zal een onmiskenbaar signaal afgeven dat het de grootste economie ter wereld weer ernst is met het versnellen van de overgang naar een netto-nuluitstoot van CO2, en dit zal voortbouwen op de recente toezegging van China om vóór 2060 koolstofneutraal te worden. Deze twee grootmachten zullen de eenentwintigste eeuw bepalen, dus het vooruitzicht van hun verbeterde klimaatsamenwerking biedt echte redenen tot optimisme.
Ook de Europese Unie zet haar ambitieuze European Green Deal voort en streeft ernaar om tegen 2050 klimaatneutraal te zijn. En het tienpuntenplan van de Britse premier Boris Johnson voor een Groene Industriële Revolutie wijst ook de weg vooruit. Energie-efficiëntie en -diversificatie, duurzame infrastructuur en huisvesting, duurzame energieopwekking, groene technologieën, koolstofafvang en -opslag en op de natuur gebaseerde oplossingen bieden allemaal een duidelijke route naar een toekomst van netto-nuluitstoot. Dit is het ʻMarshallplan voor de Planeet' dat we dringend nodig hebben, en we moeten nu een dubbele inspanning leveren om een echt groen herstel te bereiken.
Het is bemoedigend om de internationale gemeenschap te zien mobiliseren. Volgend jaar zal China een centrale rol spelen bij het helpen beschermen en herstellen van de natuur, als gastheer van de Biodiversiteitsconferentie van de Verenigde Naties (COP15). Die bijeenkomst komt op een cruciaal moment: één miljoen soorten wordt met uitsterven bedreigd, en de vernietiging van onze oceanen, bossen, veengebieden en mangrovebossen – die allemaal fungeren als essentiële koolstofputten – is helaas een routineaangelegenheid geworden.
Met een waarde van 125 biljoen dollar per jaar zijn ons natuurlijk kapitaal en onze biodiversiteit de échte bron van onze rijkdom. Of, zoals de econoom Herman Daly stelt: ʻde economie is een volledige dochteronderneming van het milieu, en niet andersom.' Daarom pleit Business for Nature – een diverse groep van ruim zeshonderd bedrijven en vijftig partnerorganisaties – voor ambitieuzere actie van de overheid en het bedrijfsleven om de natuur te voorzien van het vangnet dat ze nodig heeft om te kunnen floreren.
Subscribe to Project Syndicate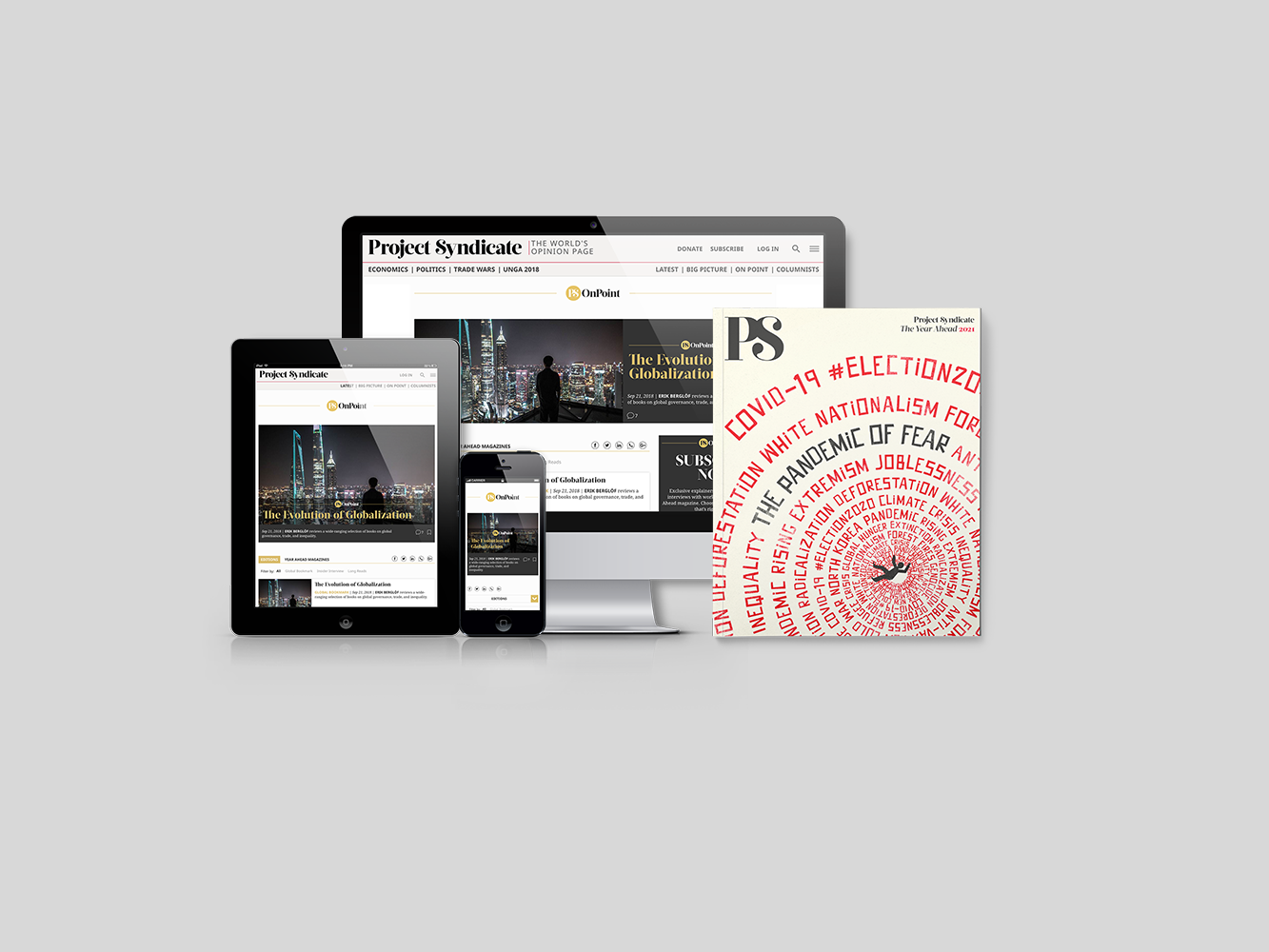 Subscribe to Project Syndicate
Enjoy unlimited access to the ideas and opinions of the world's leading thinkers, including weekly long reads, book reviews, and interviews; The Year Ahead annual print magazine; the complete PS archive; and more – All for less than $9 a month.
De VN-topconferenties over Food Systems (voedselsystemen) en Nutrition for Growth (voeding voor groei) van volgend jaar zijn ook belangrijke kansen om de collectieve ambitie te verhogen. We moeten de landbouwsubsidies dringend op een andere manier besteden om betere resultaten voor de mensen, het klimaat en de natuur te bereiken. Daarnaast moeten overheden bij hun voedselaankopen de nadruk leggen op plantaardige producten en afzien van bewerkte voedingsmiddelen, moeten we productievere en regeneratieve landbouwpraktijken toepassen, het levensonderhoud van plattelandsbewoners ondersteunen en ons inzetten voor ambitieuze doelstellingen om voedselverlies en -verspilling terug te dringen. Gezien het feit dat 25 procent van de wereldwijde CO2-uitstoot verband houdt met landgebruik, mogen we de bijdrage die de transformatie van voedselsystemen kan leveren aan de strijd tegen klimaatverandering niet onderschatten.
Maar misschien wel de meest cruciale internationale bijeenkomst in 2021 is deklimaatconferentie van de VN(COP26) in november in Glasgow. Overheden moeten hun maatregelen voor het terugdringen van de CO2-uitstoot opvoeren in een race naar de top die de wereld zal helpen om uiterlijk in 2050 een netto-nuluitstoot te bereiken. Van cruciaal belang is dat COP26 ook de toezegging van de rijke landen gestand moet doen om de armere economieën te voorzien van de klimaatfinanciering die ze nodig hebben om extreme weerrisico's – stormen, droogtes en bosbranden – die steeds vaker voorkomen en hun ontwikkeling en groei afremmen, het hoofd te kunnen bieden.
Dat neemt niet weg dat resolute klimaatactie niet alleen de verantwoordelijkheid van overheden mag zijn. Het bedrijfsleven moet ook zijn rol spelen door wetenschappelijk onderbouwde doelstellingen voor emissiereductie vast te stellen, de energie-efficiëntie te verbeteren, de klimaatrapportage en -informatie te verbeteren en ontbossing uit de aanbodketens te bannen.
De We Mean Business-coalitie is een goed voorbeeld van een gezamenlijk optreden van de particuliere sector. Bedrijven met een gezamenlijke marktwaarde van ruim 24 biljoen dollar werken samen om een ambitieuzer klimaatbeleid te voeren en de overgang naar een koolstofvrije economie te versnellen. Op dezelfde manier helpt de Task Force on Climate-related Financial Disclosures (taskforce voor klimaatgerelateerde financiële informatieverstrekking) bedrijven om de risico's en kansen van de klimaatverandering beter in te schatten, zodat het voor beleggers makkelijker wordt om duurzame bedrijven te ondersteunen. Dit leidt tot een domino-effect dat helpt om de financiële markten in een groenere richting te sturen.
De pandemie heeft geleid tot een tijdelijke vermindering van de uitstoot van broeikasgassen en een herstel van de natuur. Maar een kort respijt voor de planeet kan niet de plaats innemen van een coherente wereldwijde klimaatstrategie. Alles bij elkaar genomen belooft 2021 een superjaar voor klimaatactie te worden, waarin de sterren op één lijn staan voor een schonere en duurzamere toekomst. We moeten die kans grijpen nu het nog kan.
Vertaling: Menno Grootveld