El Asia-Pacífico de Shinzo Abe
CLAREMONT, CALIFORNIA – Hace ya más de un año desde que Shinzo Abe, el primer ministro japonés que más tiempo ocupó ese cargo, renunció por enfermedad. Vimos ir y venir a su sucesor, Yoshihide Suga, pero parece que las innovaciones institucionales que impulsó Abe —específicamente, el Tratado Integral y Progresivo de Asociación Transpacífico (CPTPP) y el Diálogo de Seguridad Cuadrilateral, o Quad— seguirán influyendo sobre el panorama geopolítico asiático por mucho tiempo.
Abe trabajó de manera incansable para hacer realidad el CPTPP después de que Donald Trump realmente mandara a pique al pacto predecesor, el Acuerdo Transpacífico de Cooperación Económica, cuando retiró la participación de Estados Unidos. El acuerdo que Abe restableció incluye actualmente a 11 países de Asia-Pacífico, con un producto económico combinado de casi 14 billones de dólares.
Además, la cantidad de miembros del CPTPP aumentará: el Reino Unido solicitó formalmente su inclusión en febrero de este año y en septiembre China hizo lo mismo, en lo que parece ser un esfuerzo por poner de relieve su compromiso con el libre comercio y diferenciarse aún más de EE. UU. Taiwán presentó su solicitud seis días más tarde.
Si el Reino Unido se suma al CPTPP, algo que ahora parece probable, aportará 2,7 billones de dólares —aproximadamente el 20 %— del producto económico total del bloque. El ingreso de China y Taiwán será más complejo. Taiwán está técnicamente mejor calificado que China, pero admitir a Taiwán y rechazar a China podría alimentar tensiones e incluso desatar conflictos, una perspectiva que los firmantes del CPTPP preferirían evitar.
Pero, desde una perspectiva estratégica, la mayor diferencia que implicaría el CPTPP sería frente a EE. UU. Aunque Trump ya no está en la Casa Blanca, EE. UU. no se liberó de su proteccionismo y el presidente Joe Biden no logró reunir el coraje político para unirse al pacto. Sin embargo, el CPTPP es fundamental para que EE. UU. tenga éxito en contrarrestar la influencia económica de China en Asia. Biden debiera finalmente reconocerlo y, cuando lo haga, tendrá que agradecer a Abe por haber creado un acuerdo de libre comercio al que EE. UU. pueda unirse.
La importancia y visión de futuro del legado de Abe se tornaron aún más importantes en la esfera de la seguridad. Abe propuso al Quad como foro para la seguridad regional —con Australia, India, Japón y EE. UU.— allá por 2007, durante su primer breve período como primer ministro del Japón. Aunque el Quad se mantuvo en gran medida inactivo durante la siguiente década, las partes acordaron darle nuevo ímpetu en 2017, en gran parte debido a la insistencia de Abe y la creciente asertividad de China.
Subscribe to PS Digital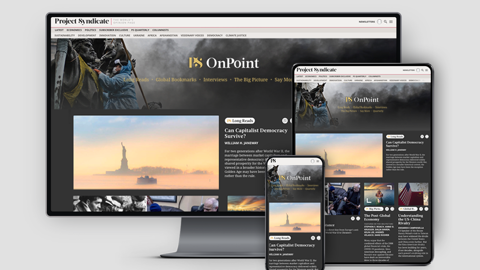 Subscribe to PS Digital
Access every new PS commentary, our entire On Point suite of subscriber-exclusive content – including Longer Reads, Insider Interviews, Big Picture/Big Question, and Say More – and the full PS archive.
El gobierno de Biden considera ahora al Quad como un componente fundamental de su estrategia para mantener controlada a China. Los líderes del grupo se reunieron en persona en septiembre durante una cumbre en la Casa Blanca, un encuentro que los futuros historiadores probablemente señalarán como un momento crucial en la rivalidad estratégica chino-estadounidense.
Pero el Quad es mucho más que simbolismo diplomático. También está fortaleciendo su capacidad militar conjunta: el año pasado llevó a cabo su primer ejercicio naval conjunto, Malabar 2020, en la costa sudeste de la India. Luego llegó Malabar 2021 en agosto, en la costa de Guam.
Dado su liderazgo para forjar el CPTPP y el Quad, podríamos suponer que Abe era parte incorregible del ala dura frente a China y que estaba decidido a contenerla, pero esa percepción dejaría de lado el tercer pilar de la estrategia geopolítica de Abe: una relación directa con China.
De hecho, incluso mientras promovía activamente el CPTPP y el Quad, Abe se aseguró de que las relaciones entre China y Japón fueron estables y de cooperación. Visitó Pekín en octubre de 2018 e invitó al presidente chino Xi Jinping a visitar Japón en abril de 2020, aunque ese plan no fructificó debido a la pandemia de la COVID-19.
En última instancia, Abe fue un realista extremo en su trato con China. Sabía que la participación bilateral era fundamental para aliviar las tensiones y mitigar los riesgos, pero para asegurar la paz y la prosperidad en Japón había que complementar esa participación con sólidas alianzas económicas y de seguridad con otras grandes potencias, especialmente EE. UU. y la India. Solo entonces China tomaría en serio al Japón y lo trataría como un socio en igualdad de condiciones en el este asiático.
En la actualidad, el tercer pilar de la estrategia de Abe frente a China parece haber colapsado. El gobierno de Biden convenció a Suga de aumentar los compromisos de seguridad del Japón en formas que los gobernantes de China perciben como hostiles y la relación chino-japonesa pronto decayó.
Afortunadamente, es posible que el sucesor de Suga, el primer ministro Fumio Kishida, cuente con más margen de maniobra. Gracias a la previsión estratégica de Abe, Japón ocupa ahora una posición geopolítica más sólida que la china. De hecho, China necesita al Japón más de lo que Japón necesita a China, porque China debe mantener una relación viable con él si desea frustrar la estrategia estadounidense de desvinculación económica y contención en términos de seguridad. Por lo tanto, si las tensiones comienzan a reducirse, es muy posible que China sea quien busque al Japón en un intento de reflotar sus relaciones. Asia estaría mejor con una iniciativa de ese tipo.
Traducción al español por Ant-Translation