Duurzame ontwikkeling begint bij kinderen
NEW YORK – ʻOns huis staat in brand,' waarschuwde klimaatactiviste Greta Thunberg vorig jaar op de vergadering van het World Economic Forum in Davos. Haar rake woorden – waarmee zij volwassenen ervan betichtte werkeloos toe te zien hoe de planeet brandde – kreeg een zaal vol wereldleiders stil, inspireerde jonge activisten over de hele wereld en onderstreepte het cruciale belang van het centraal stellen van kinderen in de mondiale actie voor een betere toekomst.
De klimaatverandering is actueel. Dat werd duidelijk door de recente ongekende bosbranden in Australië, waarbij 18 miljoen hectare in vlammen opging en naar schatting één miljard dieren de dood vonden. Dit gegeven werd ook weerspiegeld in de Indiase hittegolf van 2019, één van de langste en meest intense in tientallen jaren. En een warmer wordende planeet draagt bij aan de mondiale verspreiding van knokkelkoorts, een door muggen overgebrachte virusinfectie.
Maar zelfs nu de tijd opraakt om een catastrofe te voorkomen, krijgt de mondiale klimaatactie nog steeds niet de noodzakelijke vaart. Zoals Thunberg en andere jonge activisten hebben benadrukt zijn het onze kinderen die de last van dit falen zullen dragen als zij een steeds ongastvrijere planeet zullen erven.
Klimaatverandering is niet het enige terrein waarop wij onze kinderen in de steek laten. Roofzuchtige commerciële marketingpraktijken die kinderen en hun verzorgers op de korrel nemen dragen bij aan de wijdverbreide consumptie van ongezonde producten als alcohol, tabak, e-sigaretten en zoete frisdranken. De mondiale economische verliezen die in verband worden gebracht met het onjuiste gebruik van borstmelk-vervangers – geassocieerd met lagere intelligentie, obesitas en een toegenomen kans op diabetes en andere niet-overdraagbare ziekten – bedragen naar schatting $302 mrd.
Kinderen zijn ons meest kostbare bezit, en zij verdienen het lang, gezond en productief te kunnen leven. Om vast te stellen hoe wij hen de mogelijkheid moeten verschaffen om dat te doen, hebben de Wereldgezondheidsorganisatie (WHO), UNICEF en de Lancet onlangs een belangrijke commissie bijeengebracht – waarvan ik mede-voorzitter was, samen met Awa Marie Coll-Seck, minister van staat in Senegal – met veertig deskundigen op het gebied van het kinderwelzijn.
Zoals het in het commissierapport – "A Future for the World's Children?" – wordt verwoord, is het belangrijk om in mensen te investeren als zij nog jong zijn. Uit bewijsmateriaal blijkt dat hongerende kinderen in slechtere gezondheid verkeren, minder goede onderwijsresultaten behalen en minder verdienen als ze volwassen zijn. Van kinderen die zijn blootgesteld aan geweld is het waarschijnlijker dat zij zelf geweld zullen gaan plegen. Omgekeerd groeien kinderen met de juiste voeding, zorg en opleiding op tot gezonde, productieve burgers, die vermoedelijk beter geëquipeerd zijn om zelf gezonde en productieve kinderen op te voeden.
Subscribe to PS Digital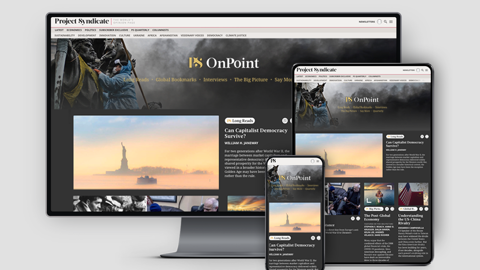 Subscribe to PS Digital
Access every new PS commentary, our entire On Point suite of subscriber-exclusive content – including Longer Reads, Insider Interviews, Big Picture/Big Question, and Say More – and the full PS archive.
Kortom: het investeren in kinderen levert levenslange en zelfs intergenerationele voordelen op. Dit brengt de hele samenleving waarde. Een scholenbouwprogramma in Indonesië in 1973-1979 heeft er bijvoorbeeld toe bijgedragen dat de levensstandaard en de belastinginkomsten vandaag de dag zijn toegenomen.
Het rendement op investeringen in kinderen is opmerkelijk hoog. In de Verenigde Staten bleek dat iedere dollar die in een voorschoolprogramma was gestoken $7 tot $12 aan maatschappelijke voordelen per persoon heeft opgebracht, via terugdringing van agressief gedrag en betere onderwijsprestaties. In lageremiddeninkomenslanden kan iedere dollar die wordt geïnvesteerd in moeder- en kindzorg $11 aan voordelen opleveren.
Maar we moeten dergelijke investeringen niet alleen nastreven vanwege de cijfers. Als we de toekomst van onze kinderen niet kunnen waarborgen, hoe menselijk zijn we dan?
De commissie van de WHO, UNICEF en de Lancet roept leiders op ieder niveau, van staats- en regeringshoofden tot leiders van de civil society en gemeenschappen, op om kinderen tot speerpunt te maken van hun strategieën voor het verwezenlijken van duurzame ontwikkeling. Hiervoor is een langetermijnvisie nodig, waarbij presidenten en premiers ervoor moeten zorgen dat er voldoende fondsen worden gestuurd naar de noodzakelijke programma's en waarbij de effectieve samenwerking tussen ministeries en departementen wordt ondersteund.
Iedere sector heeft een rol te spelen bij het bouwen van een wereld die geschikt is voor kinderen. Verkeersongelukken zijn bijvoorbeeld de voornaamste doodsoorzaak van kinderen en jonge mensen in de leeftijd van 5 tot 29 jaar, wat een urgente noodzaak inhoudt van interventies om de veiligheid op de weg te verbeteren. Op dezelfde manier – nu 40% van de kinderen in de wereld in informele nederzettingen woont, die worden gekarakteriseerd door overbevolking, slechte toegang tot allerlei diensten, en blootstelling aan gevaren als branden en overstromingen – is hervorming van de volkshuisvesting cruciaal.
Sommige landen onderkennen het belang van het bevorderen van de publieke investeringen in kinderen. In Nieuw-Zeeland, mijn land van herkomst, heeft de regering van premier Jacinda Ardern een welzijnsbegroting geïntroduceerd die mensen – met name de meest kwetsbare, waaronder kinderen – op de eerste plaats zet. Die begroting kent miljarden dollars toe aan geestelijke gezondheidsdiensten, de bestrijding van de kinderarmoede en maatregelen om geweld binnen het gezin tegen te gaan.
Maar Nieuw-Zeeland blijft tegelijkertijd veel te veel koolstofdioxide uitstoten – 183% van het niveau dat nodig is om de doelstelling voor 2030 te behalen en aan de voorwaarden van het klimaatverdrag van Parijs te voldoen, aldus ons rapport. Andere rijke landen – zoals Noorwegen en Zuid-Korea – doen het net zo goed bij het tot wasdom helpen komen van kinderen, terwijl ze veel te veel CO2 blijven uitstoten om te kunnen garanderen dat de kinderen van morgen dat ook nog kunnen. Intussen liggen een paar minder welgestelde landen – zoals Armenië, Costa Rica en Sri Lanka – op koers om hun emissiedoelstellingen voor 2030 te halen, terwijl ze er ook in slagen om te verzekeren dat hun kinderen gezond, goed opgeleid en veilig zijn.
ʻIk wil uw hoop niet,' zei Thunberg tegen de wereldleiders in Davos. ʻIk wil dat u in paniek raakt … en tot handelen overgaat.' Ze heeft gelijk. Als we een duurzame toekomst willen nalaten aan de generatie van Thunberg, en aan de generaties na haar, moeten onze leiders moedig optreden – en onmiddellijk. Dit is waar erfenissen uit bestaan.
Vertaling: Menno Grootveld