La fallida campaña de mentiras del gobierno húngaro
NUEVA YORK – En octubre, el gobierno húngaro envió cuestionarios a los cuatro millones de hogares del país, para pedir la opinión de la gente sobre siete oraciones en las que describía mi presunto plan para inundar Europa, y en particular Hungría, con migrantes y refugiados musulmanes; siete afirmaciones hechas por el gobierno, respecto de lo que denomina "plan Soros". Yo refuté todas y cada una, sobre la base de mis declaraciones públicas, o de la falta de declaraciones públicas que las respalden.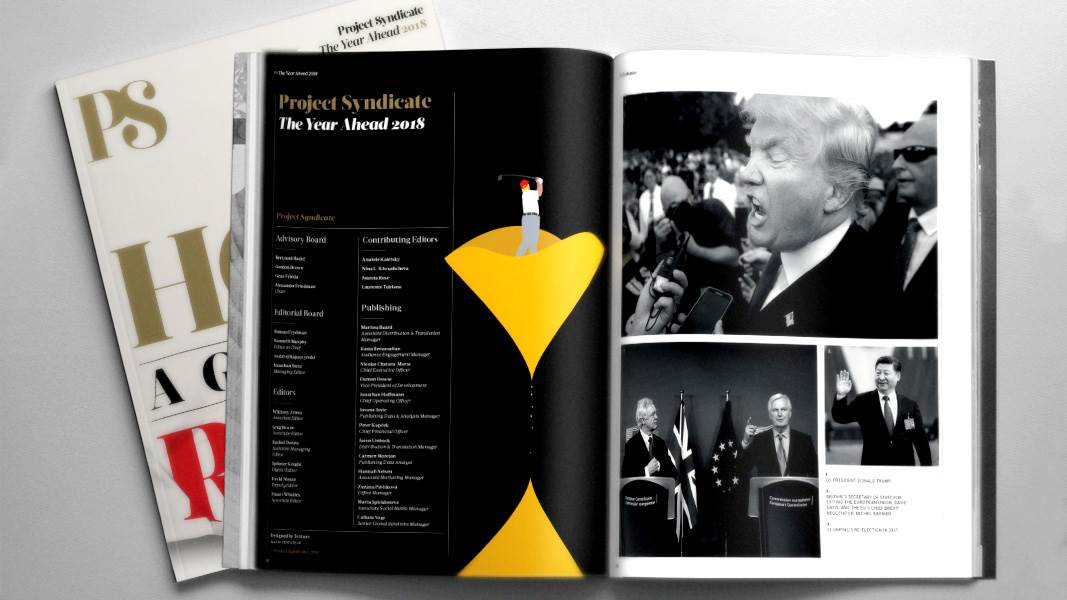 The Year Ahead 2018
The world's leading thinkers and policymakers examine what's come apart in the past year, and anticipate what will define the year ahead.
Ahora, el gobierno publicó los supuestos resultados de la "consulta nacional" respecto del plan que me atribuye, y asegura que la convocatoria fue un éxito sin precedentes. Dejo al pueblo húngaro decidir si la cifra de 2 301 463 participantes (de una población de 9,8 millones) fue inflada, y hasta qué punto. Inspeccionar la lista de los que participaron y verificar si de veras lo hicieron no debe ser imposible. Pero en vez de eso, quiero concentrarme en la sustancia de la campaña.
La consulta nacional y la publicación de los resultados son sólo un elemento más en una masiva campaña de propaganda en curso, financiada por los contribuyentes húngaros, en beneficio de un gobierno profundamente corrupto que busca desviar la atención de su incapacidad para satisfacer las legítimas aspiraciones de los húngaros, particularmente en materia de educación y salud. La campaña empezó a mitad de año, cuando el gobierno empapeló los espacios públicos con afiches en los que aparezco con una gran sonrisa, junto a las palabras "no dejes que Soros se ría último".
Otros afiches me retrataban como un titiritero manejando a políticos opositores. Como muchos han señalado, toda la campaña desprende un inconfundible tufillo antisemita.
El gobierno quiere hacer creer que soy un enemigo del pueblo húngaro. Nada más lejos de la verdad. Abrí mi primera fundación de beneficencia en Hungría, en 1984, cuando el país todavía estaba bajo dominio soviético. Desde entonces, la fundación proveyó más de 400 millones de dólares para ayudar al país donde nací.
En los noventa, cuando el ciudadano húngaro de a pie luchaba con la transición del comunismo a una economía de mercado, la fundación financió la entrega gratuita de leche para las escuelas primarias de Budapest y proveyó los primeros aparatos de diagnóstico por ultrasonido a hospitales húngaros. Más de 3200 húngaros han recibido becas de estudio de la fundación. Muchos de ellos se graduaron en la Universidad Centroeuropea (CEU), que fundé en Budapest a principios de los noventa, y que hoy está entre las cien mejores universidades del mundo en ciencias sociales, un logro destacable para una institución académica tan nueva.
Otro elemento de la campaña de propaganda fue atribuirle a la expresión "sociedad abierta" un significado distinto al que le doy, y que me veo obligado a aclarar. Cuando digo "sociedad abierta", no me refiero a abrir las fronteras a la migración masiva para que destruya la presunta identidad cristiana de Hungría, como me adjudica el gobierno.
Una sociedad abierta es aquella que se basa en la idea de que nadie es dueño de la verdad absoluta, y de que para convivir en paz debemos respetar a las minorías y a las opiniones minoritarias. Es, sobre todo, una sociedad basada en el pensamiento crítico y en un vigoroso debate abierto sobre las políticas públicas. Por eso hoy mi fundación (entre muchas otras entidades, incluida la Unión Europea) da apoyo a grupos como la Unión Húngara por las Libertades Civiles y el Comité Húngaro de Helsinki, que protegen y promueven los valores y principios fundacionales de la UE.
El gobierno también afirma que controlo las instituciones europeas en Bruselas, y que uso ese control para imponer el perverso "plan Soros" a los estados miembros de la UE. Es un absurdo. Las decisiones sobre cómo responder a la crisis migratoria las toman los estados miembros de la UE, incluido el gobierno húngaro. Sugerir lo contrario es un insulto a la inteligencia del pueblo húngaro.
Es verdad que tengo creencias muy firmes respecto de cómo deberían responder Europa y el resto del mundo desarrollado a la crisis de los refugiados, y que las he defendido abierta y decididamente. Esas creencias se originan en mi experiencia personal. En 1947 llegué a Gran Bretaña desde Hungría como refugiado (pero jamás he alentado a otros a imitarme). Mis padres, junto con otros 200 000 húngaros, se fueron del país tras la derrota de la revolución de 1956 y obtuvieron asilo en los Estados Unidos.
La primera vez que publiqué mis ideas sobre la crisis de refugiados fue en septiembre de 2015; desde entonces, las he ido revisando conforme cambiaba la situación en el terreno. En 2015 afirmé que los países desarrollados podían admitir al menos un millón de refugiados al año; más tarde, reduje esa cifra a 500 000, de los que sugerí que Europa podía aceptar 300 000.
El principio que me guía en este tema es que la distribución de refugiados dentro de la UE sea enteramente voluntaria: que no se obligue a los estados miembros a admitir refugiados que no quieren, ni se obligue a los refugiados a radicarse en países donde no son queridos.
Los estados miembros que se nieguen a aceptar refugiados tienen muchas otras formas de hacer una contribución apropiada; pero la crisis de refugiados es un problema europeo, así que necesita una solución europea, no 28 soluciones separadas. Este es el conjunto de propuestas que, distorsionándolo deliberadamente, el gobierno húngaro llama "plan Soros".
Por desgracia, la UE no adoptó mis ideas, y la irrespirable atmósfera política creada por Hungría (y Polonia) dificulta la recepción e integración de refugiados en Europa. Aunque no culpo a los gobiernos húngaro y polaco por negarse a aceptar refugiados que no quieren, sí los considero en gran medida responsables de impedir una solución europea.
Recuerdo lo sucedido en la Segunda Guerra Mundial, cuando otro grupo de personas fue elegido como chivo expiatorio de los problemas de Europa. Las heridas del pasado dejaron profundas cicatrices que todavía no han curado, y que ahora algunos están reabriendo. El verdadero propósito de la campaña de propaganda del gobierno es atizar el miedo y el odio en el pueblo húngaro y volverlo indiferente al sufrimiento ajeno.
Pero me complace informar que la campaña ha sido un rotundo fracaso. Aunque el gobierno húngaro movilizó todos sus recursos, la opinión pública no mordió el anzuelo. Mi breve discurso en la televisión húngara atrajo a más de un millón de espectadores, y las redes sociales se llenaron de expresiones de afecto y apoyo.
Sumamente alentado por esta respuesta, me comprometo a dedicar los años restantes de mi vida a abogar por la libertad de pensamiento y expresión, la libertad académica y la protección de las minorías y de las opiniones minoritarias, no sólo en mi Hungría natal, sino en todo el mundo.
Traducción: Esteban Flamini