Nepodařená lživá kampaň maďarské vlády
NEW YORK – V říjnu rozeslala maďarská vláda všem čtyřem milionům domácností v zemi dotazník, v němž zjišťovala jejich názor na sedm tvrzení popisujících můj údajný plán zaplavit Evropu a zejména Maďarsko muslimskými migranty a uprchlíky. Vláda přišla se sedmi závěry odvozenými z toho, co sama označuje za "Sorosův plán". Já jsem ovšem všechny do jednoho vyvrátil na základě svých publikovaných statí či naopak absence jakýchkoliv publikovaných statí, které by je mohly opodstatnit.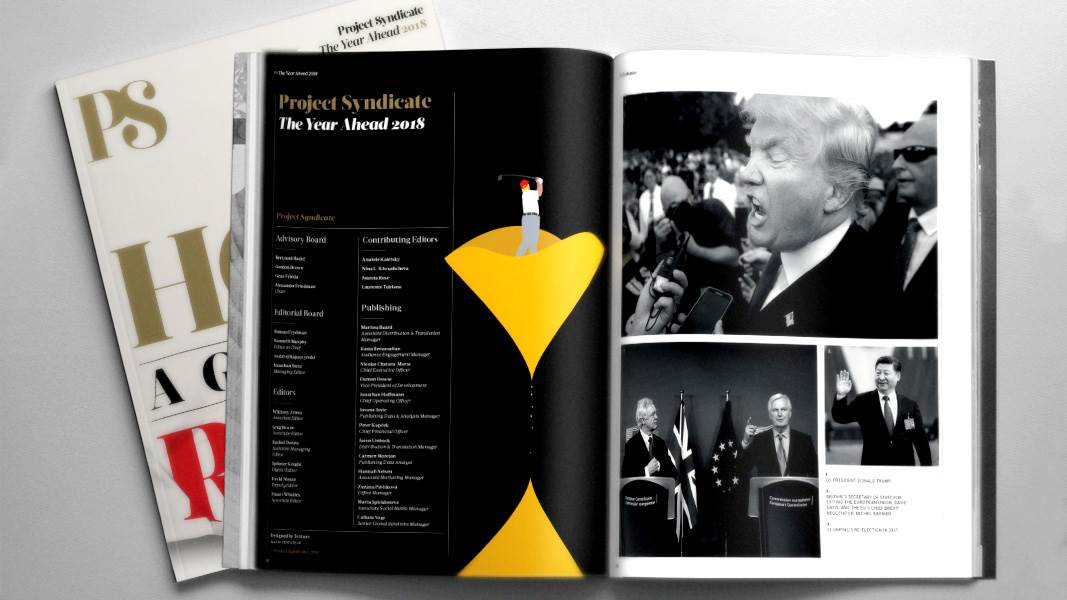 The Year Ahead 2018
The world's leading thinkers and policymakers examine what's come apart in the past year, and anticipate what will define the year ahead.
Nyní vláda zveřejnila údajné výsledky této "celonárodní konzultace" o mém smyšleném plánu a tvrdí, že celá akce skončila nevídaným úspěchem. Ponechávám na maďarské veřejnosti, aby sama rozhodla, zda a do jaké míry je počet 2 301 463 účastníků (při 9,8 milionu obyvatel) nadnesený. Bylo by možné projít seznamy osob, které dotazník odevzdaly, a zkontrolovat, zda se skutečně plebiscitu zúčastnily. Já se však chci zaměřit na podstatu této kampaně.
Národní konzultace a zveřejnění výsledků jsou jen nejnovějšími prvky v masivní probíhající propagandistické kampani financované maďarskými daňovými poplatníky ve prospěch hluboce zkorumpované vlády, která se snaží odvést pozornost od vlastní neschopnosti naplnit legitimní touhy Maďarů, zejména v oblasti školství a zdravotnictví. Kampaň započala v létě zaplavením veřejných prostor plakáty s detailem mého šklebícího se obličeje a se slovy "Nedopusťte, aby se Soros smál naposled".
Další plakáty mě vykreslovaly jako loutkáře opozičních politiků. Mnozí lidé přitom poukazují na to, že celá kampaň nezaměnitelně zavání antisemitismem.
Vláda by vám chtěla vsugerovat, že jsem nepřítelem maďarského lidu. Nic nemůže být vzdálenější pravdě. Svou filantropickou nadaci jsem nejprve založil v Maďarsku v roce 1984, kdy byla země stále pod nadvládou Sovětského svazu. Od té doby věnovala nadace více než 400 milionů dolarů na posílení a podporu mé rodné země.
Když se obyčejní Maďaři v 90. letech potýkali s přechodem od komunismu k tržní ekonomice, financovala nadace mléko zdarma pro žáky základních škol v Budapešti a dodala do maďarských nemocnic první sonografy. Více než 3200 Maďarů získalo od nadace vysokoškolské stipendium. Mnozí z nich dokončili postgraduální studium na Středoevropské univerzitě (CEU), kterou jsem počátkem 90. let založil v Budapešti. CEU se dnes řadí mezi sto nejlepších světových univerzit v oblasti společenských věd – to je na akademického nováčka pozoruhodný úspěch.
Dalším prvkem propagandistické kampaně je překroucení významu termínu "otevřená společnost". Dovolte mi tedy malé vyjasnění, co mám na mysli, když tento výraz používám. Nemyslím tím otevřené hranice a masovou migraci s cílem zničit údajně křesťanskou identitu Maďarska, jak tvrdí vláda.
Otevřená společnost stojí na myšlence, že nikdo nedisponuje konečnou pravdou a že chceme-li žít společně v míru, musíme respektovat menšiny a menšinové názory. A především je to společnost založená na kritickém myšlení a živé veřejné debatě o veřejných politikách. Proto dnes moje nadace – spolu s mnoha dalšími organizacemi včetně Evropské unie – podporuje skupiny, jako jsou Maďarská unie za občanská práva nebo Maďarský Helsinský výbor, které chrání a prosazují hodnoty a principy, na nichž byla EU založena.
Vláda také tvrdí, že mám pod kontrolou evropské instituce v Bruselu a že této kontroly využívám k vnucování hanebného "Sorosova plánu" členským státům EU. To je nesmysl. Rozhodnutí o otázce, jak řešit migrační krizi, dělají přímo členské státy EU včetně maďarské vlády. Naznačovat něco jiného znamená urážet inteligenci maďarského lidu.
Nicméně mám opravdu hluboký názor na to, jak by Evropa a zbytek rozvinutého světa měli reagovat na uprchlickou krizi, a tento názor hlasitě prosazuji. Moje přesvědčení se zrodilo z osobní zkušenosti. V roce 1947 jsem jako uprchlík přicestoval z Maďarska do Velké Británie. Nikdy jsem nepodněcoval další lidi, aby se rovněž stali uprchlíky. Moji rodiče spolu s dalšími 200 000 Maďary odešli ze země po porážce revoluce v roce 1956 a získali azyl ve Spojených státech.
Své názory na uprchlickou krizi jsem poprvé publikoval v září 2015 a postupem času jsem je revidoval, neboť se měnila situace. V roce 2015 jsem tvrdil, že rozvinutý svět by měl být schopen přijmout nejméně milion uprchlíků ročně; později jsem toto celosvětové číslo snížil na 500 000, přičemž jsem naznačoval, že Evropa by mohla přijmout 300 000 uprchlíků.
Mou hlavní zásadou přitom je, že alokace uprchlíků uvnitř EU by měla být veskrze dobrovolná. Členské státy by neměly být nuceny přijímat uprchlíky, které nechtějí, a uprchlíci by neměli být nuceni usazovat se v zemích, kde nejsou žádoucí.
Členské státy, jež odmítají uprchlíky přijmout, mohou k vyřešení krize adekvátně přispět mnoha jinými způsoby, avšak uprchlická krize je evropský problém, a proto potřebuje evropské řešení, nikoliv 28 samostatných řešení. Právě tento soubor politických doporučení maďarská vláda záměrně překroutila a dala mu nálepku "Sorosův plán".
EU bohužel mé myšlenky nepřevzala a toxická politická atmosféra, kterou vytvořilo Maďarsko (s Polskem), snížila schopnost Evropy přijímat a integrovat uprchlíky. Nevyčítám maďarské a polské vládě, že odmítají přijímat uprchlíky, které nechtějí, ale do značné míry je volám k zodpovědnosti za to, že blokují evropské řešení.
Vzpomínám si, co se stalo během druhé světové války, kdy se obětním beránkem evropských problémů stala jiná skupina lidí. Rány z minulosti v nás zanechaly hluboké jizvy, které se stále nezacelily a dnes se otevírají znovu. Pravým účelem vládní propagandistické kampaně je přiživovat v Maďarech strach a nenávist a vyvolávat v nich lhostejnost k utrpení druhých.
S potěšením proto mohu oznámit, že tato vládní propagandistická kampaň skončila žalostným neúspěchem. Navzdory koordinovanému úsilí maďarského kabinetu se veřejnost nenechala do této hry vtáhnout. Můj krátký projev v maďarské televizi sledoval více než milion lidí a sociální sítě byly zaplaveny projevy sympatií a podpory.
Tato reakce mě nesmírně povzbudila. Slibuji, že zbývající roky svého života zasvětím podpoře svobodného myšlení a vyjadřování, akademickým svobodám a ochraně menšin a menšinových názorů – nejen v rodném Maďarsku, ale po celém světě.
Z angličtiny přeložil Jiří Kobělka.