La fallita campagna diffamatoria del governo ungherese
NEW YORK – Nel mese di ottobre, il governo ungherese ha inviato questionari ai quattro milioni di famiglie del paese chiedendo l'opinione dei cittadini in merito a sette punti che descriverebbero il mio presunto piano di inondare l'Europa, e in particolare l'Ungheria, di migranti musulmani e rifugiati. Il governo ha formulato sette affermazioni riguardanti quello che definisce il "Piano Soros", che ho confutato una per una basandomi su mie dichiarazioni già pubblicate o sull'assenza di mie dichiarazioni atte a sostanziarle.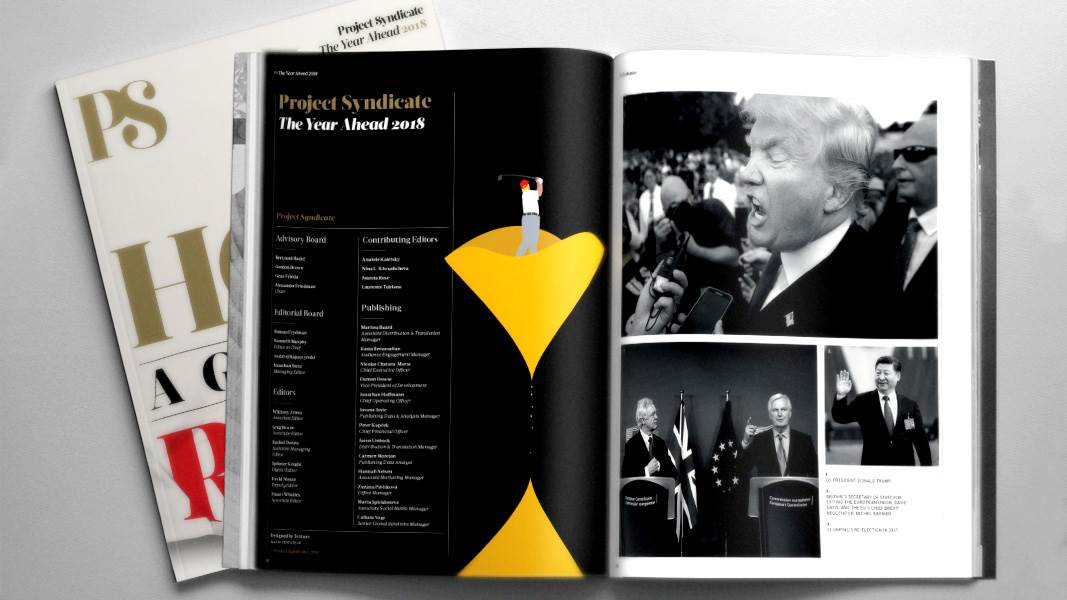 The Year Ahead 2018
The world's leading thinkers and policymakers examine what's come apart in the past year, and anticipate what will define the year ahead.
Il governo ha reso noti i presunti risultati della sua "consultazione nazionale" sul mio fantomatico piano, sostenendo che l'operazione è stata un successo senza precedenti. Lascio al popolo ungherese decidere se, e fino a che punto, la cifra di 2.301.463 partecipanti (su una popolazione di 9,8 milioni) sia stata gonfiata. Dovrebbe essere possibile controllare l'elenco di coloro che hanno partecipato e verificare se lo abbiano effettivamente fatto. Io, però, preferisco soffermarmi sui contenuti della campagna.
La consultazione nazionale e la pubblicazione dei risultati sono gli ultimi elementi di una massiccia campagna di propaganda finanziata dai contribuenti ungheresi a beneficio di un governo profondamente corrotto, che cerca di distogliere l'attenzione dalla sua incapacità di soddisfare le legittime aspirazioni degli ungheresi, in particolare riguardo all'istruzione e alla sanità. La campagna ha avuto inizio quest'estate con l'invasione di spazi pubblici da parte di poster che mostrano la mia faccia sghignazzante in primo piano con accanto scritto "Non lasciategli l'ultima risata".
In altri manifesti appaio come un burattinaio che manovra i politici dell'opposizione. Come molti hanno sottolineato, l'intera campagna è circondata da un inequivocabile alone di antisemitismo.
Il governo vorrebbe farvi credere che io sia un nemico del popolo ungherese. Niente potrebbe essere più lontano dalla verità. È stato in Ungheria che nel 1984, quando il paese era ancora sotto il dominio dell'Unione Sovietica, ho creato la mia fondazione filantropica. Da allora, essa ha messo a disposizione più di 400 milioni di dollari per sostenere il mio paese natale.
Negli anni novanta, mentre i cittadini ungheresi facevano i conti con il passaggio dal comunismo all'economia di mercato, la fondazione finanziava la distribuzione gratuita di latte ai bambini delle scuole elementari di Budapest, e forniva i primi ecografi agli ospedali ungheresi. Più di 3.200 ungheresi hanno ricevuto borse di studio dalla fondazione. Molti di essi si sono laureati all'Università dell'Europa centrale (CEU), che ho fondato a Budapest all'inizio degli anni novanta. Oggi la CEU è tra le prime cento università del mondo per le scienze sociali – un risultato non da poco per un novizio del mondo accademico.
Un altro elemento su cui ha fatto leva la campagna governativa è stato la distorsione del concetto di "società aperta". Vorrei, pertanto, chiarire cosa intendo quando utilizzo questa espressione. Di certo non voglio dire, come sostiene il governo, frontiere aperte e migrazioni di massa volte a distruggere la presunta identità cristiana dell'Ungheria.
La società aperta si basa sull'idea che nessuno possiede la verità assoluta e che per vivere insieme nella pace dobbiamo rispettare le minoranze e le loro opinioni. Essa poggia sul pensiero critico e si alimenta di un dibattito vivace sulle politiche pubbliche. Questo è il motivo per cui oggi la mia fondazione – tra molte altre istituzioni, compresa l'Unione europea – sostiene gruppi come l'Unione ungherese per le libertà civili e il Comitato di Helsinki ungherese, che proteggono e promuovono i valori e i principi su cui si fonda l'Ue.
Il governo ungherese sostiene, inoltre, che controllo le istituzioni europee a Bruxelles, e che sto usando tale controllo per imporre il nefasto "Piano Soros" agli stati membri europei. Una sciocchezza bella e buona. Le decisioni su come affrontare la crisi dei migranti vengono prese dagli stati membri dell'Unione, compreso il governo dell'Ungheria. Suggerire il contrario è un insulto all'intelligenza del popolo ungherese.
Riguardo a come l'Europa e il resto del mondo sviluppato dovrebbero rispondere alla crisi dei rifugiati ho le mie convinzioni, che sono frutto della mia esperienza personale. Nel 1947 sono arrivato in Gran Bretagna dall'Ungheria come rifugiato, ma non ho mai incoraggiato altre persone a seguire quella strada. I miei genitori, insieme a duecentomila altri ungheresi, abbandonarono il paese dopo il fallimento della rivoluzione del 1956, poi ottennero asilo negli Stati Uniti.
Ho pubblicato per la prima volta le mie idee sulla crisi dei rifugiati nel settembre del 2015, e nel tempo le ho modificate poiché la realtà dei fatti è cambiata. Nel 2015 sostenevo che il mondo sviluppato avrebbe dovuto accogliere almeno un milione di rifugiati l'anno; successivamente, ho ridotto tale cifra globale a 500.000, suggerendo che la quota spettante all'Europa fosse pari a 300.000.
Il principio che mi ha ispirato è il fatto che l'assegnazione dei rifugiati all'interno dell'Ue debba essere interamente volontaria. Gli stati membri non dovrebbero essere costretti ad accogliere rifugiati che non vogliono, e i rifugiati non dovrebbero essere costretti a stabilirsi in paesi in cui non sono benvoluti.
Gli Stati membri che rifiutano di accogliere i rifugiati possono dare un contributo altrettanto importante in vari altri modi, ma la crisi dei rifugiati è un problema europeo, quindi richiede una soluzione europea, non 28 soluzioni diverse. È questo insieme di raccomandazioni politiche che il governo ungherese ha volutamente travisato ed etichettato come "Piano Soros".
Purtroppo, l'Ue non ha adottato le mie idee, e la malsana atmosfera politica alimentata dall'Ungheria (ma anche dalla Polonia) ha ridotto la capacità dell'Europa di accogliere e integrare i rifugiati. Non biasimo i governi ungherese e polacco per aver rifiutato di accogliere dei rifugiati che non vogliono, ma li ritengo ampiamente responsabili di aver ostacolato il raggiungimento di una soluzione europea.
Ricordo ciò che accadde durante la Seconda guerra mondiale, quando un altro gruppo divenne il capro espiatorio dei problemi dell'Europa. Le ferite del passato hanno lasciato profonde cicatrici che non si sono ancora rimarginate e che oggi vengono riaperte. Il vero scopo della campagna del governo è quello di alimentare la paura e l'odio nel popolo ungherese e renderlo indifferente alla sofferenza altrui.
Sono lieto di poter dire che questo obiettivo è miseramente fallito. Malgrado gli sforzi fatti, la gente non si è fatta imbrogliare. Il mio breve intervento alla televisione ungherese ha avuto più di un milione di telespettatori, e i social media sono stati inondati da manifestazioni di solidarietà e supporto.
Tale risposta mi ha profondamente rincuorato e da parte mia m'impegnerò a dedicare gli anni che mi restano da vivere a difendere la libertà di pensiero e di espressione, nonché quella accademica, e a proteggere le minoranze, non solo nella mia nativa Ungheria, ma in tutto il mondo.
Traduzione di Federica Frasca