Die gescheiterte Lügenkampagne der ungarischen Regierung
NEW YORK – Im Oktober hat die ungarische Regierung einen Fragebogen an alle vier Millionen Haushalte des Landes verschickt und die Bürger um ihre Meinung zu sieben Aussagen gebeten, die meinen vermeintlichen Plan beschreiben, Europa ‒ und insbesondere Ungarn ‒ mit muslimischen Migranten und Flüchtlingen zu "überschwemmen". Die Regierung hat sieben Behauptungen zu einem sogenannten "Soros-Plan" aufgestellt. Ich habe jede einzelne widerlegt, indem ich auf Äußerungen meinerseits verweise, die veröffentlicht worden sind, oder auf den Umstand, dass ich keine Äußerungen abgegeben habe, die diese Behauptungen untermauern könnten.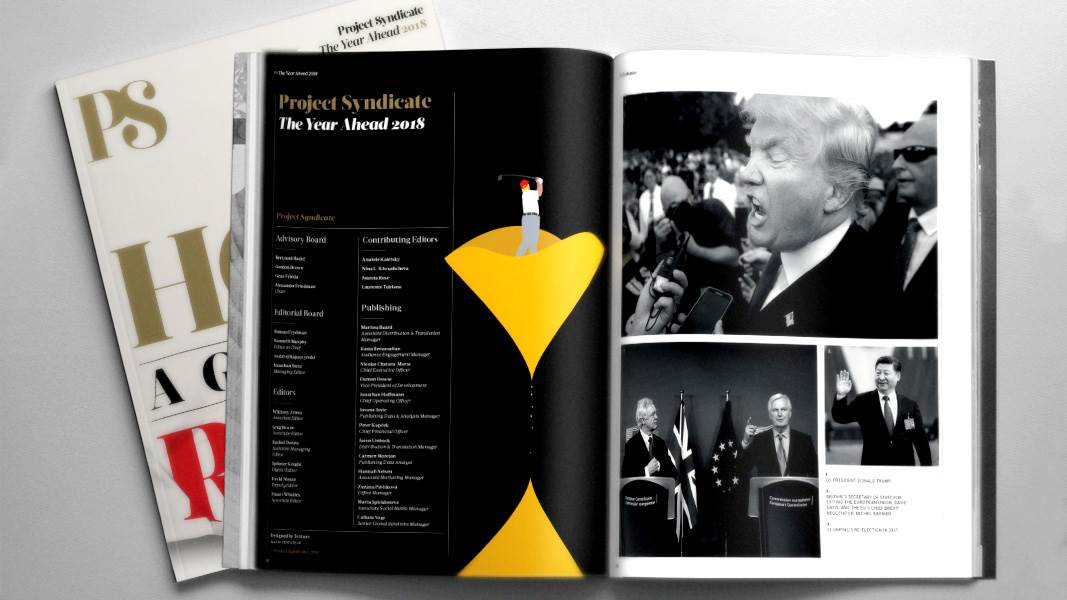 The Year Ahead 2018
The world's leading thinkers and policymakers examine what's come apart in the past year, and anticipate what will define the year ahead.
Jetzt hat die Regierung die angeblichen Ergebnisse ihrer "nationalen Konsultation" zu meinem Phantom-Plan veröffentlicht und behauptet, die Aktion sei ein beispielloser Erfolg gewesen. Ich überlasse es der ungarischen Öffentlichkeit zu entscheiden, ob und inwieweit die Teilnehmerzahl in Höhe von 2.301.463 Personen (bei insgesamt 9,8 Millionen Einwohnern) überhöht ist. Es sollte möglich sein, die Teilnehmerliste einzusehen und zu überprüfen, ob sie tatsächlich teilgenommen haben. Ich möchte mich stattdessen auf den Wahrheitsgehalt der Kampagne konzentrieren.
Die nationale Konsultation und die Veröffentlichung der Ergebnisse sind die jüngsten Elemente einer massiven, anhaltenden Propagandakampagne, die von ungarischen Steuerzahlern finanziert wird und einer zutiefst korrupten Regierung zugutekommt, die bestrebt ist, die Aufmerksamkeit von ihrem Versagen abzulenken, die berechtigten Erwartungen der ungarischen Bürger insbesondere an das Bildungs- und Gesundheitswesen zu erfüllen. Die Kampagne hat im Sommer begonnen, als öffentliche Plätze mit Plakaten meines grinsenden Gesichts in Großaufnahme gepflastert wurden, versehen mit der Bildunterschrift "Lassen wir nicht zu, dass Soros zuletzt lacht".
Andere Plakate zeigen mich als Puppenspieler, der Oppositionspolitiker tanzen lässt. Es wurde mehrfach darauf hingewiesen, dass die gesamte Kampagne einen unverkennbar antisemitischen Beigeschmack hat.
Die Regierung möchte den Menschen weismachen, ich sei ein Feind des ungarischen Volkes. Nichts könnte der Wahrheit ferner sein. Meine erste Stiftung habe ich 1984 in Ungarn gegründet, in einer Zeit als sich das Land noch unter sowjetischer Vorherrschaft befand. Seitdem hat die Stiftung über 400 Millionen Dollar bereitgestellt, um mein Heimatland zu stärken und zu unterstützen.
In den 1990er-Jahren, als die ungarische Bevölkerung mit dem Übergang vom Kommunismus zur Marktwirtschaft zu kämpfen hatte, hat die Stiftung Grundschulkinder in Budapest mit kostenloser Milch versorgt und die ersten Ultraschallgeräte an ungarische Krankenhäuser geliefert. Über 3.200 Ungarinnen und Ungarn haben von der Stiftung Bildungsstipendien erhalten. Viele von ihnen haben ein postgraduales Studium an der Central European University (CEU) absolviert, die ich Anfang der 1990er-Jahre in Budapest gegründet habe. Die CEU zählt heute zu den internationalen 100 Top-Universitäten im Bereich Sozialwissenschaften – eine bemerkenswerte Leistung für einen Newcomer in der Bildungslandschaft.
Ein weiteres Element der Propagandakampagne ist die Verdrehung der Bedeutung einer "offenen Gesellschaft". Lassen Sie mich verdeutlichen, was ich meine, wenn ich diesen Begriff verwende. Entgegen der Behauptungen der Regierung, meine ich damit nicht offene Grenzen und Massenmigration, um die "christliche Identität" Ungarns zu zerstören.
Die offene Gesellschaft beruht auf dem Gedanken, dass niemand ein Monopol auf die Wahrheit besitzt, und wir Minderheiten und die Ansichten, die sie vertreten, respektieren müssen, um miteinander in Frieden leben zu können. In erster Linie ist es eine Gesellschaft, die auf kritischem Denken und einer lebhaften öffentlichen Debatte über die öffentliche Politik basiert. Aus diesem Grund unterstützt meine Stiftung – als einer von vielen Akteuren, unter anderem der Europäischen Union – Gruppen wie etwa die ungarische Bürgerrechtsvereinigung Hungarian Civil Liberties Union und das ungarische Helsinki-Komitee, die die Werte und Grundsätze schützen und fördern, auf denen die EU beruht.
Die Regierung behauptet weiterhin, dass ich die europäischen Institutionen in Brüssel kontrolliere und diesen Einfluss nutze, um den EU-Mitgliedsstaaten den schändlichen "Soros-Plan" aufzuzwingen. Das ist Unsinn. Entscheidungen über den Umgang mit der Migrationskrise werden von den Mitgliedsländern der EU, einschließlich der ungarischen Regierung, getroffen. Es ist eine Beleidigung der Intelligenz der ungarischen Bevölkerung etwas anderes zu behaupten.
Ich habe tiefe Überzeugungen, wie Europa und die übrige entwickelte Welt auf die Flüchtlingskrise reagieren sollten, und ich bin ein engagierter Verfechter dieser Standpunkte. Meine Überzeugungen sind aus persönlichen Erfahrungen entstanden. Ich bin 1947 als Flüchtling aus Ungarn in Großbritannien angekommen. Ich habe andere nie zur Flucht ermutigt. Meine Eltern haben das Land zusammen mit 200.000 Ungarn nach der Niederschlagung des Volksaufstandes 1956 verlassen und Zuflucht in den Vereinigten Staaten gefunden.
Ich habe meine Gedanken zur Flüchtlingskrise erstmals im September 2015 veröffentlicht und im Lauf der Zeit überarbeitet, da sich die tatsächlichen Gegebenheiten verändert haben. 2015 habe ich geltend gemacht, dass die entwickelte Welt in der Lage sein sollte, mindestens eine Million Flüchtlinge jährlich aufzunehmen; später habe ich diese globale Zahl auf 500.000 verringert und vorgeschlagen, dass Europa 300.000 von diesen Menschen aufnehmen könnte.
Mein Grundprinzip ist eine Verteilung von Flüchtlingen innerhalb der EU auf freiwilliger Basis. Die Mitgliedstaaten sollten nicht gezwungen werden, Flüchtlinge aufzunehmen, die sie nicht wollen und Flüchtlinge sollten nicht gezwungen werden, sich in Ländern niederzulassen, wo sie nicht erwünscht sind.
Es gibt viele Wege, wie Mitgliedsstaaten, die sich weigern Flüchtlinge aufzunehmen, einen angemessenen Beitrag leisten können. Aber die Flüchtlingskrise ist ein europäisches Problem und braucht demzufolge eine europäische Lösung und nicht 28 verschiedene. Diese Reihe politischer Empfehlungen ist von der ungarischen Regierung bewusst verzerrt und als "Soros-Plan" bezeichnet worden.
Bedauerlicherweise hat die EU meine Ideen nicht aufgegriffen, und die von Ungarn (und Polen) vergiftete politische Atmosphäre hat Europas Kapazitäten für die Aufnahme und Integration von Flüchtlingen verringert. Ich mache der ungarischen und der polnischen Regierung keinen Vorwurf, weil sie sich weigern Flüchtlinge aufzunehmen, die sie nicht wollen; aber ich mache sie in hohem Maße dafür verantwortlich, eine europäische Lösung zu behindern.
Ich erinnere mich, was geschehen ist als im Zweiten Weltkrieg eine andere Gruppe zum Sündenbock für Europas Probleme gemacht wurde. Die Wunden der Vergangenheit haben tiefe Narben hinterlassen, die noch nicht verheilt sind und heute wieder aufgerissen werden. Das eigentliche Ziel der Propagandakampagne der Regierung ist es, Angst und Hass in der ungarischen Bevölkerung zu schüren und sie dem Leiden anderer gegenüber gleichgültig werden zu lassen.
Es freut mich sagen zu können, dass die Propagandakampagne der Regierung ein kläglicher Misserfolg war. Trotz der konzertierten Bemühungen der ungarischen Regierung hat sich die Öffentlichkeit nicht täuschen lassen. Meine kurze Rede im ungarischen Fernsehen ist von über einer Million Zuschauer verfolgt worden und in den sozialen Netzwerken habe ich eine Welle an Unterstützung und Sympathie erfahren.
Ich empfinde diese Reaktionen als außerordentlich ermutigend. Ich verspreche, die mir noch verbleibenden Jahre dafür zu nutzen, mich für Gedankenfreiheit und freie Meinungsäußerung, für akademische Freiheit und für den Schutz von Minderheiten und der Ansichten, die sie sie vertreten, einzusetzen – nicht nur in meiner Heimat Ungarn, sondern auf der ganzen Welt.
Aus dem Englischen von Sandra Pontow.