Провальная кампания лжи правительства Венгрии
НЬЮ-ЙОРК – В октябре правительство Венгрии направило по почте всем четырём миллионам домохозяйствам страны анкеты с целью выяснить мнение граждан о моём мнимом плане наводить Европу (и, в частности, Венгрию) мусульманскими мигрантами и беженцами. Правительство само сформулировало этот так называемый «План Сороса» в виде семи утверждений. Все и каждое из этих утверждений я опроверг, ссылаясь на собственные публичные заявления или, наоборот, на отсутствие каких-либо публичных заявлений, которые могли бы подтвердить данные инсинуации.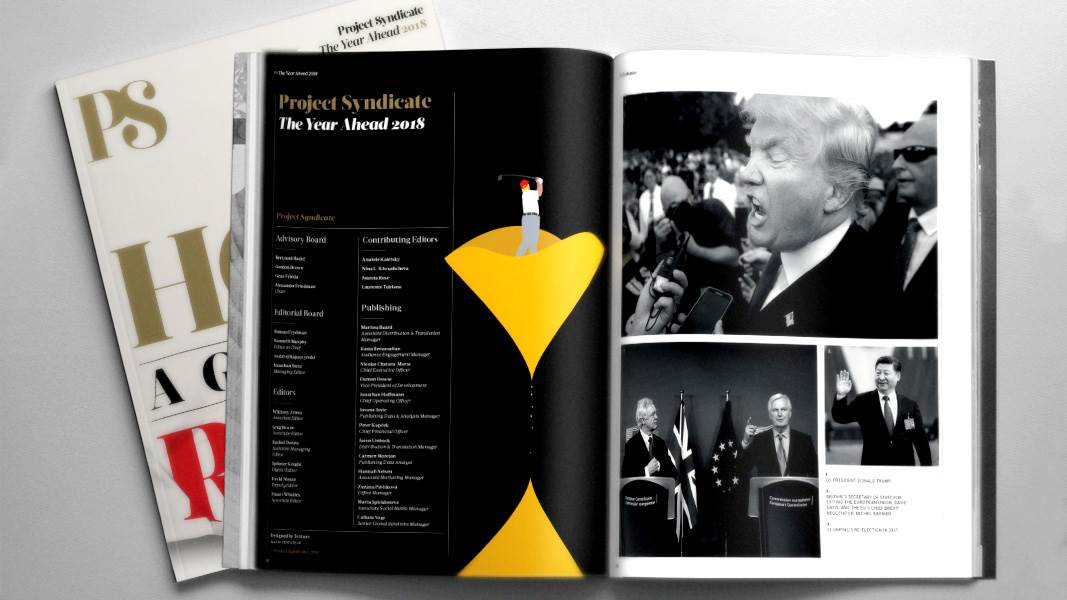 The Year Ahead 2018
The world's leading thinkers and policymakers examine what's come apart in the past year, and anticipate what will define the year ahead.
Сейчас правительство опубликовало некие результаты этих «общенародных консультаций» по поводу моего фантомного плана, объявив их беспрецедентным успехом. Венгерское общество само должно решить, действительно ли и до какой степени опубликованные цифры – 2 301 463 участников опроса (при численности населения в 9,8 млн человек) – является раздутыми. Должна быть возможность проверить списки участников и выяснить, действительно ли они приняли участие в этом опросе. Но вместо этого, я бы хотел сосредоточиться на сути данной кампании.
Общенародные консультации и публикация их результатов стали новейшим элементом развёрнутой властями Венгрии масштабной пропагандистской кампании, которая финансируется за счёт венгерских налогоплательщиков. Она выгодна этому совершенно коррупционному правительству, которое пытается отвлечь внимание от своей неспособности удовлетворить законные чаяния венгров, особенно в сфере образования и здравоохранения. Кампания началась этим летом, когда публичное пространство заполнили плакаты с крупным изображением моего ухмыляющегося лица и надписью: «Не позволим Соросу смеяться последним».
На других плакатах меня изображали в виде кукловода оппозиционных политиков. Многие обратили внимание на то, что вся эта кампания имеет несомненный привкус антисемитизма.
Правительство хочет заставить всех поверить в то, что я являюсь врагом венгерского народа. Ничто не может более далёким от правды. Я открыл свой первый благотворительный фонд в Венгрии в 1984 году, когда страна ещё находилась под контролем СССР. С тех пор фонд предоставил более $400 млн на укрепление и поддержку страны, в которой я родился.
В 1990-х годах, когда рядовые венгры столкнулись с трудностями при переходе от коммунизма к рыночной экономике, фонд финансировал поставки бесплатного молока детям начальных школ в Будапеште, а также привёз первые аппараты УЗИ в венгерские больницы. Более 3200 венгров получали учебные стипендии фонда. Многие из них завершили обучение и занимались научными исследованиями в Центрально-Европейском университете (ЦЕУ), который я основал в Будапеште в начале 1990-х. ЦЕУ сейчас входит в число 100 лучших университетов мира в категории «общественные науки» – и это впечатляющее достижения для новичка в мире образования.
Другим элементом пропагандистской кампании стало искажение значения термина «открытое общество». Позвольте мне разъяснить, что я имею в виду, когда использую этот термин. Я не имею в виду открытые границы или массовую миграцию, которая должна разрушить предполагаемую христианскую идентичность Венгрии, как утверждает правительство.
Открытое общество основано на идее, что никто не обладает истиной в последней инстанции. Для того чтобы мирно жить всем вместе, мы должны уважать меньшинства и мнение меньшинства. Однако в первую очередь, открытое общество – это общество, которое опирается на критическое мышление и активные общественные дебаты по вопросам государственной политики. Именно поэтому сегодня мой фонд (как и многие другие организации, включая Евросоюз) поддерживает такие группы, как Венгерский союз гражданских свобод и Венгерский Хельсинкский комитет, защищающие и продвигающие ценности и принципы, на которых был основан ЕС.
Правительство также утверждает, будто я контролирую европейские учреждения в Брюсселе и использую этот контроль, чтобы навязать гнусный «План Сороса» странам ЕС. Это бред. Решения о том, как справляться с миграционным кризисом, принимают страны ЕС, в том числе правительство Венгрии. Выдумывать иное – значит оскорблять интеллектуальные способности венгерского народа.
У меня есть твёрдые убеждения по поводу того, как именно Европа и остальные страны развитого мира должны реагировать на кризис беженцев, и я активно отстаиваю эти убеждения. Они рождены моим личным опытом. В 1947 году я приехал в Британию из Венгрии как беженец. И я бы никогда не посоветовал другим становиться беженцами. Мои родители – вместе с ещё 200 тысячами венгров – покинули страну после разгрома революции 1956 года, они получили убежище в США.
Впервые я опубликовал свои идеи по поводу кризиса беженцев в сентябре 2015 года; со временем я их пересмотрел, потому что реальные факты изменились. В 2015 году я писал, что страны развитого мира должны иметь возможность принимать, как минимум, миллион беженцев в год; позднее я снизил эту глобальную цифру до 500 тысяч, из которых, по моему мнению, Европа может принимать 300 тысяч.
Мой главный принцип заключается в том, что размещение беженцев внутри ЕС должно происходить исключительно добровольно. Страны ЕС нельзя заставлять принимать нежелательных для них беженцев, а беженцев нельзя заставлять селиться в тех странах, в которых они не хотят жить.
Страны ЕС, которые отказываются принимать беженцев, могут внести необходимый вклад множеством других способов. Тем не менее, кризис беженцев – это общеевропейская проблема, поэтому она нуждается в общеевропейском решении, а не в 28 индивидуальных решениях. Таков набор моих политических рекомендаций, которые венгерское правительство сознательно исказило и окрестило «Планом Сороса».
К сожалению, ЕС не принял мои идеи, а ядовитая политическая атмосфера, созданная Венгрией (и Польшей), уменьшила возможности Европы по приёму и интеграции беженцев. Я не виню венгерское и польское правительства в том, что они отказываются принимать нежелательных им беженцев; но я считаю, что именно они несут основную ответственность за появление препятствий на пути общеевропейского решения.
Я помню, что произошло во время Второй мировой войны, когда другая группа населения была объявлена виновной в проблемах Европы. Раны этого прошлого оставили глубокие шрамы, они так и не зажили, а сейчас открылись вновь. Истинная цель пропагандистской кампании правительства Венгрии – возбудить страх и ненависть в венгерском народе, заставить его быть безразличным к страданиям других.
Я рад сообщить, что пропагандистская кампания правительства обернулась полным провалом. Несмотря на целенаправленные усилия властей, им не удалось обмануть общество. Моё краткое выступление на венгерском телевидении привлекло внимание более миллиона телезрителей, а платформы социальных сетей заполнились выражениями симпатии и поддержки.
Я очень воодушевлён этой реакцией. Я клянусь посвятить оставшиеся годы моей жизни поддержке свободы мысли и слова, академической свободы, а также защите меньшинств и мнений меньшинства – и не только в моей родной Венгрии, но и во всём мире.