Waarom economen de gezondheidzorg prioriteit geven
PALO ALTO – In een ideale wereld zou iedereen overal de gezondheidszorg moeten kunnen krijgen die men nodig heeft, zonder meer te hoeven betalen dan men zich kan veroorloven. Maar is "gezondheid voor allen" – ook wel bekend als universele gezondheidszorg – echt mogelijk, niet alleen in de rijke landen, maar ook in de armste?
Het korte antwoord luidt: ja. Dat is de reden dat we ons hebben aangesloten bij honderden mede-economen in bijna vijftig landen, die er bij de wereldleiders op aan te dringen dat ze prioriteit geven aan investeringen in universele gezondheidszorg. En door de bredere steun voor deze Economists' Declaration, die is opgesteld door de Rockefeller Foundation en nu al ruim driehonderd handtekeningen telt, zijn de mondiale gezondheidszorg en ontwikkeling op een historisch kruispunt aangeland.
In september heeft de Algemene Vergadering van de Verenigde Naties een nieuwe serie van vijftienjarige mondiale doelstellingen aanvaard als richtsnoer voor de inspanningen van de wereld om een einde te maken aan de armoede, de welvaart voor iedereen te bevorderen, en in 2030 voor een gezonde planeet te zorgen. Nu de wereldleiders zich erop voorbereiden de meest ambitieuze 'to-do-list' ooit te moeten implementeren – de Duurzame Ontwikkelingsdoelstellingen zullen op 1 januari worden gelanceerd – kan het maken van een keuze voor de plek waar hiermee een begin moet worden gemaakt een ontzagwekkende opgave lijken.
Maar voor economen is het antwoord helder: het volgende hoofdstuk van de ontwikkelingsstrategie moet een hoge prioriteit toekennen aan een betere gezondheidszorg – en daarbij niemand in de steek laten.
Het bereiken van iedereen met essentiële gezondheidszorg van hoge kwaliteit, zonder de dreiging van financiële ruïnering, is – in de allereerste plaats – de juiste doelstelling. Gezondheid en overleving zijn fundamentele waarden voor vrijwel ieder individu. Bovendien kan daarin, anders dan bij andere waardevolle zaken zoals voedsel, niet worden voorzien zonder een weloverwogen sociaal beleid.
Het feit dat "vermijdbare sterfgevallen" algemeen blijven voorkomen in lage- en middeninkomenslanden is een symptoom van kapotte of met te weinig middelen uitgeruste gezondheidszorgsystemen, en niet van een tekort aan medische kennis. Als we de investeringen in de gezondheidszorg nu optrekken, kunnen we in 2030 veel dichter in de buurt komen van een wereld waarin geen ouder een kind hoeft te verliezen – en geen kind een ouder – aan vermijdbare oorzaken.
Subscribe to PS Digital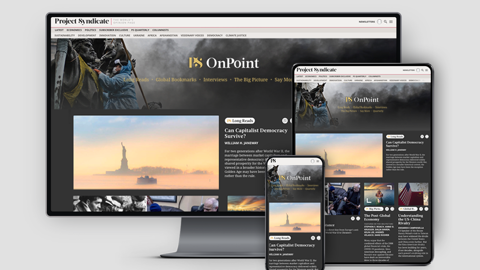 Subscribe to PS Digital
Access every new PS commentary, our entire On Point suite of subscriber-exclusive content – including Longer Reads, Insider Interviews, Big Picture/Big Question, and Say More – and the full PS archive.
Universele gezondheidszorg is ook verstandig. Als mensen gezond zijn en financieel stabiel, zijn economieën sterker en welvarender. En omdat de voordelen tienmaal zo groot zijn als de initiële kosten, kunnen investeringen in goede gezondheidszorg uiteindelijk ook de rest van de mondiale ontwikkelingsagenda bekostigen.
Dus de vraag is niet of universele gezondheidszorg waardevol is, maar hoe we die kunnen verwezenlijken. Ruim honderd landen hebben stappen gezet op dit pad; al doende hebben zij belangrijke kansen en strategieën geopenbaard om de vooruitgang te versnellen naar het doel van een goede gezondheidszorg voor iedereen. In het bijzonder geloven we dat drie componenten – technologie, prikkels en investeringen in zaken die schijnbaar niets met gezondheid te maken hebben – de potentie hebben om de universele gezondheidszorg dramatisch te verbeteren.
In de eerste plaats is de technologie in rap tempo een 'game changer' aan het worden, vooral in de ontwikkelingslanden, waar de kloof op het gebied van de toegang tot gezondheidszorg het grootst is. In Kenia, dat via "m-PESA" al wereldleider is als het gaat om mobiel geld, stelt een nieuwe ontwikkeling op het terrein van de tele-geneeskunde patiënten en gezondheidswerkers op het platteland in staat via teleconferencing-software in contact te treden met het personeel van de belangrijkste Keniase ziekenhuizen – waardoor de kwaliteit van de zorg tegen zeer lage kosten kan worden verbeterd.
De m-PESA Foundation is, in samenwerking met de African Medical Research Foundation, ook begonnen online trainingen te verzorgen voor vrijwilligers in de gezondheidszorg. Deze trainingen worden aangevuld met groepsberichten via sms en WhatsApp om de groepen bijeen te houden en belangrijke updates te delen. Investeringen in technologieën van grote waarde, tegen lage kosten, zullen ons helpen per uitgegeven dollar meer voor elkaar te krijgen.
Het benutten van de kracht van prikkels is een andere manier om de hervormingen in de gezondheidszorg te versnellen. Dit kan en moet worden gedaan zonder de armen te dwingen voor gezondheidszorgdiensten te betalen op het moment van levering. We weten bijvoorbeeld dat als de staat de particuliere sector betaalt op basis van de uitkomsten (bijvoorbeeld het aantal of percentage ingeënte kinderen), zowel de betrouwbaarheid als de resultaten verbeteren. Voucher-programma's voor gezondheidszorg op het gebied van de voortplanting in Oeganda en Kenia bieden nu toegang tot kwaliteitsdiensten uit de particuliere sector.
Tenslotte betekent het bouwen van veerkrachtige gezondheidszorgsystemen – flexibel genoeg om te kunnen buigen, maar niet te breken, als er sprake is van schokken – dat het ook beter gaat met andere publieke goederen die in nauw verband staan met de menselijke gezondheid. Daartoe behoren schoon water en sanitaire voorzieningen, en wegen en infrastructuur die noodzorg en de levering van diensten mogelijk maken. Gezondheidszorgsystemen bestaan niet in een vacuüm, en als we serieus zijn over duurzame ontwikkeling, is het tijd te begrijpen dat investeringen in complementaire systemen "trade-ons" en geen "trade-offs" zijn. We moeten ervoor waken de gezondheidszorg als de enige route naar een betere gezondheid te zien.
Het succes van de ontwikkeling van de wereld hangt af van ons vermogen om de armsten en meest gemarginaliseerde bevolkingsgroepen te bereiken, die wereldwijd de zwaarste lasten van dood en invaliditeit moeten dragen. Een natuurlijke vooruitgang van de status quo zal niet volstaan om dit doel te bereiken. In plaats daarvan moeten we de openbare gezondheidszorgsystemen hun gebruikelijke grenzen laten overstijgen door te investeren in nieuwe technologieën en die te bevorderen, prikkels aan te scherpen, en te erkennen dat gezondheidszorgsystemen niet in een vacuüm kunnen bestaan.
Universele gezondheidszorg is rechtvaardig en verstandig, en heeft al veel te lang op zich laten wachten. Om een wereld te bereiken waarin de gezondheidsproblemen van iedereen kunnen worden behandeld en niemand in vermijdbare armoede gevangen zit, moeten onze leiders deze boodschap ter harte nemen en op basis daarvan stappen ondernemen.
Vertaling: Menno Grootveld