Salvos pela pandemia?
HAY-ON-WYE – A COVID-19 matou mais de 500.000 pessoas em todo o mundo, piorou o estado de saúde de milhões e continua a criar o caos. Mas como diz o ditado – e sem pretender de qualquer forma desvalorizar esta tragédia humana – há males que vêm por bem. Se tomarmos as opções certas durante o afrouxar dos desconfinamentos, a pandemia poderá ter proporcionado à humanidade uma tábua de salvação para lidar com o desafio muito maior das alterações climáticas.
Antes do coronavírus atacar, os activistas como eu tinham quase perdido a esperança de que o mundo cumprisse o objectivo do acordo de Paris sobre o clima, de limitação do aquecimento global a 1.5-2 °C acima dos níveis pré-industriais. Em vez disso, parecia que o mundo aqueceria até 3-4 °C.
Isso seria uma catástrofe planetária. Perderíamos todos os recifes de coral do mundo e a maioria das suas florestas tropicais, e muitas das regiões mais densamente povoadas tornar-se-iam intoleravelmente quentes. A produção alimentar cairia a pique, ameaçando com a fome e a subnutrição à medida que as colheitas falhassem nos principais celeiros do mundo.
Agora, porém, nada disso terá de acontecer. O coronavírus forçou-nos a fechar as nossas economias num grau tal que as emissões de dióxido de carbono diminuíram consideravelmente. Todos testemunhámos as provas, na forma de céus mais azuis, de cidades livres de fumo e de peões e ciclistas em substituição dos poluentes automóveis. Os cientistas estimam que as emissões globais de CO2 cairão até 7% este ano, e que a manutenção deste nível de reduções de emissões anuais colocaria de novo o mundo no rumo para cumprir a meta de 1.5-2 °C. Por sua vez, isso salvaria os recifes de corais e as florestas tropicais, evitaria uma crise global de refugiados, limitaria a subida no nível dos oceanos e manteria em grande parte o congelamento da calota polar do Árctico.
Mas embora a crise da COVID-19 nos tenha proporcionado uma oportunidade climática inesperada, não podemos obviamente manter os confinamentos para sempre. Milhões de pessoas estão actualmente sem emprego, e uma paragem económica prolongada teria um efeito desastroso sobre os meios de subsistência, sendo principalmente gravosa para os mais desfavorecidos.
Felizmente, a escolha que enfrentamos não é entre o colapso económico e a ruptura climática. Por uma coincidência extremamente afortunada, o mundo necessita urgentemente de investir biliões de dólares na descarbonização precisamente quando a economia global necessita de forma igualmente urgente de um enorme estímulo para que as pessoas voltem ao trabalho.
Subscribe to PS Digital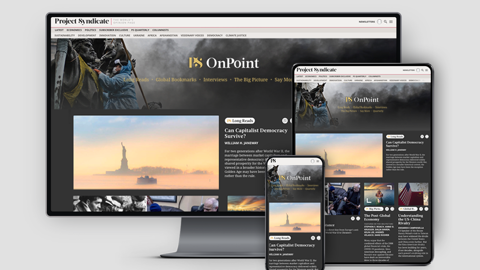 Subscribe to PS Digital
Access every new PS commentary, our entire On Point suite of subscriber-exclusive content – including Longer Reads, Insider Interviews, Big Picture/Big Question, and Say More – and the full PS archive.
Para ajudar a financiar estas medidas, países como os Estados Unidos e o Reino Unido deveriam emitir títulos de dívida de longo prazo, com vencimentos de 50 ou mesmo de 100 anos. Como as taxas de juro das dívidas públicas de algumas economias avançadas são actualmente negativas, os tesouros nacionais poderiam angariar grandes montantes a um custo de curto prazo muito reduzido. E como existe hoje um maior risco de deflação que de inflação, a criação de dinheiro adicional através da emissão de títulos ajudaria a impedir uma potencial depressão económica global.
Alguns poderão colocar objecções morais ao endividamento de governos, cujo reembolso recairá sobre os nossos filhos e netos. Mas a emissão de dívida pública de longo prazo para enfrentar um desafio à escala civilizacional está longe de ser inédita. O Reino Unido, por exemplo, só terminou de pagar a sua última dívida remanescente da I Guerra Mundial em 2014, e os cidadãos actuais do Reino Unido são cerca de cinco vezes mais ricosper capita do que a geração que combateu nessa guerra. E assumindo que o crescimento económico continua durante o próximo século, os nossos descendentes estarão numa situação ainda melhor, aligeirando dessa forma futuros encargos com o serviço da dívida.
Greta Thunberg e milhões de jovens grevistas pelo clima em todo o mundo tentaram adequadamente a exortação moral para persuadir os líderes de hoje a encarar com seriedade os interesses das gerações futuras. Mas agora precisamos de falar de dinheiro vivo.
O combate às alterações climáticas necessita já de grandes investimentos de capital. Para começar, garantir um clima habitável na segunda metade deste século necessita de uma expansão suficiente das tecnologias de energias renováveis como a solar e a eólica, para que substituam os combustíveis fósseis como os principais fornecedores de energia primária.
Além disso, precisaremos de produzir combustíveis líquidos, muito provavelmente amónia e hidrocarbonetos sintéticos, numa escala ainda maior que a energia eléctrica para podermos descarbonizar a navegação, a aviação e os processos industriais, como a siderurgia. As tecnologias nucleares de última geração, como os reactores modulares avançados (RMA), desempenharão um papel essencial neste esforço.
Os grandes investimentos infra-estruturais são, por natureza, projectos de longo prazo, e o custo do capital terá de decrescer para que as tecnologias limpas possam ser mais competitivas que os combustíveis fósseis. Os governos poderão contrair os empréstimos necessários a taxas muito mais baixas que o sector privado, e os investimentos resultantes criarão milhões de empregos para substituir os empregos perdidos nas indústrias poluentes, e ajudarão a reanimar a economia global depois da pandemia.
O governo do Reino Unido já emitiu títulos no valor de 72 mil milhões de libras (90 mil milhões de dólares) com prazos de 50 anos ou superiores, que vencerão a partir de 2055. O Reino Unido e outros países poderiam emitir uma dívida 50 vezes superior – 3 a 4 biliões de libras (entre 3,5 e 5 biliões de dólares) – e a resgatar no decorrer deste século, para ajudar a financiar o investimento necessário à superação do desafio climático.
Estes títulos de vencimento prolongado poderiam constituir um activo seguro para os fundos de pensões e outros investidores de longo prazo, e também proporcionar-lhes uma via para desinvestirem permanentemente dos combustíveis fosseis. Afinal, não existirão activos "seguros" num mundo onde se intensifiquem os danos climáticos.
Não estou a sugerir que os governos deveriam apoiar financeiramente as tecnologias limpas por um período indeterminado. Em vez disso, o desafio reside em reduzir os seus custos – como foi conseguido com a energia solar – através de investigação e desenvolvimento e de grandes instalações iniciais, até que as tecnologias limpas se tornem mais baratas que os combustíveis fósseis e a transição energética se torne auto-sustentável.
A crise da COVID-19 intensificou de forma inédita o alinhamento entre os imperativos climáticos e económicos. Se aproveitarmos esta oportunidade histórica, as gerações futuras recordarão certamente 2020 como o ano em que a humanidade não só derrotou uma pandemia como também salvou o planeta.