Stel regels op voor mineralen uit conflictgebieden
LONDON – "Die diamant aan je vinger, hoe ben je daaraan gekomen?" vraagt Shakespeare's Cymbeline. "Je kunt beter onuitgesproken laten," antwoordt de gluiperige Iachimo, "wat je pijn zou doen als ik het je wel zou vertellen." Het verhaal over bepaalde aspecten van de mondiale handel in natuurlijke hulpbronnen vandaag de dag is, of dat nu duidelijk wordt overgebracht of niet, eveneens een bron van zorgen.
Natuurlijke hulpbronnen moeten een belangrijke bijdrage leveren aan de ontwikkeling van een aantal landen die dat het hardst nodig hebben. En toch brengen ze in een paar van de armste en kwetsbaarste staten van de wereld precies het omgekeerde teweeg. In veel van deze landen bevordert, financiert en verlengt de handel in natuurlijke hulpbronnen conflicten en buitensporige schendingen van de mensenrechten. Hulpbronnen als diamanten, goud, wolfram, tantalium en tin worden gedolven, gesmokkeld en illegaal belast door gewelddadige gewapende groeperingen, en ze voorzien in de buiten de begroting gehouden financiering van onrecht plegende strijdgroepen en veiligheidsdiensten.
Neem deze vier Afrikaanse landen: Soedan, Zuid-Soedan, de Centraal-Afrikaanse Republiek en de Democratische Republiek Congo. Samen vertegenwoordigen deze landen, die rijk zijn aan grondstoffen, slechts 13% van de bevolking van het ten zuiden van de Sahara gelegen deel van Afrika, maar ook zo'n 55% van de door conflicten van haard en huis verdreven personen in deze regio (en één op de vijf wereldwijd). Het probleem is echter mondiaal, met soortgelijke patronen in delen van landen als Colombia, Myanmar en Afghanistan.
De dodelijke handel in grondstoffen wordt gefaciliteerd door aanbodketens die de grote consumentenmarkten, zoals de Europese Unie en de Verenigde Staten, van producten voorzien, terwijl het geld de omgekeerde weg aflegt. Natuurlijke hulpbronnen als tin, tantalium, wolfram en goud – allemaal mineralen die in bepaalde delen van de wereld in verband worden gebracht met conflicten en mensenrechtenschendingen – worden aangetroffen in onze sieraden, auto's, mobiele telefoons, game consoles, medische apparatuur en talloze andere alledaagse producten.
Er is een duidelijke consumentenvraag naar informatie die kopers in staat zal stellen zich ervan te verzekeren dat hun aankopen hen niet medeschuldig maken aan hemeltergend misbruik. Maar de verantwoordelijkheid om de mondiale handel te verzoenen met de bescherming van fundamentele mensenrechten valt niet in de allereerste plaats toe aan consumenten. Conflictpreventie en bescherming van de mensenrechten zijn vooral de verantwoordelijkheid van staten, en het wordt steeds vaker erkend dat ook bedrijven een rol te spelen hebben.
We zijn nu op een cruciaal punt aangeland in wat een mondiale beweging is geworden om een halt toe te roepen aan het als 'normale bedrijfsvoering' beschouwen van onverantwoordelijke ondernemingspraktijken. Sinds 2010 hebben bedrijven die in conflictgebieden werken een mondiale standaard tot hun beschikking. De OESO biedt hulp bij het op een verantwoordelijke wijze delven van mineralen. Ontwikkeld in nauwe samenwerking met de bedrijfstak, biedt deze standaard "gedetailleerde aanbevelingen om bedrijven te helpen de mensenrechten te respecteren en te vermijden aan conflicten bij te dragen door het kopen van mineralen."
Subscribe to PS Digital Now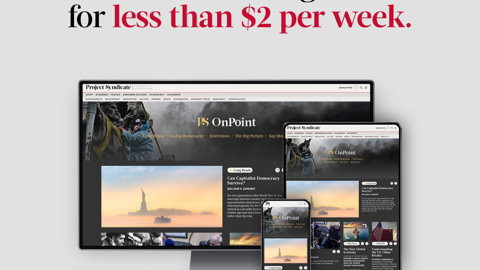 Subscribe to PS Digital Now
Access every new PS commentary, our entire On Point suite of subscriber-exclusive content – including Longer Reads, Insider Interviews, Big Picture/Big Question, and Say More – and the full PS archive.
De Verenigde Naties hebben soortgelijke eisen ondersteund. In 2011 hebben de VN een reeks Leidende beginselen op het gebied van het zakendoen en de mensenrechten gepubliceerd, op grond waarvan bedrijven wier "operationele handelingen risico's opleveren van ernstige mensenrechtenschendingen formeel moeten rapporteren over hoe ze daarmee denken om te gaan."
En toch hebben, met uitzondering van een paar progressieve leiders van de bedrijfstak, weinig bedrijven op deze vrijwillige richtlijnen gereageerd. In 2013 hebben Nederlandse onderzoekers 186 Europese beursgenoteerde bedrijven geënquêteerd die gebruik maken van mineralen uit conflictgebieden. Ruim 80% van deze bedrijven heeft op hun websites geen melding gemaakt van wat ze hadden gedaan om te voorkomen dat ze conflicten of mensenrechtenschendingen zouden financieren. Tegelijkertijd heeft het Directoraat-Generaal voor de Handel van de Europese Commissie geconstateerd dat slechts 7% van 153 Europese bedrijven in hun jaarverslagen of op hun websites melding maken van 'due diligence'-beleid ten aanzien van mineralen uit conflictgebieden.
De Verenigde Staten hebben de volgende logische stap al gezet. De Securities and Exchange Commission (SEC) eist dat bedrijven die tantalium, tin, goud of wolfram in hun producten verwerken de herkomst van deze grondstoffen onderzoeken, en de risico's in hun aanbodketens tegengaan, in overeenstemming met de OESO-richtlijnen, als blijkt dat deze grondstoffen afkomstig zijn uit bepaalde door conflicten geplaagde of risicovolle gebieden. De twaalf lidstaten van de Afrikaanse Internationale Conferentie over de Grote Meren-regio hebben zich aan soortgelijke 'due diligence'-verplichtingen onderworpen.
Zo moet het ook zijn. Verantwoordelijke mijnbouw is een plicht, geen keuze. In dit opzicht loopt de EU achterop. In maart heeft de Europese Commissie een plan voorgesteld op grond waarvan openbaarmaking vrijwillig zou blijven, wat betekent dat de mineralen die de EU binnenkomen niet onderworpen zullen worden aan verplichte controles. Het voorstel legt bovendien uitsluitend de nadruk op ruwe ertsen en metalen, en laat producten buiten beschouwing die de relevante mineralen bevatten, zoals mobiele telefoons, auto's, en medische apparatuur.
Het voorstel wordt nu bekeken door het Europees Parlement en de Europese Raad. Het is van cruciaal belang dat beide instellingen deze mogelijkheid aangrijpen om de reactie van de EU te versterken door openbaarmaking en medewerking verplicht te stellen, en de dekking van het voorstel uit te breiden tot eindproducten en halffabrikaten. Het beter reguleren van de handel in deze grondstoffen zal op zichzelf geen vrede brengen in de door conflicten geplaagde gebieden. Maar het financieren van conflicten en mensenrechtenschendingen is geen aanvaardbare prijs voor ondernemingsvrijheid.