De vettige kant van klimaatverandering
BERLIJN – Afgelopen jaar stootten drie van de grootste vleesverwerkers ter wereld – JBS, Cargill, en Tyson Foods – meer broeikasgassen uit dan heel Frankrijk, en bijna net zoveel als sommige grote oliebedrijven. En toch zijn de grote vlees- en zuivelproducenten – terwijl energiegiganten zoals Exxon en Shell mikpunt van actie zijn geworden vanwege hun aandeel in de klimaatverandering – tot nu toe grotendeels buiten schot weten te blijven. Wanneer we ecologische rampspoed willen afwenden moet deze dubbele standaard verlaten worden.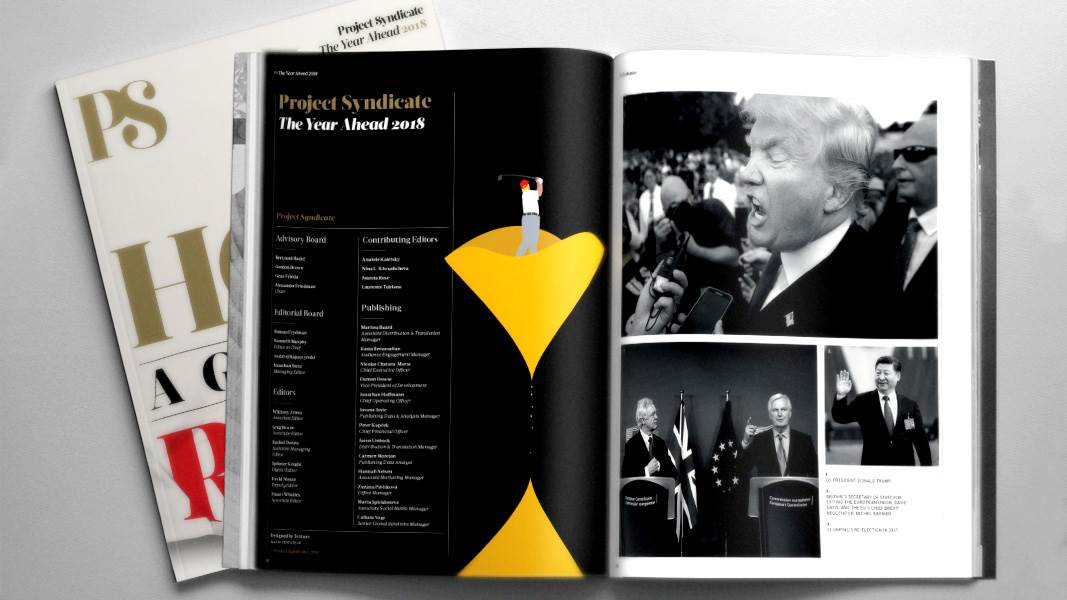 The Year Ahead 2018
The world's leading thinkers and policymakers examine what's come apart in the past year, and anticipate what will define the year ahead.
Om aandacht op deze kwestie te vestigen zijn het Institute for Agriculture and Trade Policy, GRAIN, en de Heinrich-Böll-Stiftung uit Duitsland samengekomen om de 'volledige ecologische voetafdruk' van de mondiale veehouderij te bestuderen. Wat we vonden was schokkend. In 2016 stootten 's werelds 20 grootste vlees- en zuivelproducenten meer broeikasgassen uit dan Duitsland. Als deze bedrijven een land zouden zijn waren ze de op zes na grootste vervuiler ter wereld.
Het moge helder zijn dat het verzachten van klimaatverandering het terugbrengen van de uitstoot van de vlees- en zuivelindustrie vereist. De vraag is hoe.
Over de hele wereld zijn vlees- en zuivelbedrijven machtige politieke entiteiten geworden. De recente corruptiegerelateerde arrestaties van twee leidinggevenden van JBS, de broers Joesley en Wesley Batista, onthulde de corruptie binnen de industrie. JBS is de grootste vleesverwerker ter wereld, en verdiende in 2016 bijna 20 miljard dollar meer dan zijn grootste concurrent, Tyson Foods. Maar JBS verwierf zijn positie met behulp van de Braziliaanse Ontwikkelingsbank, en blijkbaar door meer dan 1800 politici om te kopen. Het mag geen verrassing heten dat de uitstoot van broeikasgassen laag op de agenda van het bedrijf staat. In 2016 stootten JBS, Tyson, en Cargill samen 484 miljoen ton aan klimaatveranderende gassen uit, 46 miljoen ton meer dan BP, de Britse energiegigant.
Insiders uit de vlees- en zuivelindustrie lobbyen hard voor pro-productie beleid, vaak ten koste van het milieu en de volksgezondheid. Van het proberen reducties in de uitstoot van lachgas en methaan te blokkeren tot het omzeilen van voorschriften om lucht-, water-, en bodemvervuiling te verminderen; ze zijn erin geslaagd om hun winsten op te drijven terwijl ze de kosten van vervuiling bij het grote publiek neerleggen.
Een van de vele consequenties hiervan is dat de veehouderij nu verantwoordelijk is voor bijna 15% van de wereldwijde uitstoot van broeikasgassen. Dat is een grotere bijdrage dan die van de hele mondiale transportsector. Bovendien wordt verwacht dat een groot gedeelte van de groei in vlees- en zuivelproductie de komende decennia uit het industriële model zal komen. Als deze groei het tempo geprojecteerd door de Voedsel- en Landbouworganisatie van de VN volgt zal ons vermogen om te voorkomen dat de temperaturen tot apocalyptische niveaus stijgen ernstig ondermijnd worden.
Bij de Klimaatconferentie van de Verenigde Naties (COP23) in Bonn afgelopen maand werd er voor de eerste keer ooit aan verschillende VN-agentschappen opgedragen om samen te gaan werken aan landbouwkwesties, inclusief aan het beheer van de veehouderij. Dit is om vele redenen een welkome stap, maar vooral omdat deze de belangenconflicten die endemisch zijn in de mondiale voedselindustrie zal beginnen bloot te leggen.
Om verantwoordelijkheid voor het klimaat te ontlopen betoogt de vlees- en zuivelindustrie al lange tijd dat het uitbreiden van de productie noodzakelijk is voor de voedselveiligheid. Grote bedrijven, zo beweren ze, kunnen vlees of melk efficiënter produceren dan een veehoeder in de Hoorn van Afrika of een kleine producent in India.
Helaas weerspreekt het huidige klimaatbeleid dit narratief niet, en sommigen moedigen zelfs een grotere productie en intensivering aan. In plaats van doelen te stellen voor de reductie van de algehele uitstoot van de industrie creëert veel huidig beleid stimuli voor bedrijven om meer melk uit elke melkkoe te persen en om runderen sneller te slachten. Dit houdt in dat de dieren worden gelijkgesteld aan machinerie die kan worden afgesteld om meer te produceren met minder door middel van technologische oplossingen, en dat de vele negatieve neveneffecten worden genegeerd.
Het verhaal van Californië is hier instructief. Door een van de eerste pogingen ter wereld om de methaanuitstoot te reguleren door te voeren heeft de federale regering ambitieuze doelen gesteld om de emissies van de veehouderij te verminderen. Maar Californië pakt het probleem momenteel aan door programma's te financieren die mega-zuivelbedrijven ondersteunen, in plaats van kleine duurzame ondernemers. Dit soort 'oplossingen' hebben de al slechte rapportcijfers van de industrie voor het welzijn van werknemers en dieren alleen nog maar verslechterd, en de negatieve effecten op milieu en gezondheid effecten vergroot.
Maar er bestaan oplossingen. Om te beginnen kunnen regeringen publiek geld verschuiven van fabrieksmatige landbouwbedrijven naar kleinere ecologisch georiënteerde familiebedrijven. Regeringen kunnen ook een aanbestedingsbeleid voeren om markten te helpen creëren voor lokale producten, en om een schonere en meer dynamische agrarische sector op te bouwen.
Veel steden over de hele wereld baseren hun energiekeuzen al op een verlangen om de klimaatverandering tot staan te brengen. Overeenkomstige criteria kunnen het ook voedselbeleid van gemeenten vormgeven. Zo zouden meer investeringen in programma's voor zorg en scholing op het platteland gezondere diëten voor inwoners garanderen, lokale economieën versterken, en de klimaatimpact van de vlees- en zuivelindustrie verminderen.
Zuivel- en vleesgiganten hebben al veel te lang klimaatonschendbaarheid genoten. Als we de stijging van de mondiale temperaturen willen tegenhouden en een ecologische crisis willen voorkomen moeten consumenten en regeringen meer doen om milieubewuste producenten te creëren, ondersteunen, en versterken. Dit zou goed zijn voor onze gezondheid – en die van onze planeet.
Vertaling Melle Trap